On Monday, May 2, Washington OBGYN Diane Horvath-Cosper filed a civil rights complaint with the Department of Health and Human Services. The doctor, who is an abortion provider, alleges that MedStar Washington Hospital Center violated her right by imposing a "gag order" that prevented her from speaking publicly about abortion. The hospital, however, contends that they were acting in the best interests of patients, taking "sensible precautions" in response to anti-abortion violence.

In July 2014, Horvath-Cosper accepted a position as a Fellow in Family Planning at MedStar. According to her complaint, the position "provided her the opportunity to develop her medical, research, and public advocacy skills." Horvath-Cosper began speaking publicly about abortion and women's health care, including media appearances. "There is still an incredible stigma surrounding abortion and other reproductive health issues," Horvath-Cosper wrote in the complaint. "I hope that doctors' willingness to share their stories will help women feel empowered to share theirs."
Horvath-Cosper continued to speak publicly to the media until December 2015. Horvath-Cosper alleges that in December, shortly after the Planned Parenthood shooting in Colorado Springs, Medstar's Chief Medical Officer told her to stop her media advocacy. According to the court filing, Horvath-Cosper was told that her public approach endangered the safety of the hospital. She alleges that the CMO told her that they did not "want to put a Kmart blue-light special on the fact that we provide abortions at MedStar."
Since then, the hospital has told Horvath-Cosper to turn down media requests and threatened to fire her if she didn't comply. The New York Times notes that Horvath-Cosper's complaint differs from the typical one—since she's covered by the 1973 Church Act, a measure which protects medical staff who have religious or moral objections to abortion. The Times reports:
[...] the legislative history and final wording of the [Church Act] show it was intended to be two-sided, said Gretchen Borchelt, the vice president for reproductive rights and health at the National Women's Law Center and a co-counsel in Dr. Horvath-Cosper's complaint.
The law states that no entity receiving federal money may discriminate against any doctor "because of his religious beliefs or moral convictions respecting sterilization procedures or abortions." That means that doctors are protected from punishment for supporting abortion, just as they are protected if they oppose it and refuse to participate, according to the complaint.

"If she can't speak out about abortion the way other doctors at the hospital do about what they work on, she is being treated differently and that is discrimination," Ms. Borchelt said.
G/O Media may get a commission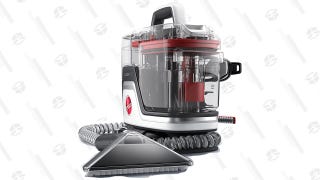 Save $10
Hoover CleanSlate Plus Carpet & Upholstery Cleaner
In her complaint, Horvath-Cosper alleges that the hospital's safety concerns were a thinly veiled attempt to end her advocacy. She alleges that the hospital had few of safety measures in place that are typical in abortions clinics and recommended by the National Abortion Federation.
Horvath-Cosper has the support of many abortion doctors. In a statement, Nancy Stanwood, Assistant Professor at Yale University and chair of Physicians for Reproductive Health, said that physicians "that want to speak out about abortion care need to be supported, not silenced. To openly advocate as an abortion provider can carry risk, but forbidding physicians from advocating discredits the life-saving care we provide to our patients."

Image via AP.