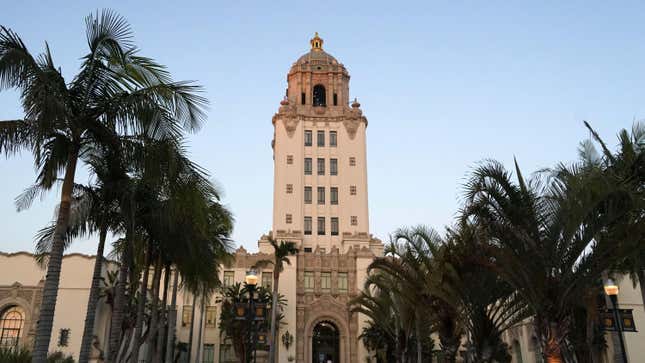 A Washington, D.C.-based abortion provider that planned to open a new clinic in California claims that the city of Beverly Hills "colluded and conspired" with anti-abortion activists to get the landlord to cancel it lease. According to the Los Angeles Times, DuPont Clinic has sued its landlord and is preparing to sue the city. The dispute shows that abortion access is under attack even in blue or "access" states.
Republicans Pull Out All the Stupid Stops While Debating Abortion
DuPont Clinic, an all-trimester abortion provider, said it has spent millions of dollars to renovate a medical building on Wilshire Boulevard, but was forced to stop work when its landlord attempted to rescind its lease. DuPont had signed the lease in September 2022 and originally hoped to open the clinic this fall to serve Californians who need abortions later in pregnancy as well as people from around the country who get turned away from clinics.
DuPont claims that Beverly Hills Mayor Julian Gold and three other city officials acted to withhold permits after anti-abortion protests and that they held "secret" meetings with the group Survivors of the Abortion Holocaust, all in service of pressuring the landlord to end the lease. DuPont gave the city formal notice on Monday of its intent to sue, a required step in the state.
Tim Clement, outreach director for Survivors of the Abortion Holocaust, attended a July 18 city council meeting where he told the mayor he wanted to meet about the clinic. On July 29, Clement told supporters at a protest that he'd met with the mayor, deputy city manager, and other officials. "Everything is supposed to be hush—like, I can't speak about it. But we came to an agreement," Clement said. Then he read an email from deputy city manager Keith Sterling that said: "Per our conversation yesterday morning, this email is to confirm that the attorney for the landlord ... has notified the city that DuPont Clinic will no longer be taking occupancy."
Sterling denied that the city came to any agreement with Clement's group. "We were anticipating the clinic would open in Beverly Hills later this year," Sterling told the Times. Sterling said they merely informed Clement they'd learned the landlord rescinded the lease.
DuPont also sued its landlord, publicly traded real estate investment trust company Douglas Emmett, Inc., in Los Angeles County Superior Court. The clinic claims Douglas Emmett illegally and improperly breached the lease without compensating it for millions in renovations. Douglas Emmett declined to respond to the suit, with a spokesperson telling the Times the company has "a well-established policy of abstaining from discussing leasing matters with external entities."
In recent months, protestors seized on language on DuPont's website about abortion services offered in Washington, D.C., which doesn't have gestational limits. (Eight other states allow providers to offer abortion throughout pregnancy: Alaska, Colorado, Maine, New Jersey, New Mexico, Oregon, and Vermont.) But there's debate over whether California law still restricts abortion after fetal viability or not. In April of this year, protestors projected the words "murder mill" on the side of the building DuPont was renovating, and someone claimed at an April city council meeting that DuPont was going to do post-viability abortions. The city withheld the clinic's permits days later.
DuPont claims that the city met with representatives from Douglas Emmett and asked whether there was any way to prevent the clinic from opening. The landlord's representatives said city officials were "visibly upset" when they said no, the lease had been signed.
On May 31, the Beverly Hills chief of police sent both DuPont and the landlord a draft letter warning the building's other tenants that protesters might "attempt to disrupt business" and there may be "violence or vandalism that requires law enforcement involvement." Two weeks later, a Douglas Emmett lawyer emailed DuPont saying the company would rescind the lease and told them to stop work at the site. The email cited the police letter. (The conversations Clement detailed took place after the lease was rescinded, though he was unaware of that fact.)
DuPont's founder Matthew Reeves told the Times, "It's disappointing to try to return to California—after so much has been in the news about how the state is ready to help people access abortion—only to discover that the reality is different."