For uncertain business-related reasons, Aaliyah's catalog has been absent from streaming services in the years since they've become our main distributors of music. To the delight of her fans, including obsessed Tumblr teens who've unearthed her music, an official Aaliyah compilation WAS at last available on iTunes and streaming via Apple Music. But...

The link to the album now simply redirects to iTunes. The album, which was titled Ultimate, contained 25 tracks of familiar classics: "Are You That Somebody," "One in a Million," "Rock the Boat," etc., plus a few deep cuts like "John Blaze" and "Are You Feelin Me?"
As Billboard notes:
Previously, the only music available from the singer who tragically died in a plane crash in 2001 at age 22 was her 1994 debut, Age Ain't Nothing But a Number, leaving such important works as her One in a Million and Aaliyah albums and "Are You That Somebody?" single missing from iTunes, Amazon, Spotify and other online services.
The album is credited to Craze Productions, a London-based digital aggregator that posted Aaliyah songs on iTunes in 2013 briefly before being sued and ordered to remove them. It was unclear at press time why, how or if it had legally obtained the rights to post the music again.
Well, it's wonderful that the music was available for a few hot seconds. Before, the best route to Aaliyah music online was to find illegal versions of her albums or upload, gulp, COMPACT DISCS to your computer like I did.
Complex did a great job investigating the mystery around the lack of Aaliyah songs on streaming services in an enlightening December 2016 article. The reasons turn out to be predominantly legal, as one would expect, and all come down to the reluctance of her uncle Barry Hankerson, the former head of the label Aaliyah was signed to, Blackground Records, to release his grip on the music rights.
G/O Media may get a commission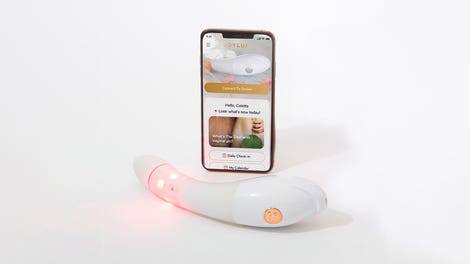 $50 Off
Joylux vFit Gold Device
There was reportedly an attempt to create something with the unmixed Aaliyah vocals Hankerson owns, but nothing ever came to fruition due to trouble finding the right producer. Stephen Witt writes for Complex:
[Hankerson] couldn't find the sound he thought the music deserved. And the wound left by Aaliyah's death remains raw: "Barry can't be in the room when the new music is playing," says Lafargue. Grief turned to despondency; despondency turned to inertia. Inexplicably, Blackground stopped releasing music, and artists stopped getting paid. As the music business moved from CDs to MP3s, and MP3s to streaming media, Blackground didn't participate.
Hankerson has seemingly been content to instead battle through a range of lawsuits while remaining detached from the music industry and as a result, fans who listen to the majority of their music through streaming have been tight. Perhaps that explains why the album has mysteriously disappeared. I've reached out to reps at Apple for comment. When I saw the iTunes page earlier, there were 25 tracks, but now even the cached version from today is a mess: