Much has been made of late about iconic director Alfred Hitchcock's horrible, fear-based treatment of his pet "blondes," like the allegations of sexual harassment leveled against the late Hitchcock by The Birds actress Tippi Hedren. No less than two films came out this year about the director's private life: The Girl, an HBO film starring Sienna Miller as Hedren and Toby Jones as Hitchcock, and Hitchcock, starring Helen Mirren as Hitchcock's wife Alma Reville and Anthony Hopkins (plus copious facial prosthetics) as the polarizing director.
No big surprise that the red-blooded Helen Mirren wouldn't be Hitchcock's type, but Mirren has revealed that she met with him once to discuss starring in his London film Frenzy back when she was a young foreign-film fetishizing whippersnapper and it didn't go too well.
"When I was a very young actress, just starting out, I was sent for an audition - or a meeting with him. I don't think he would have auditioned me; I think he either thought you looked right or you didn't. I was arrogant and ignorant and, at that time, he was just not my kind of film director. I was into Federico Fellini, Pier Paolo Pasolini, Roberto Rossellini; those were the directors I loved. I was, you know, as one is when one is young, just ridiculously self-opinionated."
Yep, it's pretty hard to picture Mirren putting up with Hitchcock throwing live birds in her face for five days until she had a nervous breakdown and basically left the studio system entirely.
"So, I didn't really like him, and I know he didn't like me very much. He certainly didn't cast me. He took one look at me and went, 'Oh, good God. She's going to be a nightmare...' [And] I didn't want to do it because all those roles were horrible anyway.
G/O Media may get a commission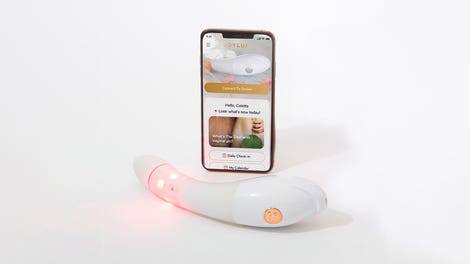 $50 Off
Joylux vFit Gold Device
'Helen Mirren, 'Hitchcock' Star, On Meeting Alfred Hitchcock: 'I Was Arrogant & Ignorant' [HuffPo]