Schools used to dish out putrid pasta dishes, burned french fries, and mystery meats with few complaints from parents, but the childhood obesity epidemic has drawn more attention to what kids are being served at school. For years advocates have been saying children need to have healthier lunch options, but now one educator has brought the issue into focus by doing what those outside the school system can't: Actually eating school lunches, and documenting the gruel-like substances appearing on kids' trays.
Sarah Wu, a speech pathologist in the Chiacago public schools, tells USA Today that one day about two years ago, she didn't have time to make lunch and decided to buy it at school instead. She got a hot dog wrapped in soggy dough, six tater tots, a Jell-O cup and chocolate milk. She says, "I thought to myself, 'I cannot believe this is the food the kids are eating." The incident inspired her to eat whatever her students were being served for an entire year, then discuss the meals on her blog Fed Up With Lunch. She wrote under the name "Mrs. Q," but once the project unexpected drew thousands of followers, she started to worry school officials would find out and fire her. Now she's written a book on the state of school lunches, and is taking her chances with the school. There's no way they don't know her name now, because this week she started promoting the book with appearances on Good Morning America, The View, and Nightline.
Before Wu's identity was revealed, the Chicago Public Schools told a Chicago Tribune reporter that teacher's union lawyers would probably have to counsel a teacher who was posting pictures of her lunch every day. For now, a CPS representative would only say that they'll have to "review the material and assess the content to determine whether any violation of policy has taken place." The school also released a statement, saying it's "committed to the health and wellness of our students" and has "increased its choices of fruits and vegetables, as well as whole grains, and eliminated deep fat frying."
Wu said in an interview with the Tribune that she did notice some more vegetables working their into school lunches, but as you can see from the slide show of the meals Wu ate, the school's offerings are still pretty disturbing. She started researching the nutritional value of school lunches as part of the project, and picked up plenty of disturbing tidbits, like that often the chicken nuggets served in school are only half chicken, and the rest is mysterious "fillers."
Wu says the problem isn't the cafeteria workers, who do "the best job they can" with lunches supplied by a food service management company, or Haugan Elementary School in particuar. Rather, it's a "nationwide nutrition crisis." Wu has since moved on to another Chicago public school, but she says that Haugan, 90% of the kids received free or reduced price lunches. "Many of my students were coming from poverty," she said. "Their families were living paycheck to paycheck. Many of my students relied on school lunch for their best meal of the day." Instead, they got bagel dogs and a PB & J graham cracker "sandwich."
'Fed Up With Lunch' Exposes Worst School Meals [USA Today]
Fed Up With Lunch
Tracking Down "Mrs. Q," AKA Mom, Blogger, And CPS Employee Sarah Wu [Chicago Tribune]
School Lunch Blogger 'Mrs. Q' Drops Anonymity [Chicago Tribune]
G/O Media may get a commission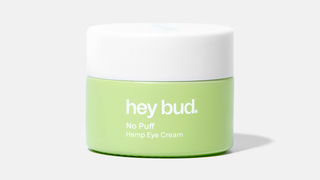 15% off
Hey Bud - No Puff Hemp Eye Cream
Image via Mike Flippo/Shutterstock.