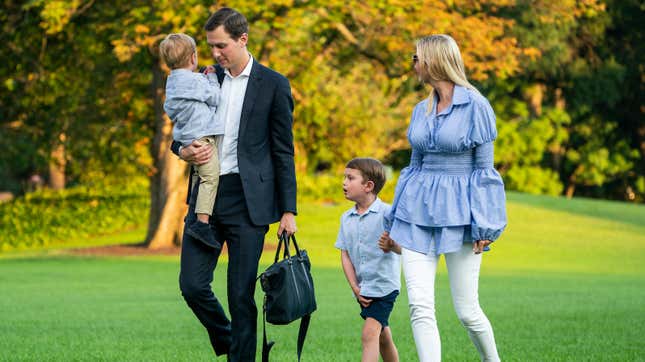 According to the New York Times, the Daily Mail has stationed about five paparazzi outside Ivanka Trump and Jared Kushner's D.C. mansion since 2017. They arrive before 7 a.m. to watch the couple leave for work, switch shifts mid-day, and swing around again at 8 p.m. to watch the two come home. This is the routine pretty much every day, all year round.

When the only action they might capture consists of someone entering or exiting the six-bedroom home, there is, as one might expect, a lot of down time. "All I see of them is the veneer," Matthew D'Agostino a photographer from Baltimore who until recently freelanced for the Daily Mail. "When I was first shooting a lot, Jared once asked me, 'Do you think that's enough?' and honestly, it was enough, so I said 'Yeah, you're right!'" To pass the time, D'Agostino wrote haikus, including this gem: "A passer-by sneers / parking cop waves a warning / under green streetlight."
Here's a sampling of the Daily Mail's work, born of such labors,including shots from in and around Ivanka's New York and D.C. homes and the Secret Service SUV.
There is something hypnotic about reading them in quick succession and imagining them as a continuous paragraph:
EXCLUSIVE PHOTOS: Keeping up with the Kushners! Kim Kardashian gets cozy with Ivanka and Jared as she visits their home for dinner after her Oval Office meeting with Trump



Never change, Daily Mail.