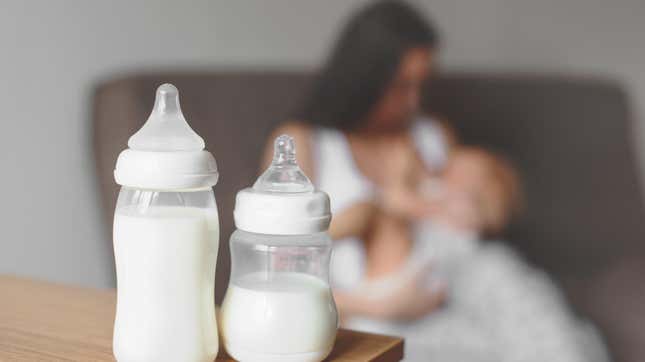 A woman in Virginia has been ordered by a judge "to make every effort to place the child on a feeding schedule and use a bottle" in order to accommodate the baby's father's visitation rights and schedule, the Washington Post reported this week. The order, originally issued at the end of November, is set to take effect this month.

Megan Rapinoe Uses Media Time to Discuss "Cruel" SCOTUS Ruling
Since Arleta Ramirez's daughter was born last July, she's been breastfed, which Ramirez says is in accordance with all guidance from her doctors. But the judge ordered that her daughter's father, Mike Ridgway, must be permitted to visit the baby four days per week with overnight visits. Ramirez's baby needs to be fed once an hour, and feeding time interferes with her ex's visitation time, prompting the court order for Ramirez to stop breastfeeding.
This is somehow, apparently, something courts can just do.
The Post notes that "because most custody disputes are handled in state courts and don't surface consistently in public records, there's little paper trail" to show how common cases like Ramirez's are. And consequently, there's little data showing how frequently mothers like her may be ordered by courts to stop breastfeeding—regardless of what their babies may be used to and prefer, and regardless of someone's choice and preference for their body. As writer Moira Donegan notes, the court order Ramirez faces "uses the law to coerce women into unchosen bodily, health, and family circumstances for the sake of men's entitlements or whims."
Stephanie Bodak Nicholson, president of La Leche League's USA Council, told the Washington Post that she receives at least one call each year regarding breastfeeding-related legal issues in custody disputes. A prominent men's rights legal group called "The Firm for Men" (incidentally, it doesn't accept women clients) states on its website that it identifies what it calls breastfeeding "ploys" for women seeking custody as a major concern and recurring issue.
According to the Post, a lawyer for Ridgway told the paper that Ramirez "is using breastfeeding to try to salvage a relationship that is over," a claim that seems to fundamentally misunderstand the nature of breastfeeding, or feeding babies at all. Ridgway's lawyer, Tara Steinnerd, said that in a number of cases around breastfeeding and custody rights that she's worked on, mothers have "come up with a myriad of excuses" to not use a pump or recognize father's visitation rights, and "[use] breastfeeding as a weapon against visitation." She sounds like a real delight.
For Ramirez, what her case comes down to is ultimately simple: "Why are they forcing me to stop breastfeeding? Isn't that her right? Isn't that in her best interest?" she said of the baby. Ramirez has a court hearing set for April to contest the court order, and she's prepared evidence in her favor that includes a letter from the baby's pediatrician stating that the infant is "exclusively breastfed," as well as names of experts specializing in the unfortunately necessary legal field of breastfeeding rights.
While it's unclear how many cases like this are litigated in court each year, and how many people have been ordered by courts to change their method of feeding their baby, it's jarring that this is happening at all. In a post-Roe v. Wade country, this is just another legal apparatus for the state to control people's bodies, even at the expense of actual babies.