Caroline Malatesta was looking for a facility where she could have some control over her birth plan for her fourth child. She saw the advertising of Birmingham's Brookwood Baptist Medical Center, which touted birth tubs and wireless fetal monitoring, and decided they offered everything she was looking for.
The AL reports that on the night of her delivery, Malatesta arrived at the center fairly far along in her labor. She was told she'd have to get in bed and hooked up for monitoring. Malatesta explained that was not the birth plan she had discussed with her doctor, and was told that her OBGYN was not on call.
It sounds like what followed was a long struggle with nurses to hold onto some aspect of her birthing plan as they waited for a doctor to arrive. After her water broke, Malatesta attempted to labor on her hands and knees, a move she said she'd discussed with her doctor. She was pushed onto her back by nurses. Then things got really bad:
As her baby began crowning, the nurses held her down and pressed her baby's head into her vagina, she said. She estimated the nurses held her baby in for about six minutes. Malatesta remembers screaming at the nurses to stop, and telling them the baby was coming.

The on-call doctor arrived in the room, and her son was born a minute later.
A few months later, Malatesta was still experiencing pain in her vagina since the birth. It was unlike anything that had happened to her when recovering from her previous three children. The pain would come to be diagnosed as a nerve disorder called pudendal neuralgia. Not yet realizing this pain would be permanent, she approached Brookwood for answers.
"I said I really just want to talk to somebody who can answer some questions so I can come to peace about what happened," she said. The patient advocate set up a meeting with her and the hospital's vice president, but later canceled it and hung up on Malatesta, she said.
Malatesta says she was told to speak to Brookwood's lawyers, and in 2014 she filed suit against the hospital for medical negligence and reckless fraud. On August 5, 2016, a jury awarded her $16 million for compensatory damages, her husband's loss of consortium, and punitive damages for reckless fraud.
That's a lot of money, but it seems likely that Malatesta will suffer from debilitating pain for the rest of her life. She says she can no longer have sex, finds it difficult to walk around and play with her kids, and can't take enough medication to completely get rid of the pain without falling asleep.
G/O Media may get a commission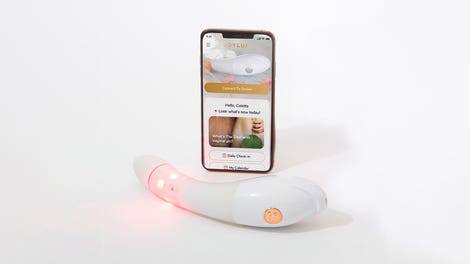 $50 Off
Joylux vFit Gold Device
Malatesta's case brought out a lot of women who had bad experiences at Brookwood and elsewhere, in which they were ignored or overruled, and Malatesta seems to want their message to get out there. She says, "What people forget is that women are seeking choices not just for personal preference, but for the safety of themselves and their babies. They're seeking evidence-based care."