Wells Fargo broadcasted their support for the trans community in Charlotte, North Carolina on Thursday night by lighting up their office building with the colors of the trans flag, proving that the state is not completely filled with horrible bigots.

The Duke Energy Center tower, a 54-story building owned by the company, illuminated the Charlotte night sky in blue, pink, and white in the shape of an upside-down triangle on March 31. The event coincided with Trans Day of Visibility, an internationally-observed day of trans pride and awareness.
In an interview with the Charlotte Observer, a spokesperson for the company explained their decision to publicly showcase their status as trans allies. Both were made in response to members of the state House and Senate's decision to sign House Bill 2 into law, an act that, in the words of NC Senate member Jeff Jackson, now allows "any business in the state [to] refuse service to any LGBT person—even by just posting a sign that says, 'No Gays Allowed.'"
Here's Wells Fargo told the Observer:
"As a reflection of our company's vision and values, Wells Fargo has a long history of support against discrimination of any kind and for LGBT rights overall. This is fundamental to who we are as a company and what we stand for in terms of equality and basic human rights.
[Wells Fargo] opposes laws that would allow people or businesses to discriminate against lesbian, gay, bisexual and transgender community members or individuals."
G/O Media may get a commission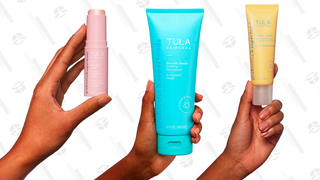 While many companies and corporations like Wells Fargo have spoken out against the measure, North Carolina lawmakers, including GOP governor Pat McCrory, have stood by the decision.
At a press conference on March 28, McCrory went as far as to claim that "[North Carolina lawmakers] have not taken away any rights that have currently existed in any city in North Carolina, from Raleigh to Durham to Chapel Hill to Charlotte," in relation to discriminatory practices and housing ordinances. (He's wrong.)
"Every city and every corporation has the exact same discrimination policy this week as they had two weeks ago," McCrory (egregiously) added.
The push-back against the anti-discrimination ordinance has been brewing for some time. Back in May 2015, Charlotte council member Kenny Smith made a statement regarding his (and by virtue of his position, the city's) stance on the choice to deny trans folk access to public restrooms—one of the other unfortunate byproducts of HB2—openly declaring that "whether it's a city-owned facility or a privately owned facility, you should use the bathroom based on your biological makeup."
Smith's basis for his commentary, of course, was his "personal opinion."
---
Contact the author at jamie.reich@jezebel.com.

Image via Wikicommons.