In a conference call yesterday, reproductive rights leaders pointed out the anti-choice targeting of black women for what it is: a right-wing effort to "drive a wedge into the African-American community and into other communities of color."
Those were the words of Dr. Loretta Ross, National Coordinator of the SisterSong Women of Color Reproductive Justice Collective. She joined Dr. Melissa Gilliam, a professor of obstetrics and gynecology at University of Chicago Medical Center, and Dr. Vanessa Cullins, Planned Parenthood's Vice-President for Medical Affairs, in a call sponsored by Women, Action & the Media. The three women convened to discuss the billboards posted by Georgia Right to Life that call black children "an endangered species," and the related Georgia legislation that seeks to criminalize "the performance of an abortion based on the race, color, or sex of the unborn child or on the race or color of a parent of that child." The bill (Georgia HB 1155) — which will get its third hearing in the Georgia House of Representatives today at 1:30pm — and the billboards presuppose that a conspiracy is afoot to abort black babies and thereby reduce the black population. But our nation's not in the midst of an ethnic cleansing campaign — minority births may outnumber white ones in 2010, and as several panelists point out, black women's fertility is comparable to that of other groups. And Ross maintains that the welfare of the black community isn't really what anti-choicers care about. She says,
It is very hard to persuade African-American women in the city of Atlanta that this legislation headlined by rural white Republicans is truly about saving black or South Asian children. These are the same legislators when we look at their voting records that have fought against improving our schools, getting guns off the streets, getting children in the SCHIP program — I mean, these are not people whose votes indicate that they care about children of color once they're here.
Slate's William Saletan made a similar point last week:
[T]here's something odd about the billboards. The child who appears beside the text is fully born. Abortion doesn't kill such children. What kills them, all too often, is shooting. If you wanted to save living, breathing, fully born children from a tool of extermination that is literally targeting blacks, the first problem you would focus on is guns. They are killing the present, not just the future. But the sponsors of the "endangered species" ads don't support gun control. They oppose it.
G/O Media may get a commission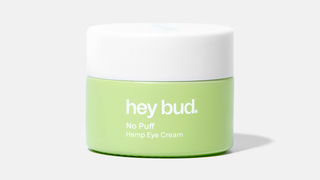 15% off
Hey Bud - No Puff Hemp Eye Cream
So if Georgia Right to Life and its allies don't really care about saving black children from a supposed racist conspiracy (and Ross also handily rebutted their claim that Margaret Sanger was a proponent of black genocide), then what do they want? Ross says the goal is not only to stir up opposition to abortion, but to build "a broader base of support in communities of color" and "to thwart the Obama agenda about implementing things like healthcare reform and immigration reform and reforming the financial institutions and climate change." She adds,
I actually see this as an opening salvo, because if the right can deliver this bill in the state of Georgia [...] I think it will embolden them to believe that around the country, they can drive a wedge into the African-American community and into other communities of color.
She also mentions that the Georgia bill — which could bar abortion clinics from even providing information about their services, discriminate against women of color by asking them questions white women aren't asked, and endanger doctor-patient confidentiality — already has a counterpart in Arizona. The call ranged over a variety of topics in women's health — Cullins, for instance, talked about Planned Parenthood's retraining in response to Lila Rose's recordings of staffers appearing to accept racially-motivated donations. And Gilliam stressed that the real crisis in the African-American community was lack of adequate health care, not the abortion rate. But perhaps the take-home message of the entire call was that the anti-abortion movement's strategy of linking abortion with race is just that — a calculated tactic motivated by politics, not a real desire to help women.
(Audio) Experts Debunk Anti-Choice Conspiracy Theories About Abortion, Race And Genocide [RH Reality Check]
Black Death [Slate]
Minority Babies Set To Become Majority In 2010 [AP, via MSNBC]