In a post Sex and the City world, everything involving a group of young women seems open for comparison to the mega-franchise. However, all the stories told about women do not serve the same purpose.
While Sex and the City began as wry commentary on life in Manhattan (and morphed into something else entirely), more and more women are taking to indie media to tell stories about those of us who manage to live life sans Manolos. Enter The Real Girl's Guide to Everything Else.
The web series revolves around Rasha, a journalist who is dying to write The Women's History of Afghanistan. Unfortunately, her editor believes that her Lebanese-American client could have a brighter future as a Middle Eastern chick lit pioneer, and advises Rasha that she could be dropped from her contract if she doesn't turn around something fluffy. Rasha and her friends concoct a plan to write the chick lit novel in exchange for the advance to fund the Women's History project and they throw her into a world of heterosexual dating (and the attendant Cosmo-ified stereotypes), which complicates things a bit – Rasha is scheduled to walk down the aisle with her girlfriend in less than two months.
Dating isn't easy…
…especially when you neglect to tell your live-in girlfriend that bikini waxes, internet dating, and eschewing your boots for heels is all a part of the same research project.
The series takes an interesting twist when the writers introduce "Mr. Big," a Republican with majorly deep pockets who inadvertently offers Rasha a shortcut to Afghanistan. By offering to fulfill her dreams and desires (and clearly expecting something more along the lines of a romantic French vacation) Rasha and Big end up sharing a tent in Afghanistan.
I have a particular love for this segment, because I love how the creators took the idea to address the idea of liberation. I need a little gif icon of this woman saying "This is your idea of equality," while holding out a book that reads Love, Lunch, and a Macy's Sale. Somehow, Big manages to befriend a warlord, figures out Rasha's true aims, and promises to help her complete her research by showing her an underground women's library. But everything is not as it seems…
After Rasha's dramatic rescue from the arms of Mr. Big, she and her friends spend the last episode crowing over her finally finished project: "The Girl's Guide To Covering War Zones Without Ruining Your Pedicure." With Mr. Big staying in Afghanistan as a freedom fighter and Rasha at work on her next project, the series ends on a positive note.
It is very easy to pick up on the flaws in the series: Rasha is the only developed character – everyone else exists only in broad strokes. The plot is full of holes and takes major leaps to get through the story. But then again, this is an independently produced web series that can be completed in less than an hour. Considering the fate of professionally produced web series (like Candance Bushnell's The Broadroom, which I eviscerated on Jezebel) The Real Girl's Guide to Everything Else actually holds it own. Hell, it holds up better than some of the things actually greenlighted with major budgets:
Aymar Jean Christian interviewed the creators of Real Girl's back in February, and they had this to say about the state of media for women, particularly women of color:
TELEVISUAL: How did Real Girl's Guide start? Where did the idea originate?

REAL GIRL'S GUIDE TO EVERYTHING ELSE: The idea grew out of this aggravation I'd been feeling for a while about all the lame romantic comedies marketed to women. But it really crystallized when I went to see the Sex and the City movie. I actually had really liked aspects of the series itself and had felt it was quite innovative… but the movie felt more like a fashion show – with a little bit of story thrown in for fun. I saw the film with my co-producer Reena Dutt (who plays "Sydney") and my friend Vivian Rogers (inspiration for "Vanna") and afterwards we got into this conversation about the world of Sex and the City…the world of rich, white, straight fashionistas. And it started me thinking – what's the inverse of that world? Perhaps a more ethnically diverse world where materialism is not valued, where being straight is not "assumed," where a woman's goals do not end at getting married or finding the perfect pair of ridiculously expensive shoes. Where perhaps the goal is to write a book, or have an art show or to run for political office or to save some small part of the world.

TELEVISUAL: Why do this series? What distinguishes Real Girl's from what we see either on television or in film? I'm particularly intrigued by your ethnically diverse cast and storyline(s).

RGGTEE: I think Real Girl's…is about real women. It's about everybody who is not represented by this heightened, glossy, almost-drag femininity. It's about women who do not fit neatly into the mainstream world of chick-lit… which honestly, I think, is most of us. In terms of the multi-ethnic cast, I think it's really essential to show viewers a world that doesn't utilize people of color in stereotypical ways. I love what Shonda Rhimes did with Grey's Anatomy… where you have a multi-ethnic cast of characters who are not primarily defined by their race. Sure it's a part of them… but their race isn't continually being used to make a point. So often I hear from actors-of-color how difficult it is to get cast in roles where they are not primarily defined by their race. Reena (Sydney) for example is continually cast as medical personnel, while my Latina actor friends get called in for prostitutes, Black male actors for gangsters etc. But it goes beyond just wanting to create opportunities… I think how we represent people on the big and the small screen actually effects the way people see and treat each other in real life.
G/O Media may get a commission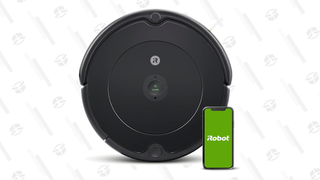 35% Off Black Friday Deal
iRobot Roomba 694 Robot Vacuum
Over at NPR, the Real Girl's crew appeared on Tell Me More, and got a little more explicit about the show and their goals for next season:
Ms. MITCHELL: Sure. So we are planning on shooting season two, which is going to be a 10 episode season, probably starting September or October of this year. In terms of a sneak peak, all I can say is that there are going to be musical numbers and maybe some dogs.

(Soundbite of laughter)

Ms. DUTT: That's a representative.

Ms. MITCHELL: And were going to tackle the marriage equality issues head-on this time. And let's see, what else is fun?

COX: Well, you know, one thing that you don't have, and I'm going to ask you if you're going to, that the "Sex And The City" series does have it in is a child.

Ms. MITCHELL: A child. You know, that may be down the road. For right now we have a puppy.

(Soundbite of laughter)
Yeah, that about sums it up.
This post originally appeared on Racialicious. Republished with permission.
Want to see your work here? Email us!