If the world of wedding blogs is a candy-colored, calligraphed, calla-lillied carnival, then wedding Instagram is without a doubt that carnival's champagne-wasted, sugar-high sideshow. When I got engaged, I started following The Knot, thinking it would set a fire under my ass to get me to start planning. Then, little by little, I started following more, because of this column, because I needed dress inspiration, because I loved bouquets, and because at any given moment, there is always something to do for your wedding, and if you're on Instagram fucking around, you should have something there reminding you to call your DJ and ask for that extra hour, idiot.
And sure, if you take a scroll through this niche of accounts, you'll find lots of inspiration. But you'll also find hackneyed horrors and freakishness a-plenty: Disembodied hands sprouting diamonds the size of domestic cats. Entire country homes, once beautiful, now crumbling and on the verge of being overtaken by forests of exotic, possibly man-eating flora. Dogs wearing suits made for humans. Beautiful dead-eyed witches, laughing at voices only they can hear.
Of course, each account has its own unique strengths and freakishness. Some post real weddings, plus helpful tips. Some post real weddings, plus "helpful" tips, plus embarrassing moments. Some repost engagement stories and ring pictures. Some post trays of cocktails with those stripey paper straws that disintegrate in your mouth while you're trying to get blackout. See? All different. Luckily, I've combed through them all, so you don't have to.
Here: Part one of my sideshow guide. Step right up and don't be shy.
---
Overview: Everything The Knot is good for—that is, all-too-in-depth coverage of all things weddings, all people who get married (as long as they're white and have a combined income of $500,000 or more annually), and all things diamond-halo—but with the fun twist of not that much context. Think: Zillions of pastel-toned posts a day, all with essentially the same chirpy caption: "We <3 this [adjective] [wedding noun] so much, it makes our [plural noun] [verb]! #Swoon!"
G/O Media may get a commission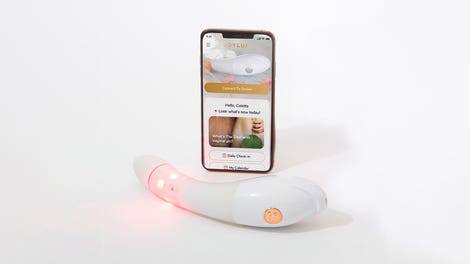 $50 Off
Joylux vFit Gold Device
Pros: If you scroll through their feed at the right pace, it feels like you just took Dayquil upside-down inside a bucking piñata. They're really good about listing the sources of everything in a picture (if you, say, like a veil that Bride Jen from Boulder is wearing). Lots of animals. Good place to find out whether people get engaged in Paris or not (they do).
Cons: So many insane ring selfies it's enough to make you want to cut off your head shove it into its stem and choke your own throat with it. Any time a ring selfie appears to be one carat or smaller (rare), they call it a "sparkler"—rude. They post contrived announcement pics every time a staffer gets engaged, which, too much—don't shit where you eat. They use the term "Knotties" to refer to readers and followers; ew. People got engaged at Disneyland, and they cared.
Fast Fact: If you open this account on your phone and then put your phone in the middle of an issue of The Knot magazine and then close it so it's like a The Knot sandwich, and then look at yourself in the mirror, what you'll see in the reflection is a fucking insane person.
I Say: As cheerful and useless as a pretty journal in the checkout line at TJMaxx, y'all. (That I purchase.) (Always.)
Favorite Posts:
This wedded couple with their beer-hauling baby donkeys:

This wedded couple gingerly feeding a giraffe:

This wall of donuts with a calligraphed sign that reads "Donuts":
---
Overview: You might think this is The Knot, because, similar, but the home base of this account—the Style Me Pretty blog, a mecca for triple-process brilliant blondes out of Charlotte who style their hair with curling wands—is different in that it offers not that many practical wedding tips, how-tos, timelines, or any of that sort of semi-useful shit. Mostly just peddles real weddings, inspiration shoots, and heartless advice dumps like "If you want to save money on flowers, why would you ever want to do that?" Likewise, its Insta is just post after post after post of skinny porcelain people doing weird nice-looking shit in places where it never rains. They don't post engagement stories because it's possible they don't think real people exist.
Pros: Here is a good place to see macarons on display. If you think The Knot's Instagram account is not enough, you can essentially double its output by following this one. Also, this is the only place you can find Molly Sims alive and kicking.
Cons: Literally everything comes back to those damned dirty floral bridesmaids-getting-ready robes that cost upwards of $85 and make everyone look like IKEA potpourri. No people of color, ever. Frequent guest-takeovers by people you've never heard of, whom you don't understand. Exhaustive coverage of a Duck Dynasty wedding (which was far more tasteful than you'd ever think). Vintage bicycles, going nowhere.
Fast Fact: Fourteen weeks ago, Style Me Pretty Instagrammed an all-text declaration that read, "I Love You More Than Flamingos."
I Say: Follow? Don't follow? If you like pictures? I don't know; we're literally all going to die.
Favorite Posts:
This humble presentation of a bowl of donuts:

This t-shirt that a woman made a man wear:
This fuuuuuckin' spherical balloon pic. Look at how large these balloons are:
---
Overview: Oh, WeddingWire. Sweet, angelic WeddingWire, you little dope. First of all, where you should be linking to your website in your Instagram bio, you've linked your Instagram, where we already are. But OK, that's OK. Demonstrably, the WeddingWire account is the well-meaning but slightly less well-appointed step-sibling of those listed above, linked to an eponymous website that's a little more tech-forward: a combination of a simple listing platform for vendors, a wedding website tool for couples, and a forum for brides to share ideas and experiences. Since none of those items are particularly Instargrammable, what we're left with on the 'gram is a weird, far less highbrow (refreshingly!) mish-mosh of high-octane, all-text survey posts ("Take your honeymoon right after getting hitched OR wait a while?"), engagement story regrams, and fucking lame-ass quotes about love from Carrie Bradshaw.
Pros: A bit more inclusive than the flagship accounts like The Knot and Style Me Pretty. Not everything is filtered in Valencia, so you can look at it without feeling like you're permanently wearing Blu Blockers. Sometimes photos are blurry, and that shows signs of human life.
Cons: One week ago, they did a post that copied the exact way I plan on asking my bridesmaids to be my bridesmaids, which is intellectual property theft, I think. No one, no one, no one, no fucking one, likes lame-ass quotes about love from Carrie Bradshaw. Or anyone else. Enough exclamation points in weird places ("The @madison_james spring collection blurs the lines between modern and vintage!") to make you want to take a vow of silence.
Fast Fact: The Madison James Spring Collection blurs the lines between modern and vintage.
I Say: Follow this account for the don't-let-these-happen-to-you, blood-curdling wedding confessions alone! Example: One 26-year-old groom admitted the unthinkable: "I saw a picture of my fiancee's wedding dress, and she doesn't know." Hahaha, enjoy the sensation of your own marrow boiling from within you as the flames of the underworld consume you, my dude!
Favorite Posts:
This inexplicable ad for a Dyson vacuum:
This wedding cake I hate more than anything I've ever seen?

This confession that could get you in serious trouble with your aunt:
Good luck out there.
---
Watch this space weekly as Lauren Rodrigue shares the victories and freakouts of planning her 2016 wedding and the marriage that'll follow. Tweet her at @laurenzalita.
Top photo via Shutterstock.