As expected, it appears that The Emoji Movie is just one giant troll from stoned Hollywood execs who wanted to see how many people would pay to see a movie about animated talking emoticons. It's the worst movie of all time since the last worst movie of all time. As with any bad film, more entertaining than the product could ever be is the fact that adult critics are being forced to explain how terrible it is.
Variety described the movie's execution as "more than a bit lazy." The New York Times wrote that "the whole thing remains nakedly idiotic." The New York Post devoted six very short paragraphs to panning it. The New York Daily News, cleverly, employed the use of emojis. And The Guardian suggested that "children should not be allowed to watch" such a "toxic film." The Hollywood Reporter believes "any dumb thing can be turned into an enjoyable film." Except this movie, which is "a very, very dumb thing."
The Emoji Movie is at least setting some kind of record—it has a 0% critics rating on Rotten Tomatoes. If you think I'm going to see a movie about talking emojis, you're out of your mind. Here is a beautiful pile of garb:
'Emoji' movie sucks (sadface!) [NY Post]
Please restore my eyes to factory settings.
Review: 'The Emoji Movie' is a big steaming zero-star pile of 💩 [Daily News]
The only thing worse than the dialogue is the absurd product placement. In addition to "riding the Spotify streams" to make it all the way across the phones, there are a few glimpses hawking Crackle, a streaming service no one uses but just so happens to be owned by the same corporate entity that is distributing the film.
G/O Media may get a commission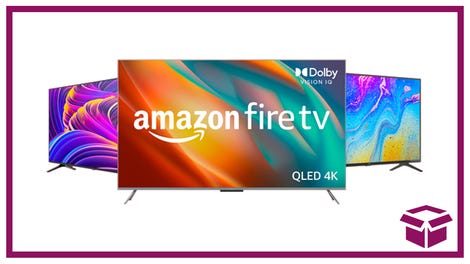 Ooh. stunning.
New Amazon Fire TVs
Do not see The Emoji Movie [Vox]
Most likely, it was going to be a garbage fire. And now that I've seen it, I can confirm that suspicion: The Emoji Movie is a waste of time, resources, and a bunch of comedians' voices, plus a premise that actually had the potential to do some small good in the world. It's less of a movie and more of an insult.
'The Emoji Movie' can be summed up in one word: Meh [L.A. Times]
"The Emoji Movie" isn't terrible, it isn't offensive or outright bad. It just is, and there could be far worse ways to spend 86 minutes. But maybe, just maybe, it'd be the better choice to spend those 86 minutes outside, or reading a book, or talking face-to-face with another human being. Because "The Emoji Movie" could not be more meh.
Review: 'The Emoji Movie' Is Almost as Bad and Brutally Depressing as Everything Else in 2017 [Indiewire]
What a gift it would be in July 2017 to leave the multiplex and actually come up on our way back to reality, to feel the faint nausea of ascension for the first time all year and be reminded that it's still possible for things to get better. Alas, blind optimism is a dangerous game in this day and age, and there is no such respite to be found here.
'The Emoji Movie' Review: What's the Emoji for Corporate Pandering? [Rolling Stone]
The movie, sadly, settles for more of the same caffeinated nonsense as Meh goes off with his best friends, Hi-5 (James Corden, working really hard for every laugh) and Jailbreak (Anna Faris) to penetrate Alex's firewall (literal fire as imagined here) and get his code rewritten before he's deleted.
The Emoji Movie review – a big thumbs down 👎 [Guardian]
However, the most disturbing part of this toxic film is the way it infects audiences with its ugly cynicism. A viewer leaves The Emoji Movie a colder person, not only angry at the film for being unconscionably bad, but resentful of it for making them feel angry.
'The Emoji Movie' Review: There Are No Words [The Wrap]
It is a soul-crushing disaster because it lacks humor, wit, ideas, visual style, compelling performances, a point of view or any other distinguishing characteristic that would make it anything but a complete waste of your time, not to mention that of the diligent animators who brought this catastrophe into being.
The Emoji Movie Will Send You Into a Spiral Emoji of Despair [Vulture]
In the mock tradition of countless superior Pixar films before it, it's attempting to sell a sense of childlike wonder and fascination with an ordinary, everyday object: your smartphone. And in doing so, it is one of the darkest, most dismaying films I have ever seen, much less one ostensibly made for children.