On Monday, a woman named Cassy McWade had her car break down about 45 minutes from her home in North Carolina. Her family tow truck driver was worried he wouldn't be able to get to McWade in a timely manner, so he called tow truck driver Ken Shupe. Shupe describes himself as an evangelical Christian and a Trump supporter.
When he arrived on the scene, Shupe observed McWade's sign supporting Democratic presidential candidate Bernie Sanders. The Daily News reports that God then spoke to Shupe, and boy, God sounds like a jerk:
"Something came over me, I think the Lord came to me, and he just said get in the truck and leave," said Shupe to local reporters. "And when I got in my truck, you know, I was so proud, because I felt like I finally drew a line in the sand and stood up for what I believed."
McWade suffers from Psoriatic Arthritis, Fibromyalgia, Chronic Fatigue Syndrome, and early stage Crohn's disease, and she takes 18 medications daily. Shupe now claims he had no idea that McWade's situation was so serious, though her placard was clearly displayed and the McWade's mechanic appraised him of it ahead of time.
In the interview below, Shupe says that he believe McWade would be a socialist that would not pay him, and claims that in many recent instances in his life he's had trouble getting socialists to pay him for his work.
"Every business dealing in recent history with a socialist minded person I have not gotten paid... Every time I deal with these people I get 'Berned' with an 'e' not a 'u'."
G/O Media may get a commission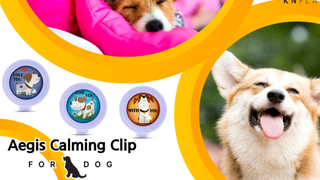 20% off
Aegis Calming Clip for Dogs
The man is hounded by socialists.
And you know what? Shupe didn't break any laws. Your political affiliation isn't a protected status, according to Greenville attorney Steve Sumner. He told Fox News Carolina, "As long as there is no contract between the driver and the tow truck company then there is no legal obligation for the tow truck company to pick her up." Human decency is not required by law.
Screenshot via YouTube.
---
Contact the author at aimee.lutkin@jezebel.com.