Relative to other nations, Americans have always been squeamish in our handling of death. When it's expected, the act itself is kept clinical, with a predictable trajectory: We are to stay alive for as long as the laws of medicine will allow, and when the end does come, it's an affair to be dealt with expediently. Birth is messy, chaotic, joyful. Death, by contrast, is muted and sterile. It's an imperfect system, but that's how it is—or, at least, how it was.

More and more states are passing laws that allow the terminally ill to die on their own terms, a freedom that enables sufferers themselves to dictate their final days and hours. In 2013, a New York-based artist named Betsy Davis was diagnosed with ALS, and the reality was grim: The disease renders its victims immobile, taking from them the ability to eat, speak and eventually, breathe.
The disease, of course, took its toll on Davis. As her sister, Kelly, wrote in the San Diego Union-Tribune:
Over the last year, I watched her increasingly struggle to eat and speak and do the simple things the rest of us take for granted, like scratch an itch or brush a stray hair from her eyes. No longer able to walk, she spent most of the day in bed.
Rather than waiting for the disease to have its way, though, Davis decided to have a party to say goodbye.
"You are all very brave for sending me off on my journey," she wrote in an email to her guests. "Thank you so much for traveling the physical and emotional distance for me. These circumstances are unlike any party you have attended before, requiring emotional stamina, centeredness, and openness."
G/O Media may get a commission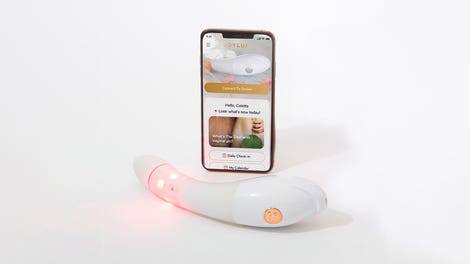 $50 Off
Joylux vFit Gold Device
Davis' only rule was that no one cry in front of her, a tall order considering the magnitude of the event. But the 30 assembled guests did their best to comply, gathering in the beautiful valley of Ojai, California for two days of eating, drinking and photo-taking. Davis' sister Kelly put sticky notes on Betsy's possessions, explaining their significance, and guests were encouraged to take "Betsy souvenirs" to remember her. And then:
At around 6:30 p.m. Sunday, July 24, all three of her truly incredible caregivers helped her change into a kimono she'd bought in Japan. A family friend drove her in his new Tesla up a hillside next to the house, where we'd placed a white canopy and a makeshift bed. She wanted to fall asleep as the sun was setting.

My sister is an example of exactly what the law intended to do: allow a dying young woman the ability to assert control over the chaos and uncertainty of terminal illness. She turned death into a reason to celebrate, and she was there to enjoy the party.
In 1997, Oregon became the first state to allow assisted suicide, and since then, four others have followed suit. California's "right-to-die" law went into effect on June 10, nearly two years after terminally ill California resident Brittany Maynard moved to Oregon so that she could legally end her life.