Mike Pence, a pure man who survives on whole milk and phobia, who has long voted against LGBTQ rights and nary cast a wandering eye at a penis, is now getting a big ol' LGBTQ blowout courtesy of an 18-year-old girl in his hometown.

Erin Bailey of Columbus, Indiana decided to organize the festival as her final high school senior project and told Cosmopolitan.com that her first hang-ups were contacting city officials. "I was really afraid that they were gonna say, we don't want this, we don't want to upset the vice president," she said. "But they were really supportive of it."
On the GoFundMe page for the Columbus Pride Festival, which has so far raised $3,620 of its $2,000 goal, Bailey promises that there will be food, vendors, educational booths, entertainment.
ALL OF HIS WORST NIGHTMARES.
The project indicates that there are people who would like to wash their hands of Pence everywhere, but Bailey makes clear to Cosmopolitan.com that this is not about him. "I'm not doing this for him, it's for members of the community," she says.
G/O Media may get a commission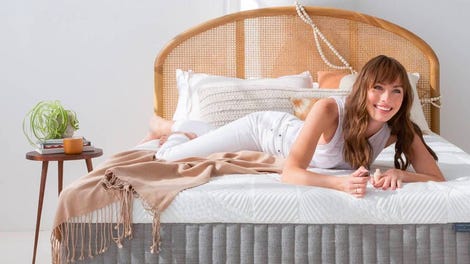 Sleep Sale
Sleep Sale - Brentwood Home
Pence has merrily trampled that community on multiple occasions. As governor, he supported a measure to ban same-sex marriage, signed a bill which effectively legalized discrimination by businesses against LGBTQ folks, and signed a bill which would have given doctors various tools to deny abortions. Pence has voted against allowing gays to serve openly in the military, pretty obviously supports pray-the-gay-away programs, and believes gay marriage would lead to "societal collapse"–basically, he has an anti-LGBTQ track record long enough to fill a whole New Yorker piece.
A Pence spokesperson has released a statement in support of the festival:
Vice President Pence commends Erin Bailey for her activism and engagement in the civic process. As a proud Hoosier and Columbus native, he's heartened to see young people from his hometown getting involved in the political process.
This is delightful.
The festival is April 14th. Jezebel has reached out to Bailey and will update the post if we hear back.