Very Specific Playlists is a weekly feature in which Jezebel staffers make very specific Spotify playlists based on their weird proclivities.
Sitting all day, I've learned, is bad for your butt. I will not go into detail about my formerly A+ butt and exactly what indignities it has suffered over the past 1.5 years that I have blogged on the internet. Let us just say there have been some changes, most notably that the term "thut" now holds special meaning for me.
To be clear, I'm not implying that anyone should care about their butt's aesthetic appeal. Butts don't matter, and everyone dies. At least I have a butt and didn't lose a chunk of it in some kind of hot tub bacteria accident. But ever since my body started slowly melting into the swivel chair in which I spend 80-95% of my workweek, I have become obsessed with butts—mine specifically, but also, everyone's. Now that summer has arrived, there is no escape.

In situations where my butt might be visible, beach or otherwise, I've found myself doing a tricksy sort of lean-bend to approximate its younger, happier shape. At home alone, I would peer at my butt sadly in the mirror, and then go sit back down. Whenever I spot a teen walking down the street in those tiny diaper shorts, I want to scream, or at least cross the street.
Recently, I went to Electric Daisy Carnival with some coworkers and found myself angrily chronicling all the butts I saw (to be fair, I was doing a fashion diary and no one was wearing pants).
G/O Media may get a commission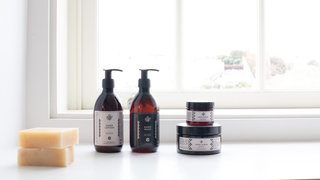 Exfoliate and Hydrate
The Handmade Soap Company
At a certain point, I realized I was becoming one of those terrible people who complains endlessly about an extremely minor and fixable issue and looks at themselves in the mirror too much. My roommate was becoming annoyed by how often I would mention my butt; my coworkers, too, were beginning to notice my horrible new passion. Eventually, my exercise-savvy coworker Kara Brown took pity and wrote me a gym regimen, which I am kind of following, give or take a three-week period when I never went to the gym and a handful of days when I did the StairMaster for 10 minutes and then left.
Here are the songs I listen to while I try to make my butt better, accompanied by some of Kara's tips. It should be noted that I very rarely complete this entire workout (it's half-assed, so to speak), and I absolutely do not do it 5-7 days per week as recommended.
Warm-Up
"Paris (Aeroplane Remix)" by Friendly Fires
This languid, perfect remix is nice for the warm-up portion of my workout (a few minutes on the elliptical, or walking on the treadmill at a steep incline). To be honest, I often skip this part. I should also note that my workout efforts take place at a gym down the block from my apartment, because I'm bad at running, swimming, biking and other outdoor activities.
StairMaster
"Say It," by Flume, Tove Lo
According to Kara, I'm supposed to do 15-30 minutes of butt-oriented cardio per workout, which I have rounded down to 10-15 minutes, likely to the detriment of my #exercise #journey. There are lots of different ways to do cardio, but I stick to the StairMaster, because it never occurred to me to try anything else. This shivery track from Flume's latest album is good enough to distract me as I begin to climb.
"Company" by Justin Bieber
There is really nothing like the dulcet moans of a teen shithead to get me into minute 7 of my hellish ordeal. The beat is perfectly attuned to my pace (slow).
"We Don't Talk Anymore" by Charlie Puth feat. Selena Gomez
I don't really know much about Charlie Puth, except that he has a fucked up eyebrow and my colleague Jia hates his music; fortunately for me, this corporate tween nonsense fits my StairMaster vibe to a T.
"Oblivion" by M83 (feat. Susanne Sundfør)
"People can really get into the zone on the StairMaster," Kara warned me, and it's true. One time I looked to my left and there was a man with a ponytail, pumping his fist to the rhythm of his steps. Another time my headphones got caught between the stairs and I fell off, and no one noticed. (I was fine!) Another time I forgot a ponytail holder, and looked like a mennonite. If you are feeling ready to get intense with your workout, then this is the song for you, because it appears in a Tom Cruise movie about aliens and very much sounds like it.
Stretching
"Toothbrush" by DNCE
This dumb banger provides a happy little interlude for stretching, which although I am not flexible, is my favorite part of working out, because I am at rest. The thing about workout playlists is that these songs are for a very specific purpose, and that purpose is distraction. There is really no point in trying to get all cool about it. Sometimes, what your body wants is Charlie Puth, Justin Bieber and Joe Jonas, and who are you to deny it that?
Butt Exercises
"Couldn't Believe" by Broods
Kara provided me with an overwhelming variety of butt exercises, squats chief among them. 25-50 squats, or as many as you can do, is the aim; you can start without weights and move up to holding 5-10 lb. while you squat. I love this new track from Broods, with a characteristically heart-bursting hook in the chorus.
"This Is What You Came For" by Calvin Harris feat. Rihanna
Other suggested butt-making exercises include donkey kicks, reverse lunges, butt lifts and fire hydrants, 3-4 sets of 12-15 reps. There are also clam digs (1-2 sets of 7-10 reps) and kick backs ( 2-3 sets of 10 reps). Kara suggests choosing five of these per workout, which I have never even attempted to do; mostly, I just stick to reverse lunges and squats. Anyway, I feel like Calvin Harris has designed his career around appearing on workout playlists.
"Surrounded – Big Dope P & TT The Artist Remix" by Ryan Hemsworth
A lil' blast of EDM is nice right around here, especially if you're trying to do all those butt exercises. Sometimes, I like to throw in a few sets on the leg press, which I enjoy because you get to sit down while doing it.
Non-Butt Stuff
"No Problem" by Chance the Rapper (feat. Lil Wayne, 2 Chainz)
This song almost sounds like Chance the Rapper is cheering for you, which is a great way to wrap things up. "Wow," he is saying, in my imagination. "You have made so much progress on your butt!" At this point, if I've made it this far, I might do a one-minute plank and some weights, and maybe an inner-thigh sculpting thing I saw a Victoria's Secret model do on Instagram once.
We're done. Please accept my warmest blessings on your brand new butt.
---
Illustration by Sam Woolley