Very Specific Playlists is a weekly feature in which Jezebel staffers make very specific Spotify playlists based on their weird proclivities.

Oh right, taxes... For a good portion of absent-minded America, the past few weeks have been stressful, trying to carve time to complete a simple mandatory adult task we'll otherwise be audited over. The sweat beads on your foreheads and armpits have been activated, signaling the fact that a dreaded deadline is approaching (this year it's Monday, April 18). Do you say fuck it and file for an extension or do your diligence and listen to some soothing music while you calculate your previous year's riches, expenses (receipts for which you definitely saved) and smart investments?
More than likely, the scenario is you confusedly reading TurboTax instructions four times in a row to make sure you get it, even though you do this every year. Full disclosure: I have already filed my taxes. But I'm no stranger to procrastinating until the final hour. For some people, the process takes but 10 minutes, in which case not much musical support is needed. For those of us who do a lot of freelance work or own a business, this time of the year means hours of fine-combing and hunting for paperwork you swear the cat was just chewing on. We could hire an accountant or go to H&R Block or something, but we'd rather not spend unnecessary money on The Man. Here's a stress-relieving playlist to help get through these late-filing woes.
---
1. Freddie Joachim, "Shoulder Kiss"

I found this song on Spotify's "Jazztronica" playlist, described as a place "where jazz meets electronic music." Normally, I'd never browse a playlist with the title Jazztronica, but I took a chance on this hoping for some chill electro vibes and discovered Freddie Joachim, a DJ/producer whose smooth, stripped down (neo-soul reminiscent) style is the type that soundtracks rainy days or lounges or rainy days in lounges.
G/O Media may get a commission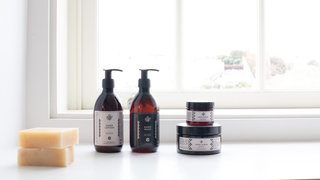 Exfoliate and Hydrate
The Handmade Soap Company
2. Billie Holiday, "Easy Living"
My favorite photo of Billie Holiday is a shot of her singing so intensely you can feel the emotion pouring out. When I moved into my Crown Heights apartment several years ago and found myself shopping for vinyl art to frame on my wall like a true Brooklynite, I bought a cheap Billie single cover featuring that image at a record store. "Easy Living" is one of those classically carefree songs and perfect background music for contemplating, house cleaning or digging through piles of receipts.
3. The Internet, "Under Control"
There's a surprisingly easy transition from Billie to the laid-back sounds of the Internet. While almost any song on their album Ego Death works for relaxation, this one is a good rhythmic support system for tax time because it's like a little Uncle Sam angel whispering in your ear, "It's under control, I got it..."
4. Yuna & Usher, "Crush"
Malaysian singer/songwriter Yuna's soft, cool coo and Usher's falsetto are at peak smooth on this duet that almost functions as an adult lullaby. La la la la la la la la la ah.
5. Rihanna, "Same Ole Mistakes"
Rihanna is at her most impressively mellow on ANTI, especially this Tame Impala cover about falling in and out of a bad but necessary relationship, which parallels the process of filing taxes. Even though you don't want to do this every year, you do until it all blurs into nothingness because money is conceptual and absolutely meaningless when it's all said and done.
6. Esperanza Spalding, "Chacarera"
We all remember Esperanza Spalding as the Grammy darling who won Best New Artist in 2011 (beating Drake and Justin Bieber) and then everyone was tight and had to Google her name. I'm familiar with less than a handful of songs in her catalog and this is a heavily instrumental one I'd listen to while walking in the forests of Brazil if only I could escape.
7. D'Angelo, "Cruisin'"
Brown Sugar is one of those essential groove albums I turn to when I want zero distractions, which is needed in a situation that involves using a calculator and remembering math numbers.
8. Beach House, "Lazuli"
This is another Spotify-discovered track spotted on the "Mellow Mood" playlist, a song, named after a semi-precious stone, that makes your mind literally drift. Listen and picture yourself on a beach away from the stress and anxiety of saving and financial planning. In case you're wondering, it's named after a semi-precious stone.
9. Kanye West, "Ultralight Beam"
The annual completion of taxes is always cause for celebration so I must end this with Kanye's deeply stirring Life of Pablo opening track, which features Dream, Kelly Price, a beautiful gospel choir and Kanye regretting things again and self-stroking his ego without ever reaching a compromise between self-deprecation, sin and sermonizing. Anyway, congrats, you've finished your taxes.
---
Illustration by Sam Woolley