Welcome to Grim Yelp Reviews, a new regular feature where we share people's worst experiences at the worst places. This week: dark adventures at the temple of fitness.
The gym is the worst. At best, gyms are sterile, anonymous places where you run in place or bike to nowhere while staring at a bank of televisions, all of them reflecting nightmarish identical images of Rand Paul showing his ass in yet another interview. Maybe you pick up some heavy stuff and then put it back down in the same spot. Gyms: they're not good.
But sometimes gyms transcend the arena of mundanity and skyrocket into the realm of grimness, and that, my friends, is the special place where we all gather today. In general, grim Yelp reviews of gyms focus on complaints about sanitary issues, complaints about staff, and, perhaps the most common form of Grim Yelping, complaints about fellow gym patrons (Quick poll: Who's worse, the weightlifting mega-grunter or the dude boring a hole into your chest area with his eyeballs? Trick question! It's usually the same fellow!)
As always, to protect the names of the innocent and not-so-innocent alike, we've redacted the names of the businesses, as well as the identities of the Yelpers who wrote the reviews. We realize you can probably find out all of that information by employing five seconds of Google magic.

Sanitary Issues:
The pooping kind?
G/O Media may get a commission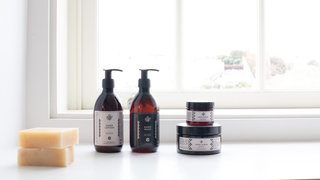 Exfoliate and Hydrate
The Handmade Soap Company
Oh, God. God, no:
Jan. 10th, 2015 3p.m. I saw a big cockroach crawling around the employee changing room by the dumb bells. Later, in the mens shower stalls, I saw a SQUIRTY POOP on the floor (last stall to the right). I told the folks at the check in desk and they seemed to take action. If you don't like death-grunting-weight-droppers, then avoid anything near the free-weights area.
There's a theme here, in case you're not seeing it yet, and that theme is poop:
I had no idea this was even possible, but thanks to this lady for giving me another reason not to go to the gym:
I am fairly certain I got poison ivy from here as I wore shorts at the gym recently and started itching badly after using the leg-press.. low and behold that evening, poison ivy all over the back of my thighs. Considering [Redacted Gym] was the ONLY place I was in shorts in the last month, have to think it's from there.
Guh:
The bigger on-going problem is the disgusting condition of the men's locker room. Like with the treadmills, 40 percent of the locker locks are broken. The bathroom stalls are flooded and smell like urine. The floor in the shower area is gross and I think it's only a matter of time before there's an outbreak of MRSA or something similar created by these conditions. If you walk from the shower to the sinks and then wipe your feet on a white towel, the the towel will be black with filth from the floor. This is not an occasional occurrence ... it is that way every day. There's mold in the showers and the soap, shampoo, and conditioner containers are broken, empty, or both. There is visible dust and debris on the floor in the locker area and 25 percent of the sinks don't work. These conditions are even worse on Monday mornings as if they don't clean them at all over the weekend.
You can swim in actual lakes that sound cleaner than this:
A month ago the water in the pool became very murky and a less than pleasant shade of green. When I asked the guard what the problem was he tried to tell me that the ph was off and that it would clear up soon. is i've worked in the pool industry for years and knew this to not be the truth. I promptly turned around and called the health department. They closed the pool for a week SO THAT IT COULD BE DRAINED AND DECONTAMINATED! It was full of bacteria and algae!
Seriously, how does toilet paper end up in the pool? Actually, never mind, I'm happier not thinking about that one too much.
The pool is pretty gross - always TP or a band-aids floating around, I refuse to get into the hot tub, and the shower in the pool area you are supposed to rise off in always has mosquitoes in it (never thought I'd get bug bites at an indoor pool).
One suggestion: stop getting in this pool? Seriously.
The pool is terrible. I am really surprised the Health Department has not shut it down. The water visibility is so poor that it is impossibAle to see a yard past your face, even with goggles. I swim twice a week and am very concerned for my health. I have already had some ear and respiratory infections, which never happens to me under normal conditions.
Fellow Gymgoers:

Why would you... why?
Its kind of creepy to see people sit in the sauna in full street clothes. You are supposed to be as naked as possible and sit on a towel! If your prudish, wear a bathing suit. But please keep the street clothes and street shoes outside. disgusting and unsanitary. I hope the management will monitor the sauna to make sure people do not wear street clothes in the sauna, which is posted in the rules.
If you brought a gun to the gym, where would you keep it? In the waistband of your shorts? Just balanced atop the leg press machine? I'm thinking about this too much:
I have been going here for a about 2 years. It was fine when i first started going but it is really terrible there now. The comments about girls being uncomfortable are absolutely true. The clientele is not like the neighborhood where the gym is. Once someone got arrested for having drugs and a handgun when I was there!!
Imagine how sad your life is if you have to seek sexual stimulation from leering at women who are trying to work out:
Staff
These guys sound fun:
If you go into the gym after about 1:00 pm on a Saturday you might get to watch the entire group of "managers" in the weight area lifting weights, making incredibly offensive remarks about women and men who don't meet their definition of manly, and shooting pictures of one another in both G rated and very close to X rated poses!
This one is pretty mean, and frankly seems fake, but I also like the mental image of a scowling boyfriend staring at the gym owner's toupee and just stewing:
In conclusion, and to be perfectly honest, I'm just including this last one because I'd forgotten about the word "strumpet" and it made me laugh:

Truly obnoxious website. The home page consists almost entirely of a larger-than-life photo of some chick's butt in a chartreuse bikini bottom. You have to click thru 3 photos of the same strumpet's buns, thighs, etc — which by the way take forever to load — to get to the [City] page and then their class schedule.
Pretty grim. Until next time, hold tight to your medicine balls, disrobe fully before entering the creepy sauna, and, as always, maybe just stay home with a prancercise video and don't bother with any of this mess.
Photo via Thomas Hawk/Flickr
---
Contact the author at anna.merlan@jezebel.com.

PGP fingerprint: 67B5 5767 9D6F 652E 8EFD 76F5 3CF0 DAF2 79E5 1FB6