Welcome to That's My Title, a series in which we'll explore songs that have similar titles and, as such, generally similar premises.
On first listen, Dierks Bentley's new song with Elle King, "Different For Girls," does no more than RaeLynn's "For A Boy" or "God Made Girls" did with regards to breaking down the complex, alleged differences between men and women. On second listen, the track seems to hint at more than just the idea that "he's tough" and "she's sweet." On third listen, it's not the first to do this, and certainly not the first instance of a man doing it.
As these things go, "Different For Girls" isn't the first to bear that title. Joe Jackson's "It's Different For Girls," released in 1979, was about a girl who wants sex and a man who wants love. The song covered the same general concept of the supposed divide between men and women when it comes to dating and sex. In 2013, Gavin DeGraw more loosely covered this topic with "Different For Girls," a track that finds DeGraw telling his romantic partner: "You know that boys don't cry/While you get hung up on every other guy."
Just last week, Of Montreal released "It's Different For Girls," the first single off their forthcoming album and a song that most clearly (in a tongue-in-cheek manner) addresses the objectification women face. A sampling:
It's different for girls
They've got sensitive language

They've built miles of defenses

They're not numbed by oppression

It's different for girls


From when they are children, they're depersonalized

Aggressively objectified

They want to make a scene

They want to be adored

And then they want to be left alone when they get bored with that
Of Montreal's track comes just a few weeks after Bentley and King released their version, which was written by J.T. Harding and Shane McAnally, both of whom have worked with a bevy of popular country artists. King isn't a country artist—she's probably best described as rock, with hints of soul—but her gravely, sometimes twangy voice suits multiple genres well. The track is on Bentley's latest album Black, and has already been praised by the country music press.
G/O Media may get a commission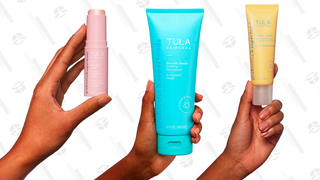 At the top of it, Bentley sings what seems to amount to some pretty basic (and short-sighted) ideas about the differences between men and women:
She don't throw any t-shirt on and walk to a bar

She don't text her friends and say, I gotta get laid tonight

She don't say, it's okay, I never loved him anyway

She don't scroll through her phone just looking for a Band-Aid
Then at the chorus, King joins in:
It's different for girls when their hearts get broke

They can't tape it back together with a whiskey and Coke

They don't take someone home and act like it's nothing

They can't just switch it off every time they feel something

A guy gets drunk with his friends and he might hook up

Fast forward through the pain, pushing back when the tears come on

But it's different for girls
When we get to King's own verse, it becomes clearer that the premise here is not that things are necessarily different for men and women, but that they are somewhat forced to have things be different for them. "She don't have the luxury to let herself go," she sings. "When the going gets tough, yeah, the guys they can just act tough."
"It's different for girls," Bentley sings later. "Nobody said it was fair/When love disappears, they can't pretend it was never there."
"...I started to think about how our society is so focused on youth and hook-ups, and young love stuff," Bentley told Billboard recently of Black, saying that he didn't "intentionally" mean to have a lot of women work on it, but he's happy it worked out that way. Of "Different For Girls" specifically, he said, "It talks about the idea how guys and girls process heartaches differently, but there's also the judgment that one places upon a girl if she does go out and drink the heartache off—society does judge them for that."

"I definitely think there is some bias there. It's an interesting conversation worth having, and being the father of two girls, I don't want them to grow up in a world where there are hidden biases. I'm surrounded by all these strong women — my publicist, my manager, and my wife, and sometimes I think that women are more evolved than men, and they are able to process a heartache better."
Whether or not the song is being appreciated for its suggested nuance remains to be seen—it's certainly not doing as well as Bentley's very bleh summer jam "Somewhere On A Beach." As is the usual lately, the country charts right now are comprised of almost all songs by men. It's also worth noting that none of the iterations of this sentiment—save for King's featured spot—have women on them. Another way that things are different for girls.