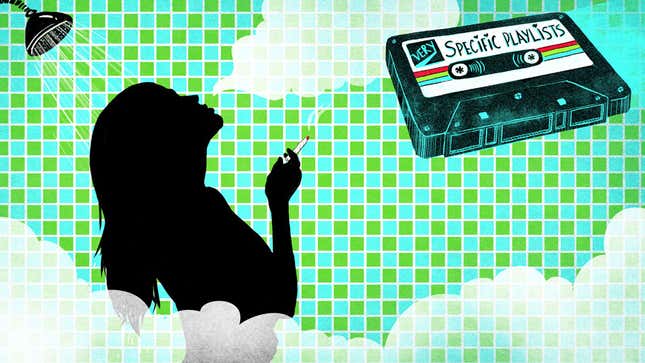 Very Specific Playlists is a new weekly feature in which Jezebel staffers make very specific Spotify playlists based on their weird proclivities.
Taylor Lautner Doesn't Even Remember Saying 'Bella! Where the Hell Have You Been Loca?'
It's so important to take care of yourself! Why are you even looking at me like that? That's so random of you.
If I must go on, I'll at least put it plainly.
Here are some things that make me feel good: (1) being naked, (2) listening to music, (3) smoking weed, (4) dancing around, (5) taking long showers. Heyyyy, what do you know, suddenly you're home after a day that felt like it would go on forever, and you've got this playlist cued up and ready because some random blogger put it up somewhere, and there's no better way to redeem female multitasking from its second-shift misery other than to only do it with things you love. Actually—you're about to get in there, aren't you?
Fuck yes you are. Pack a bowl, bring the jambox, close the door. Make sure you have everything in the bathroom that would be fun for you right now—shaving is more fun when you're in the mood to be detail-oriented, and body scrubs feel so FREAKING good. Have your towels and products-for-afterward and whatever else ready. Get that shower on nice and hot, turn on the tunes, step in. Suddenly—do you feel that? That is the feeling of self-actualization, when something as chill as a shower can be a job and a pleasure and a pastime and dare I say a purpose, though a fleeting one, all at once.
So enjoy yourself with this playlist, and be careful if your fingers are slippery from conditioner: I've broken three pipes that way.
---
1. Until the Ribbon Breaks, "Pressure"
Even without the MFN eXquire verse, this track has continued to provide me with a strapped, hazy, heavy feeling of both control and abdication—i.e. a solid sex feeling—ever since it came out, rich cheap and shamelessly, in late 2013. (Are you stoned yet? Feeling the urge for a booty drop? Ideally you don't have to do anything else tonight except for eventually get out of the shower, but even if you do have to do shit, remember: you're just at the beginning of this playlist. You can def have this half-hour 4 U.)
2. Ryn Weaver, "OctaHate (Cashmere Cat Remix)"
I love the original—I think Ryn Weaver has one of the strongest vox games in pop right now; she growls the way a kitten does, and check her "shot me down" squeak in the second verse here—but when Cashmere Cat brings the remix heat (a la "Do You") there's no letting it go. The half-step incremental freakout at around 2:50 is a perfect signature, and the unapologetic throttle of the rubbery, staticky signal-crossfire is good for a nice aggressive shampoo, the way someone would do it if you were paying them.
3. Son Lux, "Lost It to Trying"
Particularly when under the influence of THE DEVIL'S WEED, I am a big fan of the loose genre of pop that you could call PCP-orchestral: the experimental classicism that shows up at different degrees in bands like Dirty Projectors, San Fermin, Anathallo. The angles and intervals in this kind of music are strange, satisfying, and colorfully synesthetic—and this track in particular picks you up and runs with you before you know it. If the tub floor's not too slippery, feel free to move *~* eXpeRiMeNtAlLy *~* because no one's here to judge.
4. Alex Metric & Jacques Lu Cont ft. Malin, "Safe With You"
God, remember that Niki and the Dove album? "Tomorrow" has the most triumphant verse-to-chorus key change of all time? Anyway, Malin is Niki, and I don't know where the dove went, but for me, this track has been "Dancing On My Own"-level ubiquitous—I associate it with the same kind of nights. The build at :50 and then the dance break, it heart-shatters; the melody is ardent, ecstatic, but laced with that sense of the impending, the Swedish midnight-sun pull.
5. Jojo, "Too Little Too Late"
Okay, okay, time to calm down for a second or we'll have a heart attack in this shower. Comb some conditioner through your hair, do it carefully. You sound really good doing the backup part on this song: you know it's just a little too late! This is a good one for letting any products just sit there making you more beautiful and really focusing on your performance. Be inspired by Jojo, who recorded this perfect thing when she was 15. (Don't miss her little "WOO" at 2:50. And have you heard the lovely little Daniel Rossen cover?)
6. Travi$ Scott ft. Rich Homie Quan & Young Thug, "Mamacita"
Okay, now you're grown again! Dang, so grown. I love this track: the strut and the rattle of it, the full black bloom of the hook. There's an opposing push and pull about it that I can hear more clearly when under the influence—the quick toss of the verses against the unyielding drag of the beat, the sense of one half unfolding outwards as the other half yanks tightly in.
7. Made in Heights, "Holla Mears"
Emma once pointed out that this sounds like "Bedrock," and it does, and I once sent her a voice memo from an actual stoned shower making a Live Shower Mashup like the person who's eventually going to drown at Spa Castle that I am. Right now you should be wrapping things up; maybe you're out of the shower, wiping the steam off the mirror, looking at your cute little face. Whatever you're doing, Made in Heights is down for it: their vibes are good for hangs, for work, for walks, and if you're stoned it's all pitched alertly enough to keep you on your feet.
8. How to Dress Well, "Words I Don't Remember"
I listened this song into submission a long time ago, but I have to honor it here—because gorgeous, unexpected, intimate loneliness is what the stoned shower, and this track, are all about. The gasp right after 1:57 and the beat that kicks in to carry you, they're whatever you're up to: this starry self-soothing, this conversation with your inconsequential ghosts. I was taking a stoned shower around this time last year when I realized the wordless little riff that starts around 4:10 is what has to be a deliberate lift from "Purple Rain" (it's in the latter at 4:45 and 6:10) and everything just started to make sense, bro.
You done? Hey: you deserved that. Have a good night.
Illustration by Tara Jacoby.
---