In a press conference held on Wednesday, Alexander Polinsky, formerly a co-star of Scott Baio's on the hit '80s sitcom Charles in Charge, alleged that Baio sexually harassed and abused him when he was a minor.

"I was sexually harassed by Scott Baio and ultimately assaulted by him between the ages of 12 to 15 years old," Polinsky said. Polinsky described what he claims to have been "a pattern of abuse that was unrelenting" during his four-year tenure on the show. Polinsky claimed that Baio would often recount his "conquests with young girls and co-stars" and that one time "he laughed as he cut a hole in the canvas wall of my private dressing room on set and exposed his genitals to me." Another time, Polinsky alleges, Baio threw hot tea in his face.
Polinsky was joined at the conference by attorney Lisa Bloom and Nicole Eggert, also a Charles in Charge co-star who, on January 30, alleged on Megyn Kelly Today that Baio assaulted her as a minor, beginning in 1986, when she was 14 years old. She alleges the abuse continued for several years.
"He immediately took to me, and befriended me, and earned my trust," Eggert said. "And then he started expressing his love for me, and talking about marriage in the future. And then—I was still 14—before my 15th birthday, we were at his house, in his car, in his garage and he reached over and he penetrated me with his finger. And that is when the sexual touching and abuse started."
Eggert and Bloom said at the press conference on Wednesday that they know of at least 10 witnesses who saw Baio allegedly act inappropriately toward Eggert on set.
G/O Media may get a commission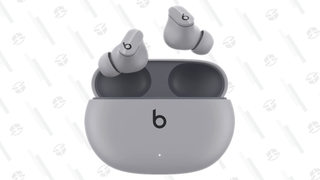 Meanwhile, Baio's legal team has denied these allegations, calling them a "publicity charade" orchestrated by Polinsky and Eggert. Attorney Jennifer McGrath said at a news conference on Wednesday, "Scott denies every single claim of inappropriate behavior. Almost every one of them can be refuted with evidence."
On February 6, Polonsky filed a report with the LAPD in support of some of Eggert's allegations, and to lodge his own.