In addition to being a banner year for lunacy, 2016 will go down as a time consumed by both black pain and black beauty. A year when we buried the bodies of Philando Castile and Keith Scott and Korryn Gaines, but also welcomed timely, nuanced, portraits of blackness in works like Coloring Book, Atlanta, a new black history museum and now, A Seat at the Table.

Solange's fourth studio album, released last Friday, feels correct for the era—the sound and tone and subject matter an apt representation and balm for the Black Lives Matter era. A Seat at the Table delivers sumptuous funk-tinged R&B-at-the-MOMA, with a voice raised on the influence of En Vogue, Brandy and Diana Ross. She also enlisted the R&B king himself, Raphael Saadiq, who produced and performed on much of the album.
On Twitter, Solange explained the difference between A Seat at the Table and her last album, True.
A Seat at the Table feels like being met with a satiating repast at the midpoint of a journey—when you've travelled long but can still see the hurdles and possibilities of the road ahead. It is a journey into the crevices of black pain, black surrender, black resilience, black splendor and the constant state of rage that is the black American existence.
G/O Media may get a commission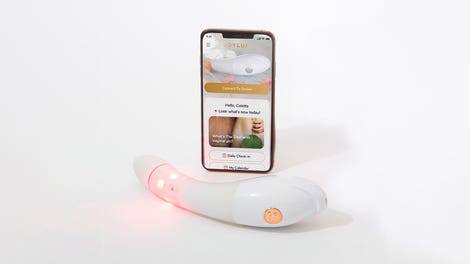 $50 Off
Joylux vFit Gold Device
More literally, it is also a journey across the lineage of a family. Solange's love for New Orleans remains evident. Here, she travels beyond Orleans Parish to her ancestral homeland, spending the summer in New Iberia, a small town 30 miles from Lafayette, Louisiana, where her mother's family hails, to write the album.
In a joint interview with her mother for her site, Saint Heron, Solange describes to writer Judnick Mayard her belief in the importance of knowing and understanding one's past.
I think that I chose New Iberia based on that area being the start of everything within our family's lineage. I heard stories about your mom and dad, what it was like growing up there and why they eventually left. I felt a strong sense of empowerment learning that they left under the circumstances that they did and that I was able to go back, reclaim that space, and create art and music that reflected their journey.
The album also traces the current journey being traveled by black millennials—one where we're largely removed from many of the exact ills and injustices of our parents and grandparents, yet we still watch black bodies pile up in the street, black bodies overpopulate prisons and black labor continue to go undervalued.
A Seat at the Table is interspersed with interludes from Master P, a native son of New Orleans who built a fortune after founding No Limit Records. Solange tells Tavi Gevinson for W Magazine that she only intended for Master P to record an introduction to the album, but ended up including him for most of the interludes where he meditates on success, judgement and the value of blackness.
And they offered me a million dollar deal, and had the check ready. Said I wouldn't be able to use my name. I was fighting my brother, because "Man, you shoulda took the million dollars!" I said "No, what you think I'm worth? If this white man offer me a million dollars I gotta be worth forty, or fifty... Or ten or something."
Joining Master P on the interludes are Solange's parents Tina and Mathew Knowles. Mathew recounts integrating his Alabama elementary school, being spit on by protestors and existing within "this vacuum between integration and segregation and, and racism."
Tina's monologue, "Interlude: Tina Taught Me," is a passionate defense of black pride and a celebration of the love she holds for her own blackness and black people.
I think part of it is accepting that it's so much beauty in being black. And that's the thing that I guess I get emotional about because I've always known that. I've always been proud to be black. Never wanted to be nothing else. Loved everything about it, just...
While Mathew's influence is felt in both of his daughters—perhaps best in their business acumen—these are the women that Tina raised. A Seat at the Table will inevitably be compared to Beyoncé's Lemonade, which is fair in that somehow one family produced two triumphant creative works on the experience of black womanhood in the same damn year. Both draw from centuries of depictions of black female stories and struggles—or a lack thereof—and navigate through what that history and conflict means, for both their personal lives and greater black womanhood.
And to talk about a black female experience, is to arrive, at some point, at the politics of our hair. "Don't Touch My Hair" is a soon-to-be anthem for the black women who have been forced to say those words. The marrow of the song is a highly specific vibration—a pride and sometimes an involuntary shame—knowable only if you have the hair many try to touch.
I can recall having my box braids fingered by a teacher in high school who held them close to her face and muttered how "interesting" and "beautiful" they were. It's moments like those that we all recognize—we know the embarrassment, the shock and most potently, the anger. A Seat at the Table tackles the precious nature of being angry in world where so often black women cannot be angry, cannot reveal that profoundly human emotion, without becoming a stereotype.
On "Mad" she sings:
I ran into this girl, she said, "Why you always blaming?"

"Why you can't just face it?"

"Why you always gotta be so mad?" (Be mad, be mad, be mad)

I got a lot to be mad about (Be mad, be mad, be mad)
I imagine the attempts to minimize the impact of crimes like slavery, redlining and mass incarceration on the black population is fueled by some understanding of how much we truly have to be mad about. But even just the open admission of that fact can be freeing—that our anger is treated as valid and that validation opens the door to, as Lil Wayne raps on what are easily his best verses in recent memory, "let it go, let it go, let it go."
On "Borderline (An Ode To Self-Care)" Solange muses about carving out a space to heal and be heard and the album itself will no doubt became a tool for self-care for many black women. It allows us to drift into a space filled to the brim with love of black people, one which honors the struggle and comforts us with a celebration of our continued ability to rise.
The fervent fandom for the Knowles sisters confuses some. They don't understand the reactions elicited in black women when Beyoncé sings about "patting her weave" or Solange shares her wedding photos. The simplest explanation is that there's something so deeply humanizing in being seen, and they see us. Through their work they hold up a mirror to black women, reflecting a vast spectrum of the beauty of who we are and what we've endured. Here, Solange illustrates a world where not only do we have a seat at the table, but we truly belong and are understood, celebrated and comforted.
I will always maintain that the miracle of us is how we continually manage not only to survive, but to create. There's a push and pull of wanting to celebrate and magnify the joy we do find, but rarely remaining too far from the pain—because there's beauty in that pain and out of that pain we have created movements and masterpieces.

The reign of terror and constant threat of lynching that was the beginning of the 20th century for black Americans yielded the Harlem Renaissance. Out of the Civil Rights movement we created Motown. As the war on drugs waged, so came the birth of hip hop.
Perhaps no other song on the album better encapsulates this phenomenon than "F.U.B.U.," a title borrowed from the iconic streetwear line of the same name, an acronym meaning, "For us, by us."
All my niggas in the whole wide world

All my niggas in the whole wide world

Made this song to make it all y'all's turn

For us, this shit is for us
On "F.U.B.U." Solange purposely writes a chorus that shouldn't, but undoubtably will, be sung by anyone who isn't black. The rub, however, is that those who are not "us," unconsciously indict themselves as the song goes on.
Don't feel bad if you can't sing along

Just be glad you got the whole wide world

This us

This shit is from us

Some shit you can't touch
A Seat at the Table is a project uniquely fashioned in Solange's vision and aesthetic and one that also carries the tradition of, as Master P preaches on the interlude "Closing: The Chosen Ones," keeping the rhythm.
"You know, our great-great-grandfathers and grandmothers that came here, they found some kind of way to make the rhythm. You know, and they kept rhythm, no matter what"
For 15 years we've witnessed Solange's natural evolution into a woman and the creative voyage which has brought us A Seat at the Table. There is professional growth, but also growth of the spiritual kind clearly bolstered by the love and support of her family, her city and black women.
Solange has now arrived at a point where she seemingly has given herself permission to fully understand, and to be, herself; within that is catharsis and liberation. And like all great art, the spark she lights extends beyond herself to the listener, allowing us to draw strength from her release. The liberation to love us and be us and celebrate us with a soundtrack that wraps us in the pain, the culture, the exquisiteness, the movement, as we join her in singing, "Oh, to be us."