If you haven't noticed, an extraordinary thing has been happening since the New York Times first reported allegations of sexual assault and misconduct against Harvey Weinstein. This story has not just managed to stay alive amid our relentless political news cycle—it has actually grown, sweeping across Hollywood into media organizations and, lately, state legislatures.
Over the past month, women lawmakers and political staffers across the US have described toxic work environments where harassment is pervasive and retaliation is expected. Here's a brief rundown.
Kentucky:
Kentucky House Speaker Jeff Hoover (R) has resigned his leadership position—but not his seat in the legislature—following reports that he secretly settled sexual harassment claims from a staffer. Hoover admitted to sending "inappropriate" and explicit texts to the staffer, but claimed they were consensual.
From the Louisville Courier-Journal:
Courier Journal sources say the woman engaged in the suggestive text exchanges initially because another legislative staffer told her she needed to keep Hoover happy to advance in her career. After re-evaluating the nature of the relationship, the woman came to believe it was harassment and created a hostile work environment, the sources said.
G/O Media may get a commission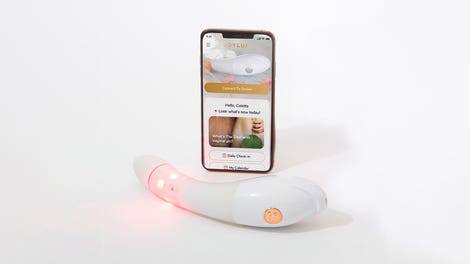 $50 Off
Joylux vFit Gold Device
The Associated Press reports that several other legislators were named in the complaint: Republican committee chairmen Brian Linder, Michael Meredith and Jim DeCesare, as well as Hoover's chief of staff Ginger Wills, who was accused of creating a hostile work environment.
In addition, Daisy Olivo, communications director for the House Republican caucus, said she was "basically put on paid suspension" after reporting to Hoover that a staffer had been verbally and physically harassed.
Kentucky Gov. Matt Bevin (R) has encouraged "anyone who has settled a sexual harassment claim" to resign.
Florida:
Jack Latvala, Republican budget chairman in the Florida State Senate and a gubernatorial candidate, has been accused by seven women of groping and/or making degrading commentary about their bodies. He has denied the allegations, helpfully telling Politico Florida: "I'm sure that you have handpicked people and you are going to let anonymous people have this kind of impact on the career of a guy who has been there for 16 years."
From Politico:
Several of the women interviewed said that, when lobbying Latvala, they understood that their issue would be viewed more favorably if they were willing to at least flirt with him. Even those who were not directly touched by Latvala speak of a "cold shoulder" if they didn't play along or appeared to be prudes.

They had to grin and bear it, said one longtime lobbyist who works for a Republican-led firm.

"It was so disgusting and I had to just stand there, over and over again when he would do this, squeezing me hard and grunting in my ear," she said. "The question isn't whether this happened to me. The question is who this didn't happen to in the Capitol. It's not like it's a secret that Jack is like this."
"He would brush against my boob, cup my ass with his hand. But it was in a crowd. So it was in public but somehow it was so people couldn't see," one lobbyist said. And, from the same report:
The Senate staffer who sobbed during her interview with a POLITICO reporter said she believed that Latvala "uses his body to block what he's doing with his hands." She said in one case he sidled up next to her at a bar, draped his hands and legs on her chair "and started rubbing my leg. I could not tell you what he was saying because I was sitting there crying. It's not like he came up and consoled me for crying. I started crying after he came up to me and started touching me."
Florida Senate President Joe Negron has opened an investigation into the "disgusting" allegations against Latvala.
Washington:
Four women have accused former Washington state Rep. Brendan Williams (D) of sexual harassment and assault, several reporting aggressive unwanted advances coupled with implicitly threatening references to his political power.
"I smacked him off of me and told him his advances were offensive and unwelcome," one woman wrote on Facebook. "He persisted. Then when I went to leave the bar he asked to walk me to the car and said if I ever needed a reference he would be happy to provide one."
He denied the allegations to the Associated Press:

In an initial email Wednesday, Williams did not specifically address the allegations. He said he has zero tolerance for workplace harassment and cited times he reported incidents involving two former colleagues.

"I stand by my record, both as a legislator and as an individual, of supporting the dignity and rights of women," Williams wrote.

He said he is no longer a public figure and threatened litigation "both against the person making the allegations and any media outlet publishing them."

In a follow up email, Williams said he has never engaged in workplace harassment, "though, clearly, it appears I upset people outside work. Heartbroken over that."
These allegations followed a report on a general culture of harassment and misogyny at the State capitol.
The women at Washington's Capitol — mainly a mix of current and former legislative staff and lobbyists — described an environment over the last decade where overt sexual harassment is rare, but inappropriate comments, lingering hugs, unnecessary touching and unwelcome attention are common. Many of the women said they warn each other about alleged wrongdoers or overly forward men and are regularly forced to take steps to avoid uncomfortable or potentially dangerous situations.
Illinois:
Democratic state Sen. Ira Silverstein has resigned his leadership post after victims rights advocate Denise Rotheimer accused him of harassment and said her complaints went unanswered. From the Chicago Tribune:
Denise Rotheimer told lawmakers that Democratic Sen. Ira Silverstein made unwanted comments about her appearance, sent her hundreds of Facebook messages and placed midnight phone calls as she was working with him to pass a bill for nearly 18 months. Silverstein has disputed the allegations and said he apologized "if I made her uncomfortable."
Rotheimer's allegations arose following an open letter signed by 300 people that detailed a culture of coercive harassment and sexism in Illinois politics.
"Every industry has its own version of the casting couch. Illinois politics is no exception," reads the letter. "Ask any woman who has lobbied the halls of the Capitol, staffed Council Chambers, or slogged through brutal hours on the campaign trail. Misogyny is alive and well in this industry."
House Speaker Michael Madigan has introduced legislation that would make sexual harassment training mandatory for lobbyists and staffers, and former Assistant U.S. Attorney Julie B. Porter was appointed as the new legislative inspector general—a position that has been left open for three years—who will be tasked with investigating dozens of outstanding complaints.
California:
Almost 200 women in California politics signed an open letter, circulated by the "We Said Enough" campaign, alleging sexual harassment and a toxic work environment in Sacramento.
"Each of us has endured, or witnessed or worked with women who have experienced some form of dehumanizing behavior by men with power in our workplaces," the letter reads. The Los Angeles Times later published numerous accounts of women in California politics who had experienced or witnessed harassment or inappropriate workplace conduct.
"Retaliation can come in the form of intimidation, public trashing or being blacklisted," said Naveen Habib, 28, told the New York Times. "Your career is effectively over because you snitched."
Assemblywoman Cristina Garcia, chairwoman of the Legislative Women's Caucus, alleged that multiple "senior lawmakers and lobbyists" had "grabbed my butt and grabbed my breasts"; Pamela Lopez, a partner at a lobbying firm, recalled to the New York Times that a lawmaker followed her into a bathroom at an event, exposed himself to her and began masturbating.
Former California Sen. Barbara Boxer (D), former Rep. Mary Bono (R), Rep. Jackie Speier (D), former Rep. Hilda Solis (D), and Rep. Linda Sanchez (D) all recently came forward with stories of verbal and physical harassment.
California Senate leader Kevin de León, who will attempt to unseat Sen. Dianne Feinstein in next year's election, announced that he hired two outside firms to investigate the allegations.
"Everyone deserves a workplace free of fear, harassment and sexual misbehavior and I applaud the courage of women working in and around the Capitol who are coming forward and making their voices heard," he said in a statement.
Massachusetts:
In interview with the Boston Globe, dozens of women working in Massachusetts state politics painted a picture of pervasive sexual harassment and misconduct. One woman alleged that a lawmaker offered to trade a vote for sex. From the Globe:
Aides, lobbyists, activists, and legislators told of situations where they were propositioned by men, including lawmakers, who could make or break their careers; where those men pressed up against them, touched their legs, massaged their shoulders, tried to kiss them, grabbed their behinds, chased them around offices, or demanded sex.

For these women, the political scene has been a minefield in which they rely on warnings from others who have learned the hard way which lawmakers they should avoid. There seems to be no escaping the hostile environment, even in the hallowed House chamber, where one woman saw lawmakers gathering around a cellphone to view pornography during formal sessions.
They spoke anonymously, for fear of retaliation.
"I chose not to complain because it was not worth the price I was going to have to pay," one woman told the Globe. "You'd lose influence. The place functions on relationships, and if you don't have relationships with the men who control the place, you can't get anything done. You put up with it for the greater good."
House Speaker Robert DeLeo promised to investigate; he said he was "infuriated and deeply disturbed" by the allegations, adding that "the fact that victims fear the consequences to their careers of reporting the harassment is as upsetting as the harassment itself."
Rhode Island
Democratic Rep. Teresa Tanzi (D) told the Providence Journal that "As a state representative... I have been told sexual favors would allow my bills to go further."
"It is absolutely not just one person,″ Rep. Edith Ajello (D) told the Journal. "It's about a culture. You can't think if you take one person out of the mix the story is over... It's more than that."
In response, leaders in the state House and Senate announced that lawmakers and staff will receive training from human resources staffers.