A pro-Donald Trump Twitter account wants to make America great again by doing things like tweeting half-naked pics of ladies with Trump slogans written across their boobs, because hell has frozen over three times to date, and this is what politics are now.

Thanks to Babes for Trump, you too can finally go all fangirl over a very rich orange-tinted walrus by wearing patriotic bikinis in sub-zero temperatures.
But don't forget your semi-automatic and a trucker hat!
G/O Media may get a commission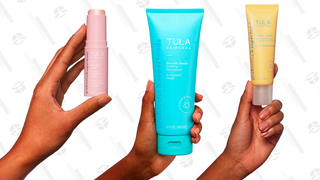 Let's play a game: white girl duck face pose or spot-on imitation of the Donald's rubberized facial maneuvers?
But alas, no Donald Trump social media project is complete without a conspiracy theory (where you at, InfoWars?). According to the makes behind Babes for Trump, their Instagram counterpart has been deleted a number of times, despite their efforts to fight against the deletion of pro-Trump propaganda (there, I said it) on the platform. A veritable crusade if I ever saw one, y or n.
The fact that Instagram's Terms of Use states that users "may not post violent, nude, partially nude, discriminatory, unlawful, infringing, hateful, pornographic or sexually suggestive photos or other content via the Service" might have something to with it, considering BfT photos like this one (also: NSFW NSWF NSWF):
Don't forget the copycats—because apparently someone else thinks this whole niche market is a good idea?
Perhaps the most heartbreaking thing about Babes for Trump is that they have ruined my love of beer pong forever.
A plague o' your house, #TrumpArmy-adjacent account, a plague o' your house!
---
Contact the author at jamie.reich@jezebel.com.

Image via Twitter.