Very Specific Playlists is a weekly feature in which Jezebel staffers make very specific Spotify playlists based on their weird proclivities.
I'll own up to feeling churlish about "One Dance," both because my ever-wavering feelings towards Drake are currently lukewarm at best and because the original song off which it is based is objectively better. That woman's voice on the track belongs to British singer Kyla and the beat, screwed down by Nineteen85, belongs to her now-husband Paleface and a production crew called Crazy Cousinz. It's partially interpolated from their song "Do You Mind," a boppier, uptempo song in which Kyla is propositioning a man in the club, owning her desire and sexuality and being upfront about it.
Part of why I dislike Drake's flip of it is because he subsumes a woman's ownership—something he does often—and supplants it with a sort of hazy narrative about a future so uncertain he can only cope via Henny and a woman wining on him in the club. While I appreciate the non-specificity in the song potentially referring to a real danger for many black men and women, the other reason I dislike it is because truly, the original is better: it swings, it percolates in its own syncopation, it compliments the bubblegum comeliness in Kyla's voice, which is chopped at the perfect moments, doing a little do-si-do with the piano chords. Kyla certainly doesn't mind Drake's version—she's getting proper income from it, and it's garnered her wider acclaim, and what smaller artist wouldn't fall all over themselves to be featured on a Drake song. But shit, hers is better.
"Do You Mind" was released in 2008, at the cusp of a burgeoning, black, British dance music called UK Funky, or UK Funky House—house music, sometimes with R&B style diva vocals, that erred on the swingier, more syncopated end of things, with roots steep in Afrobeat. (That's one reason why Kyla and Paleface sound so good in the Drake song smashed up against Nigerian pop star Wizkid.) The genre took hold of more adventurous clubs in America—this was before the corporate music industry popularized the term "EDM," remember—but it was truly popular in the UK, where dance music generally doesn't have to be packaged the way it seems to in the States. And that track was popular enough that, in 2009, the popular lo-fi rock band The xx released a cover of it, typically mewling and diffident.

I've almost come to terms with the fact that, this summer, everytime I hear "Do You Mind" bumping out of a car in New York City, it's actually "One Dance"; what's not churlish about my reservations about this occurrence is that it mostly makes me sad because I vehemently loved, and love, UK funky so much—SO MUCH—and I wanted it to be popular to begin with. (In fact, when Drake and Rihanna's "Take Care" dropped in 2012, produced partly by The xx's Jamie xx, I was over the moon at how it felt like hearing UK funky on Hot 97, a space that rarely has room for music made outside of the US and the Caribbean.) So reluctantly, I've got to give it up to Drake for realizing my wayward dreams, eight years later.
G/O Media may get a commission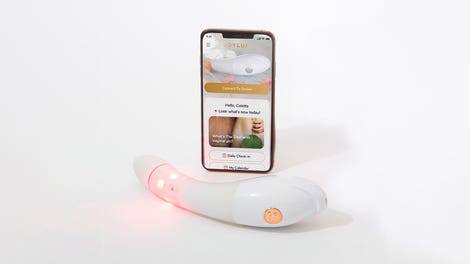 $50 Off
Joylux vFit Gold Device
No, I really love funky, and it's ongoing albeit evolved in its way—just this week, the producers of Funkystepz released this fire number, called "Bailey's."
But it's the original smashes that endure, the kinds of songs that can get the right club crowd into a frenzied point of near-levitation. Without further adieu, here's a playlist of that era's funky house classics, all of which are objectively better than "One Dance." Before you begin, though, have a go at my favorite UK funky track ever, and one of the genre's biggest, sadly not available on Spotify: "In the Morning," Fuzzy Logik featuring Egypt. Those DIVA VOCALS, though!

1. Meleka, "Go (Crazy Cousinz Remix)"
Meleka's break-up lament began as a fairly standard number, midtempo and firmly rooted in the mid-to-late '00s R&B tragedy. Sped up and imbued with pianos and midnight snares by Crazy Cousinz in '09, this became what seemed like an unofficial theme song for UK funky, truly massive and influential.
2. Crazy Cousinz f. MC Versatile, "Funky Anthem"
And this, of course, was the anthem, Crazy Cousinz clearly doing more than anyone for the cause; those nasty strings proved successful, and recall a time when Drake was still the guy from the mixtapes and Rinse FM was still a pirate; "Funky Anthem," in fact, was the intro music to like 13 Rinse ad spots about various British raves at the time. (I listened to/listen to Rinse so much I can still quote one: "RINSE... FWD... BACK WIF ANOVA ONE.") Anyway, play this one at a party.
3. Donae'o, "Party Hard"
4. Gracious K, "Migraine Skank"
It's a dance genre so obviously it spawned some dances; my favorite was the migraine skank, which went nicely with both "Party Hard" and its namesake track, which tells you exactly how to do it—but if you need a visual, follow along here:
5. Attacca Pesante f. Shea Soul, "Make It Funky For Me"
The relative simplicity of this glorious, breezy track lies within the moments the Attacca dudes let the drums breathe, toning down the quarter rhythms and letting the four-four play out on the chorus. Shea Soul's lyrics—"Summertime's got me so high"—define the singular carefreeness of this track, particularly paired against its harder, slightly grimier counterparts.
6. Roska, "Squark"
One of the producer/DJs at the heart of funky (and still going strong), Roska was and is a Rinse host with decidedly more electronic and hard-angled leanings than other producers at the time; this galloping track, from his debut Rinse release, exemplifies that perfectly.
7. Lil Silva, "Seasons"
Here, too, was a tougher stance, this clattering approach as informed by grime as funky house on an ominous coda that worked in the club, on the pirates, and as a backdrop for gritty freestyles.
8. Katy B f. Ms. Dynamite, "Lights On"
A poppier side to funky propelled by UK garage icon Ms. Dynamite and then-burgeoning Rinse diva Katy B, "Lights On" took the sound to the charts for the first time, a sweet candy singalong that spoke to a popular subject in Katy's oeuvre: having a great time in the rave.
9. Mumzy Stranger, "One More Dance"
Aside from a Crazy Cousinz production that could feasibly drop at this very second and sound immediately fresh, this shows the clear lineage from Caribbean pop/dancehall sounds into UK funky—and sounds a bit like a song Drake would want to throw on the outtakes for Views.
10. Kyla, "Daydreaming"
Kyla's voice fit seamlessly in this genre, clearly, the lilt sweet and glimmering; "Daydreaming" as a concept captures her occasional whispery, delicateness, late-night longing with a two-step.
---
Illustration by Sam Woolley