Sometimes I'll hear a song by an ostensibly hip, contemporary act and think, "Phil Collins could easily be singing this." Generally, the track is synth-based and heavy on atmosphere. If the beats percolate, it's only at a gentle boil. I've been thinking a lot about music like this over the past few years (and how much I enjoy it) (probably because I am old), and have decided to assemble a playlist that captures the lite sound of now that simultaneously acknowledges its debt to the past while attempting to cool-ify its source material.

The criteria for deciding what makes a song "nu-AC," as I've labeled the sound I'm discussing, is nebulous. "Adult contemporary" signifies not adherence to strict parameters of genre, but a sensibility—whatever popular form it derives from, it is polite, it is soothing, it is rarely intense in any facet beyond emotion (if that, even). In the past, you could say that "AC" denotes music whose edges have been consciously rounded off (even more so than in pop), but with this new breed I'm examining, some of the edge is formed in the audacity of replicating the edgeless—it's so unafraid to come off as uncool, it seems... well, kinda cool.
What I aimed to do here is to etch out the specific sonic sensibility that I've been hearing pop up here and there in the past five or so years of music. While plenty of what is played on AC and Hot AC stations has a lot in common with the AC of old (or is just straight-up "classic" sounding as in the case of Adele), I'm interested in music that is highly synthesized and atmospheric. It has to be a touch progressive (if not outright prog), even if it's shy about it. Anything belonging to a distinct genre (especially in a retro manner) has been passed over. Something like Bruno Mars's "Versace on the Floor" might seem to work in this context, but it's too old school R&B (a la Gregory Abbott's "Shake You Down") to really fit here. Sample the playlist below and you'll hear why its inclusion just wouldn't make sense.
Some of the 21 tracks below are straight-up doppelgängers—Niki & the Dove's "So Much It Hurts" owes an incredible debt to Foreigner's "I Want To Know What Love Is." Likewise their "Play It On My Radio" invokes Phil Collins's "Take Me Home." And Daft Punk's "Instant Crush" is a slightly bouncier and tighter iteration of the Alan Parsons Project's "Eye in the Sky." There are selections here that push the boundaries—NAO's "In the Morning" coasts in on a smooth cloud that is dispelled by its increasingly cacophonous beats, Beyoncé and Drake's "Mine" only really fits the bill during its verses (and said verses just happen to epitomize the sound I'm describing), and Soft Hair's "Lying Has To Stop" is as woozy as it is lite, owing as much to Ween as it does to AM radio. Music that exists on a sound's fringes, I feel, helps define that sound, and I think you'll agree that despite the wide range of artists represented here, known primarily for working in a varied range of genres, the playlist below achieves considerable coherence.
I've always got my ear out for stuff of this ilk, so if anything springs to mind, please let me know and I might add it to the playlist.
G/O Media may get a commission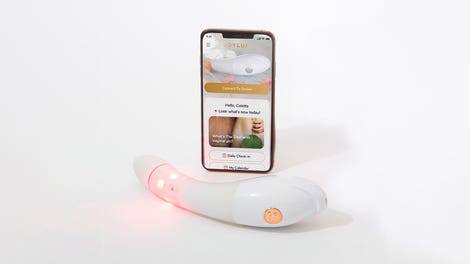 $50 Off
Joylux vFit Gold Device