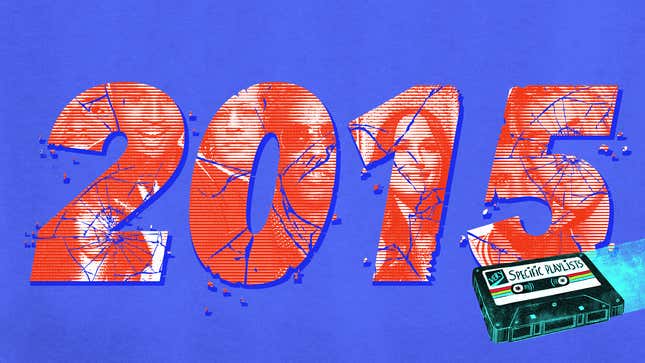 Very Specific Playlists is a weekly feature in which Jezebel staffers make very specific Spotify playlists based on their weird proclivities.
Where at the beginning or end of a given year we find ourselves thinking about the future or the past, the summer encourages us to train a laser-focus on the now. If you're somebody who consumes a sizable portion of internet writing (please see a therapist), you may find yourself filled up on articles projecting and dissecting the mythical god of the middle months: The Song of the Summer.

The good news—I think—is that this playlist of under-the-radar songs I loved from last year is anti-Summer 16. That's not a protest but an inherent fact, though this list—and your own theoretical version of it—also argues for disconnecting ourselves from the rules of time imposed on us by the unending churn of the content machine. These are album cuts, underrated singles, loosie, unreleased tracks, etc. that provided me the rare joy of feeling like I had stumbled on something I could enjoy just by myself, with none of the baggage we must bring to online conversations about art. Of course, none of these songs are truly my own—many of them are by super-famous pop stars, or feted indie artists, or bands that sell out arenas in Europe. But they still offered me an escape from the umpteenth back-and-forth about Drake or Kanye West or whatever the fuck.
I will now ruin my private oasis by sharing these songs with you, but that's fine because it's already almost July.
1. Jason Derulo, "X2CU"
♫ Jason Derulo ♫ got famous by making songs about butts over beats that sound like farts. But last year he made a bit of a play for serious artistry while still retaining the lowbrow polyglot ethos that endeared him to the masses. That's how we ended up with his Everything is 4, where Top 10 single "Want to Want Me"—pulsating disco that builds onto itself until it reaches folks in the cheap seats—rubs up against stuff like "Broke"—a banjo foot-stomper featuring Keith Urban that deploys a Stevie Wonder harmonica riff as an EDM drop—and "Try Me," a tropical house song (before most people knew the phrase) that goes down as smooth as a frozen mojito.
But my favorite was "X2CU," a studious electro-funk track that closes the record. On an album so all over the dartboard, "X2CU"—as in "I can't wait for my ex to see you"—could have functioned as a cute bit of Prince dress up, but it's pulled off with panache and idiosyncrasy. There is a bridge that nods to Devo and a dreamy, pathos-soaked outro so good it shames Justin Timberlake.
2. Shift K3y, "Name & Number"/"Beep Beep"
Shift K3y is a dodgy looking white British kid making garage music. Know any of those? But where Disclosure and others often make songs that are so reverent they feel like homework assignments completed by the boy who tries way too hard to impress his teacher, Shift K3y's music has a sweet goofiness that allows you to forget history and think about how a single text message can make your heart flutter. He sings his own vocals, and that he has the narrow voice of a boy band member just exiting puberty helps ground his songs in the sort of innocent romance he writes about. "Name & Number" and "Beep Beep" are like if Nick Carter's solo debut was produced by the Artful Dodger.
3. Justin Bieber, "I'll Show You"/"Been You"
Speaking of just exiting puberty, you're surely aware of the Justin Bieber bangers that improbably unified all of humanity last year. But the two off his album that stick with me even more are "I'll Show You"—the cascading keyboard riff of which felt extremely poignant to me right when the molly kicked in as I wandered around Fort Greene with a dead phone on New Year's Eve—and "Been You," a Baby's First Disco Song that didn't really fit with the mopey mood of Purpose but might have the best hook anyway.
4. Years & Years, "Shine"
Years & Years will be the next 1975, aka the British band you've probably never heard of that will feel weirdly omnipresent whenever they put out their next album. Their first, Communion, was my runaway favorite of 2015. It's a tightly-wound dance-pop record that foregrounds the songwriting of Olly Alexander, a young gay man who writes universally about romance but with an undercurrent of themes—desperation, shame, exhilaration, brutality—that feel specific, in their way, to the gay experience. "Shine" is exemplary, a song that renders the pursuit of a partner in the imagery of survival:
It's shaking the sky and I'm following lightning
I'll recover if you keep me alive
Don't leave me behind
Can you see me? I'm shining
And it's you that I've been waiting to find
5. Bahja Rodriguez, "Lipstick"
Bahja was in the girl group OMG Girlz with the daughters of Lil Wayne and T.I., but she floated a grip of solo tracks to streaming services last year, with "Lipstick" being the best of the bunch. It starts with a fluttering bassline and glossy keys, and before long her harmonies have swirled into a little cloud of cotton candy. This was at least as good as anything on Carly Rae's album, imo.
6. Young Thug & Rich Homie Quan, "In This Game"
The one-time Rich Gang brothers are now enemies. DJ Mustard's ingenious fusion of '90s house and contemporary R&B is long past its sell-by date. Nonetheless, I still love this unreleased track where the two try their hand at that patented Mustard sound. They sound so comfortable and happy—"Ever since I met shorty I feel like Hercules / And I'm smoking bales of weed cuz it grow on trees," Thug raps. Alas.
7. Trey Songz, "Slow Motion"
Trey Songz is like the World Cup. Once every four years, I become enraptured by a song of his for a few months before I must return regretfully back to my normal life. This time around it was "Slow Motion," a perfectly slinky track that features a drip-drop sound effect and the accompanying steaminess you would then expect. Also it was written by that little shit Charlie Puth which is just very funny.
8. Jamie Woon, "Sharpness"
After carving out a fine little career as a sort of proto-James Blake, Jamie Woon refashioned himself as a neo-soul torchbearer when he returned last year. I thought the resulting album Making Time was disappointing, but the single "Sharpness" at least allowed me to imagine a world where "Blurred Lines" didn't spin Robin Thicke's life completely out of control. This meticulously recorded live version shows Woon has chops, too.
9. Erykah Badu, "Phone Down"

At first I accepted "Phone Down" as a fun-enough experiment that wasn't exactly what anyone really wants to hear from Erykah Badu. But I fell under its spell—it's almost hypnotic in that way. The song seems to travel in circles, and the effect is like a clock swinging back and forth in front of your face. Given that the song is about the specifically modern condition of trying to command someone's attention away from their phone, the mesmerizing quality of "Phone Down" almost feels meta.
10. inc., "A Teardrop From Below"
This aborted single from the group now going by inc. no world is similarly bewitching. If "Phone Down" feels somehow circular, "A Teardrop From Below" is even more overt: "This snake needs a head / This snake needs a tail," goes the first verse. The song is muted and muffled. It feels like it's being whispered into your ear. It seems like nothing happens, and the emotional climax is almost imperceptible—just a subtle shift in the drums that doesn't distract from the repeated mantras, my favorite of which is: "A hole in the sky / all over me." If it all feels a bit new-agey it's because these dudes are posted up in Hawaiian forests making their guitars weep.
11. The Galleria, "Mezzanine" + Jessy Lanza ft. DJ Spin & DJ Tasso "You Never Show Your Love"
I love simple, direct, emotionally resonant lyrics. If I had to pick the most perfect lyric of all time I would go with Mannie Fresh rapping "Rolex / mo' sex." My favorite lyrics of 2016 came from "Mezzanine," a collaboration between veteran house producer Morgan Geist and vocalist Jessy Lanza. An homage to the heart-skipping genre Latin freestyle, the sugar-sweet "Mezzanine" explicitly recalls images of suburban malls, ring pops and puppy love:
You pick me up when I'm down
You turn it all around
I know I'm gonna see you
When you show up on the scene
My popcorn jellybean
I know I'm gonna make it through
The emotional flip of "Mezzanine" came from another Lanza collaboration, this one with the Chicago footwork producers DJ Spin & DJ Tasso. So many have tried over the years, but "You Never Show Your Love" reminded me fondly of Aaliyah—in the slightly elongated way Lanza ends her sentences, in the way her vocals are suspended just so over the fidgety drums, in the delicate balance between strength and vulnerability. It's pretty much the highest praise I can offer.
12. Popcaan "Weed Is My Best Friend" + Mavado "True" + Gyptian "Let Dem Een" (Life Support riddim)
Regrettably, I don't stay that up on dancehall but the Life Support riddim stuck with me last year. I got hooked by Popcaan's "Weed Is My Best Friend," which takes a riddim that billows like a jellyfish to its logical conclusion by emphasizing the way it mimics the constantly radiating waves of a body high. Also, "higher than a plum tree" is a worthy addition to the "metaphors about being stoned" canon, standing comfortably, though less boisterously, next to Ludacris' legendary "high as giraffe pussy."
"True" and "Let Dem Een" bring some grittiness and camaraderie, respectively, to the party.
13. Jam City, "Proud"
Speaking of weed, take a hit and loop "Proud" by British producer Jam City, which sounds like The Blue Nile remembered in a dream.

---
Illustration by Sam Woolley.