In pop culture, retroism tends to run on a 20-year cycle—two decades after it happens, it's ripe for return. Total Request Live hit MTV in September 1998 (and was preceded by MTV Live, which bowed in September 1997), which means it's prime time to get in ahead of the nostalgia curve. The wise already have—there are tracks on recent albums by Kehlani and Syd that owe considerable sonic debt to Timbaland's peak-era late-'90s eternally futuristic R&B, while the PC Music label/movement has repeatedly grafted boy-band aesthetics onto a delirious brand of throwback Eurohouse and happy hardcore.

As it stands, the bulk of the material that characterized TRL, which ceased its run November 16, 2008, lives in a weird limbo between oldies and contemporary. Trends have come and gone, but the digitization of music has largely rendered the stuff of TRL fresh-sounding (contrast that which was released in the '60s with '80s pop and the difference feels infinitely greater than stuff that emerged in the late '90s and now). What has changed, though, is the entertainment industry and how we receive its fruits. I wonder if the sheer volume of pop culture (and the ever increasing channels it beams in from) is making it harder to hold onto the past because our hands are so full in the present.
And so, after someone dropped the TRL's Number Ones Wikipedia entry in our Slack one day, I decided to create a playlist of the songs that I think still work well, or at least ones that I would be happy to hear at a party. This is, of course, subjective—if you want to hear nu-metal, Eminem, or 50 Cent's "In da Club," you can throw your own party or open your own Spotify app. (For real though, the amount of Eminem singles that play like dated novelty songs is almost as high as the number of boring mushy Backstreet Boys ballads there are. It's insane that music so lite was marketed to teens!)
I've tried to give a balanced sampling of that which characterized the show's 10-year run, which itself was somewhat unbalanced. House music, for one thing, was supremely out of fashion during this time (Kylie Minogue's "Can't Get You Out of My Head," and Madonna's "Hung Up" and "Sorry" are among the few dance-pop tracks to hit the peak position on the TRL countdown). I thought maybe I should put a My Chemical Romance song on here and then I listened to the one I remembered best, "Helena," and reconsidered my life choices, as I hope you would too. I almost didn't include Kelly Clarkson's "Miss Independent," but then I remembered that she sings, "Goodbye on you," repeatedly and thought that you might like to hear her say that again. Nor did I include stuff from Christina Aguilera's first album (apparently "Genie in a Bottle" didn't hit No. 1, and "What a Girl Wants" and "Come on Over" are too thin-sounding for my taste; they sound like slow grocery shopping).
It felt weird to include some songs with extra letters in their titles (Nelly's "Hot in Herre") but not others (Chingy's "Right Thurr"), as my taste dictated, especially because I've heard something like "Herre" some 500,000 times and it's basically like sonic wallpaper at this point, but life is random and tricky and full of hardship. So should, I suppose, be the process of compiling a Spotify playlist.
G/O Media may get a commission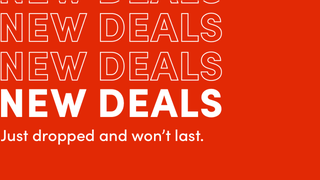 Up to 70% off
Wayfair - Cyber Week Deals
Daughter to father, daughter to father, there is no Lindsay Lohan on this playlist. If that doesn't make you want to go cry on a bathroom floor, congratulations, this may be the TRL-oriented playlist for you.