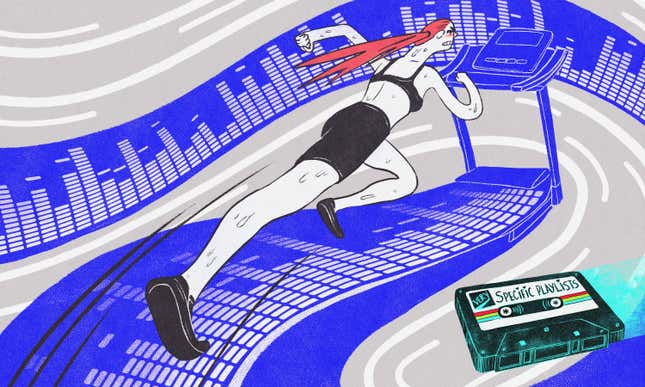 Very Specific Playlists is a weekly feature in which Jezebel staffers make very specific Spotify playlists based on their weird proclivities.

I used to hate running. Somewhere along the way, like my opinion of sparkling water, my feelings changed. I found myself running for up to 45 minutes on the treadmill and loving it. Some days I would go to the gym just to run for half an hour and then leave, ignoring my core and biceps.
I prefer the treadmill for a number of reasons. It's usually in an air-conditioned room. My shoes don't get dirty. And I love the sound and feeling of pounding my feet down on that machine. As I became one of those people who voluntarily spends hours on a treadmill, I discovered that a necessary component of transcending the monotony was a playlist of very aggressive songs.
This, I will warn you, isn't the most eclectic or nuanced collection of songs. It includes only two women and a lot of #problematic lyrics. But you know what? Sometimes you just need a loud, hostile rap song with a ton of bass to keep your legs moving and your mind off the fact that your entire lower body may melt out from under you any second.
1. A Tribe Called Red, "R.E.D."
This song bangs. The group is composed of three DJs all from indigenous First Nation tribes in Canada. Their style has been described as "contemporary powwow" and that comes through particularly in the haunting chanting they laid underneath the beat. If that's not enough for you, "R.E.D." also features an appearance from the artist formerly known as Mos Def, AKA Yasiin Bey.
2. Schoolboy Q, "Str8 Ballin"
Schoolboy Q is always good for an angry song that makes you wish you weren't hearing half the lyrics (i.e., "money make a pussy get the juice"), but goddamn if this song doesn't go hard. I've come close to breaking my neck bobbing along to this. Imagine what my feet will do.
3. Jay Z, "99 Problems"
A classic "pump up jam" that still gets the job done. I acquired The Black Album after my dad purchased it but was unhappy with all the profanity, so he gave it to me. I remember him specifically citing "99 Problems"explaining that he thought the song was great but that Jay Z said "bitch" too much which, fair. But also, there's really no other way to convey his feelings about his particular set of problems.
4. James Brown & 2Pac, "Unchained (The Payback Untouchable)"
This is one of the most underrated mashup-esque songs in the history of mashups, which may not be saying much because mashups usually suck. It's from the Django Unchained soundtrack and is the song that plays when Jamie Foxx/Django shoots all the slaveowners which, in the theme of being #problematic, I will admit was my favorite scene of that questionable film. Those horns though.
5. Kanye West, "Lost In the World"
The one drawback of this song is that it starts rather slow so you'll have to motivate yourself for the first 45 seconds. However, once it picks up, you're hit with one of those perfect Kanye drum beats that almost makes you forget that he thinks Bill Cosby is innocent.
6. Boss, "I Don't Give a Fuck"
Truly, has there ever been a more utilitarian song? I wish I owned some sort of button/speaker contraption that played this song whenever I wanted because my god, it is so applicable in so many different scenarios. It's also very fun to picture yourself rapping along to this in front of all your haters.
7. A$AP Rocky, Drake, Kendrick Lamar, 2Chain, "F**kin' Problems"
I have never not seen people break it all the way down when this song comes on and I will be 60 years old and still shaking my ass when this comes on at my friends's retirement parties.
8. Jay Z, Kanye West, "Who Gon Stop Me"
Remember how Watch the Throne is both Kanye and Jay Z's best album since My Beautiful Dark Twisted Fantasy and The Black Album, respectively? It's a touch cheesy but hearing the words "who gon stop me" over and over makes me want to increase the incline on my treadmill and whisper, "not nobody."
9. Wiz Khalifa, "We Dem Boyz"
One of the reasons I like this track so much is that the beat is perfect for the pace I'm usually running at and there's something so satisfying about stepping exactly on the downbeat.
10. Desiigner, "Panda"
At this point, "Panda" is a touch annoying and rather #basic, but seriously, have you ever run to this song? This song is very, very good for running.
11. Beyoncé, "Freedom"
Let Beyoncé lift you with her sweet song of "Freedom." I love listening to Beyoncé at the gym because listening to Beyoncé reminds me of Beyoncé which reminds me of Beyoncé's body which is pretty much all the motivation I need to bang out another 25 squats. This song gets bonus points for being tailor-made for a workout. The lyrics are literally: "I'ma keep running cause a winner don't quit on themselves." Beyoncé knows me so well.
12. Future & Drake, "Jumpman"
I remember being almost irritated with how catchy this song is and I almost always repeat it at least once during a run. To get rather literal with it, Jumpman is a reference to Michael Jordan so, an amazing athlete, sports, running, motivation, etc. It works.
13. Run the Jewels, "Close Your Eyes"
I like to end my treadmill sessions with a heavy sprint where I punish myself because it hurts so good. Turn this up to deafening levels and end strong.