Very Specific Playlists is a weekly feature in which Jezebel staffers make very specific Spotify playlists based on their weird proclivities.
I need to be alone. In a city like New York, the only time I truly feel like I get it is when I'm running, headphones in, on a Saturday morning long run, so early in the morning that at another time in my life, I would just be stumbling home from a bar. No demands except my own, no crowds, the day too young to be strewn with garbage. Sometimes I imagine running all the way up the Hudson River path, past the Upper West Side, past Inwood, and then still up, along the river until the city is gone.
Music is an essential part of these runs, but assembling a running playlist requires the same care and frustration as finding the right pornographic film. Sometimes, something has all of the elements that usually gets me off—say, men with hairy forearms and tattoos or aggressive lyrics over an insistent beat—but just doesn't do the trick, and I scramble to my browser's back button, the "next" button on my Spotify playlist, the itch unscratched. I can't pretend that the songs that really do it for me when I'm trying to chew up some miles (that's what I've started to think of running as, chewing them up) will do it for you. But these are my Saturday morning mainstays right now.
Listen to this playlist on Spotify here.
G/O Media may get a commission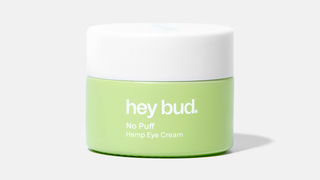 15% off
Hey Bud - No Puff Hemp Eye Cream
1. Talking Heads "Once In a Lifetime" (Live, from Stop Making Sense)
In Jonathan Demme's concert film Stop Making Sense, Talking Heads' performance of "Once in a Lifetime" opens with an uninterrupted four-minute-long shot of a sweaty and bespectacled David Byrne doing his best revival tent preacher. The film suddenly cuts to a side shot of backup singers Lynn Mabry and Ednah Holt bent eerily backwards, baptized by stage lighting. I've always loved this song, but after I saw that film, I started thinking of it as a hymn for agnostics. I started running right around the time I stopped being Catholic, and listening to this song reminds me of entering a Catholic sacristy and dipping my hand in holy water. It inspires and confuses me.
2. Calvin Harris ft. Haim, "Pray to God"
Calvin Harris irritates me as a public figure and Taylor Swift boyfriend, but this song is a perfect example of a the Platonic Ideal of a running song— steady beat, disciplined build, cathartic release. Haim's cool-girl steez is pushed to its limit, the repeated line "I give in" matches me stride for stride.
3. Ghostface Killah "The Champ"
Running songs tend to "work" for me if they're inspiring or hyper aggressive. This song falls into the latter category. I love Ghostface's barking cadence, the swagger of the lyrics, that Melvin Bliss sample. At this point in the playlist, I'm past the first mile. This song is a cheerleader.
4. Iron Maiden, "Run to the Hills"
Usually, I don't and can't run to rock music, but this song's barely-contained mania and action movie lyrics, combined with Bruce Dickinson's scale escalating to an unhinged scream at 2:44 has kept "Run to the Hills" on every running playlist I've made for years. Doesn't hurt that the tempo matches up just about perfectly with my feet hitting the ground.
5. My Brightest Diamond, "Freak Out" (Gold Chains Panique mix)
My Brightest Diamond is part Diamanda Galas, part Tori Amos, part Sarah Brightman. Set over a pounding beat with lyrics including such motivational lines as "Come on" (repeated throughout most of the song) and a deadpan "It's time to tear it down," usually by the time this song comes up on my playlist, I can already taste the salt running down my face.
6. TNGHT, "Acrylics"
I use this song to get up hills.
7. The Glitch Mob, "Can't Kill Us"
The theme of the song—being unable to be defeated or killed—is a good one to keep in mind when running long distances. It is an absolutely quixotic fantasy, belief in invincibility, but I need it. Listening to The Glitch Mob makes me feel like a character in a video game, like Rhonda Rousey running in slow motion away from an explosion. Sometimes, I play this while dodging oblivious pedestrians along Canal St.
8. Lil Kim, "Suck My Dick"
The lyrics to "Suck My Dick" are peak Lil' Kim, obscene, sexually aggressive, angry, dripping with resentful misandry over an unstoppable thudding baseline. This song is good for long, flat stretches in the sun. Runs that make me angry. I've always found it hardest to quit when I'm furious.
9. Bjork, "Big Time Sensuality" (Morales Def Radio Mix)
By this point in a run, I don't need cheerleading, or anger injected into my ears, or a fantasy that I'm unkillable to go on. This is about the time when I enter a drugged-out bliss state; I can't feel pain my legs but I can feel the mechanism of my skeleton working like a machine, I can slick flyaways back with my own sweat, my feet propelling themselves forward automatically. I feel light, like this song, fully inside my own body, almost delirious.
10. Physical Therapy ft. Jamie Krasner, "Drone On"

Jamie Krasner's voice floats placidly above DJ Daniel Fisher's rapidly evolving, percussive chaos in this track, a comedown after a long run. Absent a propellant beat, I ride out the final half mile or so, to the bodega at the corner, where I'll buy a bottle of water and tell the man who works behind the counter how far I ran that day if he asks. Once, two summers ago, he high fived me.
Illustration by Tara Jacoby.
---
Contact the author at erin@jezebel.com.