ABC's remake of Charlie's Angels was canceled, but apparently the network had some leftover skirt suits. Why else would execs greenlight Bosom Buddies Deux — sorry, Work It?
Here's the pitch:
This high-concept comedy centers on two unrepentant guy's guys who, unable to find work, dress as women to get jobs as pharmaceutical reps. Not only do they pull it off, but they might just learn to be better men in the process…

With unemployment an ongoing issue and women now outnumbering men in the workforce, the new comedy series "Work It" follows two alpha males who realize the only way to beat the current "mancession" and land a job in pharmaceutical sales is to pass themselves off as women. Combining all the best elements of the workplace comedy, the buddy comedy and the family comedy, "Work It" centers on Lee Standish (Ben Koldyke) — a quick-witted and likable family man who used to be a top car salesman until he got laid off — and Angel Ortiz (Amaury Nolasco) — a single, hot-headed ladies' man with no filter — who quickly learn there are fundamental differences in the worlds of men and women that go beyond teetering in high heels and tightening up with Spanx. Lee and Angel are determined to keep their ruse going for as long as they can — and keep their newly found jobs - in this smart, funny and relevant look at male and female relationships at work, at home and socially. Being a better man sometimes means having to be a better woman.
May I just say WHAT THE FUCK?
Let's break this down:
Reports have shown that the so-called "mancession" is actually harder on women. Unemployment among women is on the rise. According to the Institute For Women's Policy Research, 72% percent of women and 80% of mothers had cut back on living expenses last year… compared to 57% of men. And!
Young women have faced disproportionate hardship in entering the labor market. Of those aged 18–34, 50 percent report unemployment for at least one month during the two years prior to the survey-twice the rate for men (24 percent) in the same age group.
G/O Media may get a commission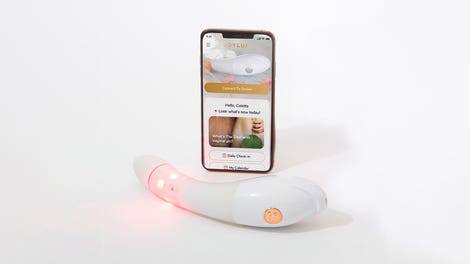 $50 Off
Joylux vFit Gold Device
Meanwhile, when it comes to women on screen in entertainment, we're outnumbered by men by nearly 3 to 1. The Geena Davis Institute on Gender In Media reports that the women who are on TV are almost four times as likely as males to be shown in sexy attire, and twice as likely as males to be shown with a diminutive waistline. And:
From 2006 to 2009, not one female character was depicted in G-rated family films in the field of medical science, as a business leader, in law, or politics. In these films, 80.5% of all working characters are male and 19.5% are female, which is a contrast to real world statistics, where women comprise 50% of the workforce.
So ABC has created a show in which men can't find jobs, and dress as women, thereby taking jobs from women, who, on average, make less than men (the wage gap is real!), and, in real life, the show is starring two men instead of two women? Hilarious. And by hilarious, I mean infuriating.
Work It [ABC]
Earlier: Women Fare Worse In Economic Recovery
The He-Cession Led To A He-Covery