In the high-stakes world of breast augmentation, my friends, the innovation never stops.
The New York Times reports on the latest advances in tit tech, which involves the boldly named "Ideal Implant":

So in September, Ms. Miller got something called the Ideal Implant, which bills itself as "natural feel without silicone gel." The implants, created by a Dallas plastic surgeon, Dr. Robert S. Hamas (pronounced HEY-mus), are made of saline. But instead of bouncing around and potentially scalloping or folding, as saline implants tend to, they are as soft as gel.
Sounds fine and properly jiggly. But in this hyper-competitive world, no advance comes without controversy:
Dr. Scot Glasberg, a plastic surgeon in New York and the immediate past president of the American Society of Plastic Surgeons, said he has received calls from a half-dozen doctors concerned about the marketing of the Ideal Implant. "It suggests in a roundabout way that silicone is not safe," he said. "We've spent such a large amount of time ensuring the safety of silicone products. We'd hate to have a situation where anyone, even in a remote way, is trying to lay a foundation that they're not safe."
G/O Media may get a commission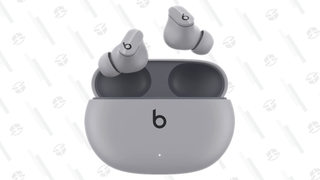 Women who get silicone implants are supposed to get M.R.I.s three years after surgery and annually thereafter, to check for "silent ruptures."
Of course, anybody considering a boob job of any kind should first sit down and watched the Botched episode about Janice Dickinson's thirty-year-old breast implants. Apparently you're supposed to replace the damn things? Hard pass.
---
Contact the author at kelly@jezebel.com.
Photo via AP Images.