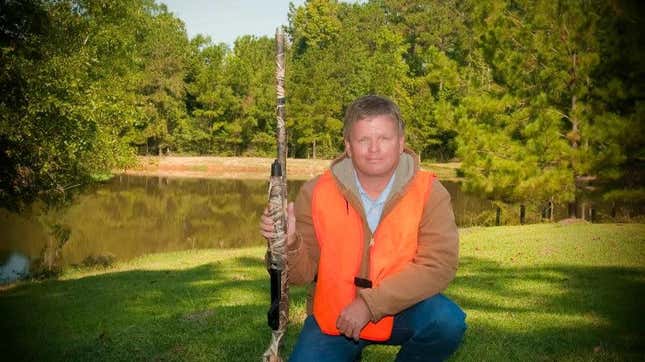 This past Saturday, Mississippi Republican state Representative Douglas McLeod was arrested and charged with misdemeanor domestic violence after he allegedly punched his wife in the face. According to his wife, he punched her  after she didn't undress quickly enough when he wanted to have sex.

According to the sheriff's department in George County, Mississippi, McLeod was drunk off his ass when deputies showed up at his home on Saturday night. From the Sun Herald:
The 58-year-old Republican lawmaker was intoxicated and holding a glass of alcohol in his hand when deputies responded to the McLeod home shortly before 9 p.m. Saturday, the report said.

...

When a deputies arrived, the report said, McLeod opened the door and they told him that they were there because a domestic assault had been reported. "Are you kidding me?" the lawmaker asked.
McLeod, per the incident report, was so drunk that he "had slurred speech and walked slow in a zigzag pattern." When deputies went into the McLeod's bedroom, they found blood on the bed and on the floor. Per the Sun Herald, his wife told deputies that "her husband was drunk and 'just snapped,' as he often does when under the influence of alcohol."
Another woman who lives at the McLeod home, presumably a family member, told the sheriff's department that McLeod's wife ran up to her room, and shut and locked the door:
The other woman said McLeod started banging on the door and telling the women to open it. He told the other woman if she didn't open the door, he'd "kill her (expletive) dog."
McLeod was booked in jail and then bonded out.
McLeod is a Republican who of course voted in favor of Mississippi's recent abortion ban, which creates an arbitrary cut-off date as early as six weeks. Both Republican and Democratic Mississippi elected officials are now calling on McLeod to resign. On Tuesday, Republican House Speaker Philip Gunn told the Sun Herald, "I have attempted to contact Rep. McLeod to request his resignation, if in fact, these allegations are true. These actions are unacceptable for anyone."