10 Things I Hate About You is officially 15 years old. How much do we love this movie? Let us count the ways.
1. When Kat hits Patrick with a copy of The Feminine Mystique.
2. That Kat is the number one character from any movie or TV show I'm compared to and will probably be compared to for the rest of my life.
3. Because of this movie, Julia Stiles has become my celebrity lookalike.
4. (Occasionally I'll get Julia Stiles in "that movie where that girl danced a lot" but not very frequently.)
G/O Media may get a commission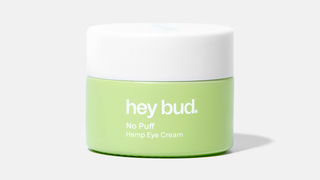 15% off
Hey Bud - No Puff Hemp Eye Cream
5. What ever happened to Nigel with the brie? Is he dead?
6. Patrick: What did I miss? Kat: The oppressive patriarchal values that dictate our education? Patrick: Good.
7. It was based off The Taming of the Shrew, one of the more culturally dated but comedically underrated of Shakespeare's plays, and improves upon it. "Now I know Shakespeare's a dead white guy, but he knows his shit, so we can overlook that."
8. (On that note, Kiss Me Kate is an excellent musical with fantastic Cole Porter music. You should all see it, if given the chance.)
9. It spawned a short-lived ABC family channel show of the same name that was – shocker – not terrible.
10. The school they went to was SO beautiful and is a real school in Tacoma, Washington.
11. Letters to Cleo and the rest of a very very good soundtrack.
12. I mean, can you just be whelmed?
13. Did Joey Donner's headshot look better with the black t-shirt or the white? I'm still not sure.
14. Who cares, he's shooting a nosespray ad in the morning!
15. TBF it was very realistic that Kat would have slept with Joey and then regretted it.
16. "I can't be seen at Club Skunk."
17. Gabrielle Union's character's name is Chastity.
18. Joseph Gordon Levitt when he still had that cutie 3rd Rock from the Sun-vibe and his voice hadn't quite dropped yet.
19.The way, as Flavorwire's Brie Hiramine explains, the movie's message is about the complexity of people:
"...feminists are not shrews, but they're also not saints. Sometimes, they're prickly and cynical. Other times, they're gooey and swoon over, like, a really awesome guitar. Because feminists are people, even when they're passionate or angry, because people get passionate and angry. And 10 Things I Hate About You showed that nuance to a mainstream audience. It showed a teenager very righteous in her feminism, who 'gets it,' but also doesn't, and is still working stuff out (aren't we all?)."
20. That Julia Stiles with her hair in a braid is the best part of the last scene.
21. "I'm not hostile, I'm annoyed."
22. Kat and Bianca's overprotective OBGYN dad. "What's normal? Those damn Dawson's River kids, always sleeping in each other's beds and whatnot?"
23. Dr. Stratford's constant attempts to work on his fitness within the privacy of his own home.
24. The hilarity of what a big deal it was that Kat wanted to go to Sarah Lawrence.
25. This movie was proof that you can make a good teen romantic comedy.
26. Julia Stiles when she table dances to "Hypnotize" by Biggie Smalls.
27. (This scene might have also been why people thought I was like this character in high school.)
28. Heath Ledger's weird greasy hair that somehow works for him.
29. Don't worry, there is a perfectly sexy feminist man just waiting to date you for whenever you're ready to succumb to that idea.
30. When you're ready, he will give you a beautiful musical instrument to repent for his sins because he knows that you have diverse interests.
31. God the fashion of the 90s was just so...the fashion of the 90s.
32. Speaking of Bianca's horrible prom dress...
33. How totally over it Mandella is to Kat's constant attempts to try and fight the patriarchy.
34. "You know, just because you're beautiful doesn't mean you can treat people like they don't matter."
35. "A girl's room is very personal!"
36. Who didn't want to play paintball after this scene? Least violent game of paintball ever.
37. Ms. Perky's romance novel, a book that was destined to be a best-seller.
38. The white rastafarians.
39 ."Don't let anyone make you feel like you don't deserve what you want."
40. "I found a picture of Jared Leto in her drawer once, so I'm pretty sure she's not harboring same-sex tendencies."
41. "Are you telling me I'm not a pretty guy?"
42. Bianca is really annoying but in many ways she had come to terms with the fact that their mom left the family a lot sooner than Kat had. She was very pragmatic on a lot of levels.
43. How young was Mr. Morgan?
44. Who cares, he was so funny. "Pipe down, Chachi":
Joey: Mr. Morgan. Is there any chance we could get Kat to take her Midol before she comes to class?

Mr. Morgan: Some day you're gonna get bitch-slapped and I'm not gonna do a thing to stop it.
45. Not much that's specific to say about Michael except that he was bound to rule the world one day, right?
46. The best way to invite someone to a party is to throw a bunch of invitations around in a stairwell.
47. Familial relationships are very complicated, even among sisters who are always supposed to love each other no matter what.
48. Kat hangs out with her female friends all the time and that's treated as a cool and normal. She has lots of interests and hobbies and is smart and driven. Eventually, she manages to figure out a way to be in a relationship as well, which is a bonus, not a necessity. She puts herself out there sexually when she she wants something and even though she is initially rejected, she's not being punished for being sexual. The universe she lives in is also inhabited by decent male characters you actually wanted to hang out with and be friends with. Even when characters in 10 Things have tensions or issues, they all clearly respect and enjoy each other on some level. While there are good guys and bad guys in 10 Things, everyone is mostly just complicated and attempting to figure out who they are in this crazy world.
49. I mean it's insane that she flashed the teacher leading their detention but it's a movie.
50. This convo:
Patrick: So what's your excuse?

Kat: For?

Patrick: Acting the way we do.

Kat: I don't like to do what people expect. Why should I live up to other people's expectations instead of my own?

Patrick: So you disappoint them from the start and then you're covered, right?

Kat: [smiles] Something like that.

Patrick: Then you screwed up.

Kat: How?

Patrick: You never disappointed me.
Images via Touchstone Pictures