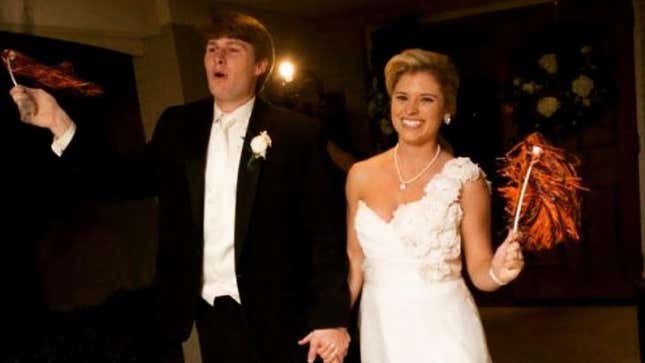 In a case that just gets more and more twisted, Robert Shiver, a former college football star, just helped his wife, former beauty queen Lindsay Shiver, make bail as she faces charges of conspiring with her lover to try and kill him in the Bahamas. The charges against Lindsay come after she's previously alleged in a court filing that Robert was abusive, accusing him of domestic violence and "physical and mental cruel treatment" in April.
A defense attorney for Lindsay confirmed on Wednesday that Robert came to an agreement with a prosecutor in the Bahamas to allow Lindsay, her lover, and an alleged hitman they hired to make bail. Per the Bahama Court News, the prosecutor in Lindsay's case withdrew an objection to Lindsay and her alleged co-conspirators' pre-trial release only after speaking with Robert. Lindsay is being freed on $100,000 cash bail and her alleged lover, Terrance Bethel, and the alleged hitman they hired, Faron Newbold, were each granted $20,000 bail.
All three are required to remain in the Bahamas ahead of their next scheduled court appearance on Oct. 5 and are banned from contacting Robert. Lindsay and Robert—who both live in Thomasville, Georgia—share a house in the Bahamas, where Lindsay was staying in July amid her alleged plot to kill him. Both Bethel and Newbold live in the Bahamas. Throughout their marriage, Lindsay, Robert, and their family frequently vacationed in the Bahamas, flying to the islands via private jet. This is presumably how Lindsay met Bethel and began their affair.
On July 16, Lindsay, Bethel, and Newbold were charged with plotting to kill Robert after law enforcement uncovered WhatsApp messages about their plot from a phone that police obtained while investigating a separate crime. The Bahamian police source who divulged this information to CNN didn't specify whose phone police found or how they gained access to it and spoke on the condition of anonymity.
Lindsay, now a stay-at-home mom, and Robert, an insurance company executive, met at Auburn University and were married for 13 years before both filed for divorce from each other in April. The two share three young children. In court documents, Robert detailed Lindsay's "adulterous conduct" as a reason for their divorce, while Lindsay's court filing accuses Robert of domestic violence, cutting her off financially, and "physical and mental cruel treatment." Her filing also states that she's "incurred debt beyond her means to pay" the associated legal fees.
On Wednesday, Robert told the New York Post he still hasn't told his three kids about the charges against their mother. "My kids don't know the whole thing yet. I'm going to try to tell them in the next day or so," he said. "They're young."
The details of the case are all fairly under wraps, though the separate divorce filings from the two offer jarring context for the alleged conspiracy. What seems to have begun as the all-American love story of a college football star and a beauty pageant queen has seemingly broken down into domestic violence allegations, infidelity, and an alleged, murderous conspiracy in a foreign country after more than a decade of marriage.
Also speaking with the NYP on Wednesday, Lindsay's grandfather, Tom Shirely, said that he and Lindsay's family are all shocked by the events of the last few weeks. "I never saw it [coming]. They were just a fine couple," Shirely said. "I never knew anything different. In fact, it's a surprise to me that all this came up. And very disappointing. I don't know if she lost her mind or what. I don't know."