Discovery Girl, a magazine aimed for female readers between the ages of eight to 12, has publicly apologized after subscribers rallied against a recent article which urged readers to pick their swimwear based on their "curves."

Titled "What Swimsuit Best Suits You," the full spread featured illustrations of bathing suit options for different "body types." Nuggets of advice included suggestions that girls who are "curvy up top" should wear a one-piece bathing suit with "side ties and cutouts that draw the eyes down," and that girls who are "rounder in the middle" are better off with "busy geometrics," which are meant to "draw the eye inward."
As The Cut succinctly put it, "can we get Chris Hansen on their case?"
The article quickly amassed a large backlash after its publication, prompting Twitter users (many who self-identified as mothers, including Salon's Mary Beth Williams and GQ contributor Taffy Akner) to call the magazine out for body-shaming its readers.
G/O Media may get a commission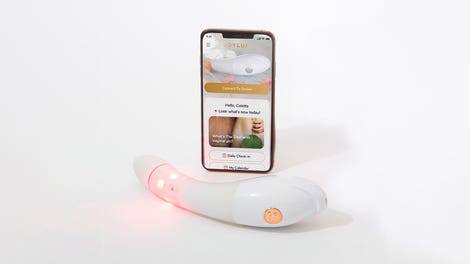 $50 Off
Joylux vFit Gold Device
In an official statement posted to the magazine's Facebook page, Discovery Girls founder Catherine Lee, who launched the magazine in 2000, apologized for the blunder, all the while attempting to elucidate the publication's prior work in body positivity.
"I am in total agreement with all of you regarding this article, so much so that I wanted to make this letter as public as possible," the publisher stated. "We want to make sure that our girls know that any article that makes you feel bad about your body is not a good article, and should be questioned."
She continued:
"It's still hard for me to believe that an article so contrary to our magazine's mission could have been published on our pages. I have been a loss for words for days. The article was supposed to be about finding cute, fun swimsuits that make girls feel confident, but instead it focused on girls' body image and had a negative impact. Nobody knows better than Discovery Girls how impressionable our girls are at this age and we are ALWAYS mindful of this. We've received hundreds of thousands of letters over the years from girls sharing their insecurities about their bodies."
Lee went on to mention a book the publisher had previously produced, titled Growing Up, which focuses specifically "on puberty and body image," and is meant to be used as a "[resource] to provide [young girls] with the guidance they need to develop a healthy body image and love all they are."
"As much we like to think that something like this would never happen to us, it did. We're not immune to making mistakes, but we are always willing to get better and learn from our mistakes." she concluded. "This is what makes Discovery Girls the magazine that we're all so proud to be a part of. I know with certainty, if you hang in there, you'll find that no magazine works harder to ensure the well-being of your daughters than Discovery Girls."
Despite Lee's apologia, it seems that the damage has been done. Over at Cosmopolitan, Megan Friedman called Lee's statement a measure to "[distance] herself from the content," rather than a sincere expression of regret. And according to The Guardian, current subscribers to the magazine aren't thrilled, either—especially when it comes to perpetuating impossible beauty standards for girls who can count their age using only two hands.
"I don't want your magazine telling my nine-year-old that she needs to feel 'confident' in her swimsuit," a mother of one reader wrote. "She has no current thoughts about NOT feeling confident in her swimsuit."
---
Contact the author at jamie.reich@jezebel.com.

Image via Twitter.