There is nothing particularly interesting or deep about the Bravo reality show Summer House, and yet I need you to watch it. I cannot emphasize this enough. I need to not be the only person watching it.

We're approaching the end of Season 2 of Summer House, and I feel a sense of loss, yes, but also urgency—urgency to spread the gospel of Summer House. Assuming you are unfamiliar, allow me to get you up to speed. Summer House is about a group of wealthy New Yorkers who rent a gigantic mansion in Montauk on the weekends. That's honestly it. In between weekends, they show very brief montages of the cast pounding the pavement in the big city, saying things like "Oh my god, coffee, do you want one?" and "Sounds like we have a deal!"
Summer House began on an episode of Vanderpump Rules last year, when Stassi brought the girls to the Hamptons and Summer House cast member Kyle Cooke told her she looked like Steve Jobs in her swimsuit. It really just improved from there, although I'm not 100 percent sure why or how. Summer House does not feature bizarre political side-dramas (Southern Charm), rampant sociopathy (Vanderpump Rules), animal hoarders (Vanderpump Rules, Real Housewives of Beverly Hills), or actual mafia ties (Real Housewives of New Jersey)—it's just a group of privileged men and women in their late 20s/early 30s who wear fedoras and probably live in Murray Hill. I find it soothing.
The Season 2 cast, featuring several holdovers from last season, is a beautiful collection of outgoing normies with subpar conversational skills. We have Carl Radke, a very tall and handsome dirtbag who consults for a teeth-whitening startup; Kyle Cooke, a 35-year-old with a heavily gelled Ken doll hair swoop who describes himself as a "man-olescent" and is trying to launch a nutrition app; Amanda Batula, Kyle's younger and much less annoying girlfriend; Lauren Wirkus, an extremely anxious senior executive assistant who talks very quickly and has a cringe-y on-and-off fling with Carl; Lindsay Hubbard, a publicist who sometimes experiences rage blackouts; Danielle Olivera, an unemployed project manager who seems honestly pretty nice; Stephen McGee, a gay event planner from Alabama from whose intolerant parents appear to have kind of ruined his life, self-esteem-wise; and Amit Neuman, a random guy with gray hair who met Carl at Coachella.
Their drama is so dull, and yet, somehow, so gripping. Kyle (who, full disclosure, I once swiped past on the dating app Bumble, and who seems, in fact, like the first man to be birthed directly by the dating app Bumble, a tanned hologram of a frat star emerging Aphrodite-like from your iPhone radiation) isn't sure if he can commit to a woman who is far out of his league, because he would prefer to drown himself in tequila shots and fall asleep sitting up with his hand in a bag of chips. Lauren gets drunk and yells at Carl for cheating on her while they were having sex without condoms. Lauren briefly hates Danielle because Danielle used to date Carl. Lindsay pines over her weird ex-boyfriend Everett, and sometimes screams at everyone.
G/O Media may get a commission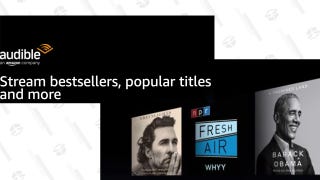 FREE
Audible Premium Plus 3-Month Free Trial
So, yes, what makes Summer House good? It has been so hard for me to answer this question, because technically, it isn't, but I've narrowed my hypothesis down to three major points. They are:

1. The Wirkus twins
Ashley and Lauren Wirkus are twins who have the same Barbie hair and huge natural boobs and intensely combative personalities. They are obsessed with each other and cry whenever they are forced to part, and they have an Instagram account called @wirkustwins, where they publish photos of themselves in matching outfits and pictures of lattes and creepily airbrushed selfies.
Ashley Wirkus is no longer a regular on Summer House, because she is married and lives in California, but she really made her moment count during a visit this season when she threw an entire watermelon at Carl and told him to "Eat it, bitch." Last season she sprained her ankle, which was also exciting.
Mainly, though, I am talking about Lauren Wirkus. If you ever find yourself emerging from an embarrassing romantic situation, please look to Lauren Wirkus, who humiliates herself with a bold and sometimes topless abandon that I find both inspiring and cathartic. In one such scene, Lauren, wearing a radiant blue one-piece that reads "Let's Get Twisted," stalks around the perimeter of a Fourth of July party while Carl talks to a woman he picked up at a polo match. Eventually, probably with the encouragement of Bravo producers, Lauren picks up an American flag cake, walks up to Carl, uses her leg to shove another woman aside, and says, "Hey, best friend. Made a cake for ya. Let's make out, for old time's sake, babe." She then attempts to make out with Carl. "Cake in yo face!" she laughs loudly, then dances away, as though she has just aced the pivotal scene of a teen movie starring Selena Gomez.
Instead, she is on a reality show, and I want to crawl inside my own body. This is great television.
2. Extreme drunkenness and nudity
When I asked one of my friends why he likes Summer House, he replied, "They just get so drunk." This is true—they do get so drunk. They drink boxes and boxes of rosé and have sex in front of the camera guys. This is probably why the Hamptons did not actually want to host these people. "The show is awful. Montauk shouldn't even be referenced in it, as far as I'm concerned," Montauk Chamber of Commerce president Paul Monte fumed in 2017. The Surf Lodge in Montauk sent a cease-and-desist letter to Bravo earlier this month, claiming that Bravo filmed there despite being banned and that footage "caused irreparable harm to Surf Lodge's reputation and brand."
Fair enough!
3. Cultural exposure
As you've probably surmised, Summer House features a very particular kind of person: vaguely liberal alums of the Greek system who shop at Bonobos and love SoulCycle and talk excitedly into BlueTooth headphones wedged atop their fanatically perfect hair. Summer House presents a growing and insidious aspect of New York City culture that, in my actual life, I go far out of my way to avoid interacting with. Mysteriously, in reality show form, I find it fascinating.
These are people who speak in Instagram aphorisms, who say they like to "work hard, play hard" and describe themselves as "weekend warriors" and look forward to "Sunday Funday." They wear "Rosé All Day" sweatshirts and scream at their girlfriends for not being "fun," because "summer should be fun." They destroy their pool with a jumbo bag of loose leaf tea and then blink at it quizzically, surprised that the pool has turned brown. There's a strange and wonderful tension between their excessively immaculate appearances and their willingness to behave like horrible clowns on national television.
Mostly, Summer House is good because it follows the boring popular kids from your high school into the very edge of their youth, where they laugh at each other's bad jokes, experience romantic distress and drench themselves in tequila. In the great Kyle Cooke tradition of asking himself questions and then answering them: Is it wrong of me to enjoy this? Let's not talk about it. Do I want you to enjoy it along with me?
Yes. I'm begging you.
Correction: A previous version of this post said that last night's episode was the Summer House season finale. Luckily for all of you, that is not actually the case—it's next week!