A New York State judge ejected an attorney for Gizmodo Media Group, which owns Jezebel, from his courtroom last week as she was seeking access to Bill O'Reilly's $10 million lawsuit against his ex-wife, which is currently under seal at the Fox News anchor's request. The ouster occurred just a week before the revelation that O'Reilly—whose lawsuit accuses his former spouse of fraudulently inducing him into financing an extra-marital affair—had settled with a Fox host over her claims of sexual harassment. This week, Gizmodo Media Group asked an appellate court to intervene and have the suit unsealed.

As Gawker reported last year, O'Reilly filed a civil suit against Maureen McPhilmy, to whom he was married for 12 years, claiming that she had tricked him into agreeing to a divorce "to finance an existing extra-marital relationship" with a Long Island cop named Jeffrey Gross. Even though the lawsuit was a civil fraud claim, rather than a divorce proceeding, and was therefore presumptively open to the public under New York law, O'Reilly persuaded Nassau County Supreme Court Justice Roy S. Mahon to take the unusual step of placing the entire case under seal on the grounds that his separation agreement with McPhilmy demanded secrecy. Mahon did so without a public order explaining the decision.
In late July 2016, Gizmodo Media, then known as Gawker Media, petitioned Mahon to open the case file to public inspection. (O'Reilly's dispute with McPhilmy had already brought forth allegations in a sealed court hearing, reported by Gawker, that O'Reilly had choked and dragged McPhilmy down the stairs in front of their daughter, and the litigation is likely to shed more light on O'Reilly's conduct as a husband and father—conduct that is odds with his frequent and strident criticism of others in that regard.)
A day after Gizmodo Media filed that motion, according to the court's docket notification system, Mahon granted O'Reilly a default judgment of $10 million. He entered, or formally approved, the judgment on October 4. Meanwhile, Gizmodo Media's motion to unseal, which is itself under seal, awaited Mahon's decision for five months before he finally denied it.
This brings us to the events of Wednesday, January 4. As detailed in an affidavit prepared by our attorney, Christine N. Walz of Holland and Knight LLP, Gizmodo Media learned that a hearing was scheduled for that day, so she traveled to the courthouse in Mineola, New York, to make Gizmodo Media's case before Justice Mahon in person that he should open the proceedings to the public—or, at the very least, enter a written order sealing them, which Gizmodo Media Group could then in turn appeal.
G/O Media may get a commission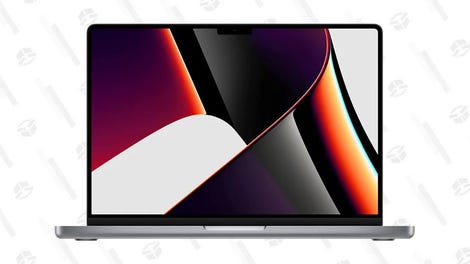 Save $300
2021 14" 1TB MacBook Pro
Mahon refused Walz's repeated requests to present oral arguments for Gizmodo Media's motion to unseal, and later demanded that she vacate his courtroom:
9. I attended the Nassau County courthouse on the morning of January 4, 2017. I entered Justice Mahon's courtroom on January 4, 2017 at 9:30 a.m. I approached the courtroom clerk, Mr. Mike Petron, and requested permission to be heard on the record before the Court made a decision to seal the courtroom. Mr. Petron had me wait while he left the courtroom to seek Justice Mahon's instructions. When he returned, Mr. Petron advised me that Justice Mahon would not hear Gizmodo Media Group's objection.

10. I then asked Mr. Petron for the Court to enter a written order sealing the courtroom, to facilitate Gizmodo Media Group's ability to seek an appeal of that order. Mr. Petron again left the courtroom to check with the Justice, and he returned and informed me that the Court would not issue such an order.

11. Following this, Mr. Petron said that, on the Court's instructions, he would be sealing the courtroom and I would have to leave.

12. As instructed, I left the courtroom as it was cleared.

13. The Court made no public findings before ejecting me, sealing the courtroom and excluding Gizmodo Media Group and the public from these proceedings.

14. The courtroom was sealed during the entirety of the January 4, 2017 hearing.
Yesterday, Gizmodo Media Group filed what's known as an Article 78 petition with the Appellate Division of New York's Second Judicial Department, asking to either unseal the case or order Mahon to enter a written order justifying his decision. In the petition, Gizmodo Media argues that keeping the case under seal violates both the First Amendment of the United States Constitution and Section 4 of New York's Judiciary Law, which states, with only a handful of exceptions, that "the sittings of every court within this state shall be public, and every citizen may freely attend the same."

Today—one day after Gizmodo Media asked a higher court to intervene, and nine days after Walz was ejected from his courtroom—the court notified Gizmodo Media's counsel that Justice Mahon finally denied our initial motion to unseal. (That decision remains under seal, too.)
Fox News, where O'Reilly's evening show has aired for the past two decades, has filed at least five lawsuits in the past eight years after being denied access to government records, according to the federal lawsuit database PACER. When it comes to the legal issues of its own employees, however, the channel tends to come down on the side of secrecy. Most recently, attorneys for Fox have petitioned courts to dismiss sexual harassment lawsuits against former CEO Roger Ailes and move the disputes to private arbitration proceedings. O'Reilly himself sought a gag order to prevent McPhilmy from discussing their custody dispute with the press. (An appellate court denied his request on procedural grounds in August 2015; it's unclear whether he successfully obtained one in the trial court in Nassau County.)
Fox News took a slightly different tack with an internal sexual harassment complaint lodged against O'Reilly last year. As several outlets reported earlier this week, that complaint—in the form of a letter sent to the channel by lawyers representing an employee named Juliet Huddy—never resulted in a public lawsuit. Instead, Fox quietly settled with Huddy for a "high six figures." The letter eventually made its way to the website LawNewz.com, which reported the settlement on Monday.
In statements to the New York Times, a spokesperson for Fox News and a lawyer for O'Reilly denied the substance of Huddy's letter, which alleged that O'Reilly made repeated and unwanted sexual advances toward Huddy, beginning in January 2011—nine months after O'Reilly and McPhilmy had separated in April 2010, and eight months before the couple formally divorced in September 2011.
Huddy's version of events is especially notable given that O'Reilly has repeatedly sought to punish McPhilmy for her perceived unfaithfulness. In 2011, Gawker reported that he instigated an internal affairs inquiry within the Nassau County Police Department that targeted Jeffrey Gross, the Long Island detective McPhilmy was dating and later married. In 2013, the site reported that O'Reilly had undermined the ex-couple's custody agreement by secretly paying a social worker who was supposed to serve as a neutral intermediary. In 2015, the site reported that a court-appointed therapist testified that O'Reilly and McPhilmy's young daughter told him that O'Reilly described his ex-wife as an "adulterer" and warned his daughter that spending time with her mother and her second husband would "ruin her life." The same therapist said the daughter claimed to have witnessed O'Reilly drag McPhilmy by the her neck down a flight of stairs.
Attorneys for O'Reilly and McPhilmy have not yet filed responses opposing Gizmodo Media's petition for an Article 78 proceeding. The court is scheduled to rule on our request on February 17.
Fox News and Bill O'Reilly did not respond to requests for comment.
If you know any more about this case, please get in touch.