This week, Deadspin and Jezebel swap beats to celebrate America's most dangerous and controversial pastimes: football and fashion, two sports that have far more in common than you think.
The allure of a fashion show isn't necessarily the clothing, but also the people, the atmosphere, the scene: how many famous people are in attendance? How many clingers-on? Who will throw a shoe at someone and leave under the cover of night? Another thought experiment: What if instead of models, famous designers, and Instalebrities, the focus of the evening's festivities were dogs?

We were game to find out. And so a Jezebel woman (Megan Reynolds) and a Deadspin man (Samer Kalaf) went to Anthony Rubio's show Sunday night. For additional context, this was last year's show.
The Atmosphere
Megan: The space was beautiful, resplendent in many flashing lights and colors. At various points in my notes, I scribbled the word "Pose????", which I think means that being in the space felt like the experience of watching the opening credits of Pose, Ryan Murphy's show about ball culture. Something about the synagogue and the lights and the very bad music, which gave the entire proceedings an air of forced festivity. Should we have danced? Probably. Did we? No.
G/O Media may get a commission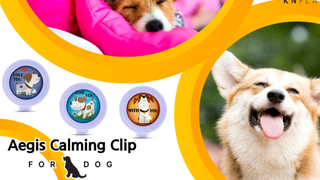 20% off
Aegis Calming Clip for Dogs
Samer: The show was in the Lower East Side at the Angel Orensanz Center, an old synagogue furnished into an event space. The venue was dimly lit and the sound system was blaring EDM, music that dogs probably hate. The first two rows of chairs were flanked by velvet ropes that would've been pretty easy to step over. No one seemed to actually be manning them. Once again, I was unclear on who was actually famous versus who was succeeding at appearing famous.
The Seats
Megan: Having never been to a fashion show, I assumed that when the woman at the check-in table told us that we were "VIP," we'd be frowing. Instead, we enjoyed our free beer at a pace that was a bit too leisurely, and wandered downstairs only when we both had tired of looking at the art scattered about the lounge area, which was an artist's interpretation of other artist's interpretations of Baba Yaga's iconic forest hut built on chicken legs. Because I lack ethics and love free things, I considered taking a swag bag, but alas, we missed the cattle call to come to our seats; the bags included a fan. I would've loved a fan. But standing next to the tall, blond photographer who gamely danced to "Let Me Love U," I felt like we were in precisely the right place.
Samer: Because I RSVPed to an email beforehand, that allowed me to be on a "list," which entitled me to a "VIP bracelet" and access to the "VIP lounge." This made me feel much cooler than I had any right to be for a dog fashion show or anything else. Even though lists suck and lines suck and waiting in lines while hoping you're on a list sucks, I can see why it's still in use, as it can make the dumb and meaningless (me) feel smart and important, even if in reality all that meant was the ability to mill about in a small wing upstairs and drink a free beer.
The woman at the check-in table said VIPs would be notified as to when the show would start and be led down to their seats. While we waited for that signal, Megan and I debated the journalistic ethics of taking one of the free bags of swag placed on the front row seats. In the end, that debate was decided for us and I worked on maintaing good posture next to the aforementioned photographer.
The Clothes
Megan: The two collections that walked prior to the dog parade were, unfortunately, kind of a snooze. Bad Sisters had a lot of jazzy prints, most of which skewed floral and vaguely thot-y in silhouette. Sign me all the way up for a floral legging and crop top, please: Fashion Nova, but grown up. There were also a pair of big, green, comically slouchy boots that I would wear in a heartbeat, were I a person who felt comfortable wearing no pants and just a sweatshirt on the daily. A Modo Mio loved unnecessary ruffles but trotted out a lot of skirts that were gingham, floor length, and reminiscient of what the dancing woman in the red dress emoji wears. Didn't mind the skirts!
Samer: Before the dogs—the whole reason we came—there were two designers showing their collections. Bad Sisters featured flowery silk clothes that'd be ideal for a fancy picnic, although the shoes would get stuck in the grass. A Modo Mio was jacket-heavy, camouflage-inspired, and would be best worn by the girlfriend of the villainous bully in a high school movie. Nothing really stood out in either case.
The Audience
Megan: Everyone at the show looked like they had nothing better to do on a Sunday night, but really wanted to create excellent Instagram content to enliven a sort of dreary day. A man with a fetching auburn perm befuddled me, but I could not take my eyes off of him; he sat next to a clutch of people that dressed to impart the idea of fame without probably actually being famous. Also children, better dressed than me, though to be fair, I tried to think of what I could wear that indicated "fashionable," and ended up dressed in all black carrying a fashion fanny pack draped across my bod, paired with these shoes but in black: a sporty cater waiter.
Samer: Old and fancy, for the most part. There were some kids, too. I felt like a real piece of shit because I showed up in a basic button-up, slacks, and slightly dirty Vans, while a lot of the men were in ornate jackets or other duds that looked expensive.
The Dogs
Megan: Prior to the actual dogs, I interfaced with a woman in a very nice dress who was trying to get her dog to pose for photos. "What's his name?" I asked, as I pet his very soft head. "He's a Pomsky. His name is Kai," she said. I should've asked about the dog's Instagram, but in the presence of celebrity, I become shy. I told Samer the dog was a Pomsky; he already knew.
As soon as the dogs emerged, I stopped taking notes and instead felt joy, laughter, and a sense of goodwill that I have not felt in eons. Dogs in sequined gowns were held in the arms of beautiful models also dressed in sequins. The dogs seemed "fine," though I wondered halfway through the show whether or not this was considered animal abuse. For what it's worth, the models handled being upstaged by chill toy dogs wearing couture with grace.
Samer: When the first dog came out, I wrote in my notes, "Oh my god dogs." It was painfully clear that they were the star of the show, and I wondered how the models felt about that. Did it take pressure off their walks or give them another thing to worry about as they did so? Most of the pooches were well behaved and appeared befuddled. One handheld dog tried desperately to wriggle out of its model's grasp, but thankfully failed. Hopefully all the animals were showered with treats and pats after being on a loud, bright runway. One Boston terrier kept slipping all over the surface like a medium-sized doofus. There was minimal barking.

Actually, the loudest dog was sitting in the front row, right where the models make their turn. It would frequently bark at the other dogs as they passed. Was it out of jealousy? Fear? Insecurity? The owner seemed slightly embarrassed and removed the dog from her lap, but it continued to bark while at foot level.
Any improvements?
Megan: More dogs, fewer people, and a live video feed of the behind the scenes, because it would've been nice to watch the lil' angels get into their outfits.
Samer: What if the show was hosted at a park, so the dogs could stretch their legs and unwind afterwards? Also, more dogs wouldn't hurt.