Aging conservative rapper Kanye West has had quite a weekend! After his stint on SNL for the season premiere, clips from Sunday's episode of Keeping Up With the Kardashians began circulating online, featuring the Kardashian-Jenner Klan's second confirmed Trump supporter (the first being Caitlyn, who voiced her support for Trump back in 2016, but has since rescinded).

In a 90-second clip, Kim, in konversation with Khloe, details the myriad ways that her hubby has felt neglected since the birth of their children. After sustaining an undisclosed minor injury, monsieur West was in need of a band-aid; Kimberly offered him one. He was dissatisfied with the band-aid options available to him. Kimberly then offered a different band-aid option, one with Jesus designs, proffered courtesy of North West. Kim drones, Khloe blinks. "I slaved around the world making clothes for you," Kim says Kanye said, "making sure you have the best options, and you would let me go out with a Jesus band-aid?"
I mean, he did say that slavery was a choice, lol... but what Kanye wanted was a band-aid which matched his skin tone! Kimberly could have daubed the generic beige bandage with Kanye's foundation shade to MacGyver a perfect match— something models used to do back in the day? Guarantee that Kanye's next season will feature couture "band-aides" in myriad tones, retailing for $340 a pack. Starting a GoFundMe for a pack now.
(Complex)
Tiffany Haddish could have been sister wives with Tiffany Pollard?
Amongst the Grand Dames of reality television, there are: Linnethia Monique "NeNe" Leakes; Shenellica Juneann Bettencourt, nee Joseline Hernandez; and Tiffany New York Pollard. Somewhere in there would be Omarosa, as well. In an interview with Wired, Tiffany Haddish reveals that she auditioned for Flavor of Love, back in the day. Haddish, who has a brief but memorable cameo in an episode of Pimp My Ride, reveals that she only dropped out of the running once she realized that the bachelor being peddled was Flavor Flav. I mean... same. Unrelatedly: Tiffany Pollard has, without provocation, been peddling the gospel of Flav's... member . "He was a perfect gentleman and his penis was 12 inches long," she said to cameras from Entertainment Tonight. "That man, under his jeans looks like a sailboat." Ok. This is all to say that I understand where both Tiffanys are coming from.

G/O Media may get a commission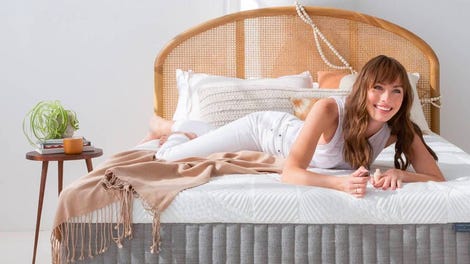 Sleep Sale
Sleep Sale - Brentwood Home
---