WASHINGTON, DC—On the day Donald Trump was inaugurated as the 45th President of the United States, Jezebel writers Madeleine Davies and Ellie Shechet journeyed through downtown Washington, D.C., collecting stories, taking pictures, and getting shouted at by men in leather vests.

Noon EST: Anti-Trump protesters gather outside Union Station. A few blocks away, the inauguration ceremony is coming to a close.
Members of Vermont's politically-minded Bread and Puppet Theater play their instruments as a light rain falls.
G/O Media may get a commission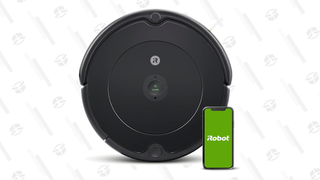 35% Off Black Friday Deal
iRobot Roomba 694 Robot Vacuum
A protestor holds a sign that reads "Funeral March," wearing a skeleton horse and a mournful expression.
Two women mean-mug for the camera with a homemade sign and festive accouterment.

Straight to the point. (Or, you know.)
1:30 p.m.: A crush of Trump supporters descend on Judiciary Square following the inauguration ceremony. It's not clear why this particular reveler was wearing sunglasses in the rain, but we can't accuse her of not committing to a look.
Stacy, left, and Dawn, right, are nurses from Delaware. When we asked if they were excited for Trump's inauguration, Stacy laughed for about 10 seconds. (Yes.)
"Everybody has a say, as long as they don't get violent," Stacy said of the protesters. "So what? Let 'em be there."
Could Donald Trump do anything to lose their support? "No," Dawn replied.
Alex, left, and Andrew, right, are cousins from San Diego. They took a three-day Amtrak journey from "sea to shining sea" on the "Trump train."
"I think public schools should still be a thing for special needs children," said Andrew, a former private school teacher and fan of Secretary of Education nominee Betsy DeVos. "Because the problem when they talk about vouchers is that there's not gonna be enough money for special needs kids, so let's have special needs kids have more money and have a voucher system for those who are not special needs."
1:50 p.m: A woman in rain gear and a camouflage Trump hat glares at two Jezebel writers as she follows the crowd toward the inaugural parade.
Possibly no one is more excited about today than this young man, which he is celebrating with a... dish towel?
Jake, a 19-year-old college student, drove to D.C all the way from southern Georgia. On the scourge of liberal millennials, Jake said: "The college narrative that's being written is a bunch of left-wing stuff... and how they're teaching history, you send kids through that, they come out more left-wing than right-wing."

Asked how excited he was about a Trump presidency on a scale of 1 to 10, Jake replied, "200."
This man seemed confused, as was the photographer.
Dick, Phil, and Bruce (from left) are bikers from Maine, but they left their bikes at home because it was snowing.
"We've got people at home watching the news telling us about all the protesters that are here, but we've been here since Wednesday and we've seen 2," Phil said. Here's what he thinks about Syrian refugees:
"Go on YouTube, go look at Sweden and all these other countries, and you hear, oh, what about the women and children? Show me a video with these refugees, pick out one woman or child that is in any of those refugee camps. They're all middle-aged men."
2:15 p.m.: While the Trump supporters were primarily cheerful, the afternoon was not without strained encounters. Here, a protester heckles a crowd lined up to enter the parade grounds, asking over and over again if they're ready to pay for Trump's "wall."
The Trump supporters, hardly toothless, heckled back, repeating their go-to insult for protesters: "Get a job!" (We note here that they are not at work on a Friday either.)
Happy Republican men, generally thrilled with the state of things, could be found all over D.C. today. This one seemed to get a big kick out of the protesters.
Here's another!
2:45 p.m.: Turning onto 13th street, the celebratory mood began to shift. Walking towards Franklin Square, we encountered police in riot gear and increasingly gutsy protesters, like this man, who took a knee in the street to make his point.
This infuriated a decked-out Trump supporter, who yelled at us for photographing the scene.
Businesses lining 13th St., as well as K St. NW, had their windows smashed by masked protesters carrying anarchist flags, who were now gathered at Franklin Square with other protest groups.
While the mood was tense, the vast majority of protesters were peaceful.
3:15 p.m.: As the crowd grew, good views were hard to come by.
Protesters climb on a utility box to watch police in riot gear blocking off K street.
Krista, from Philadelphia, is a first-time protester.
"We got here at maybe 8, 9 a.m. It was pretty small earlier and I guess we just joined up with—I don't even know who it was, but we met up with whoever the anarchist group is right now, marched somewhere, and then they started dragging shit into the streets."
3:30 p.m.: Anarchists dragged trash cans and newspaper boxes onto K Street and set them on fire, a scene that was quickly choked with press. In the circle, a young Trump supporter (white t-shirt) engages with hostile protesters in an interaction that, soon after we walked away, turned into a fist fight. A young woman told us that she had informed the police that the man was risking harm, and they had been non-responsive. Meanwhile, helicopters circled loudly overhead.
A protester covers her face as smoke travels from the trash cans. A group of anarchists, dressed in all-black, provoked several moments of panic; at one point they tried to destroy a cameraman's equipment as he held it over his head, eyes wide.
Shortly before this picture was taken the group rushed a police van, which then reversed at what seemed like about 70 miles per hour. The crowd scattered.
Emily and Maggie (from left) traveled from New York.
"I've just been continuously verbally abused [by Trump supporters], honestly," Maggie said when we asked how her day was going. "It's extremely rapey everywhere. It's really uncomfortable and terrifying that this is the new state of our country. I feel like weirdly detached, I don't know. Kind of like anything could happen—kind of like... dead, you know?"
A cheerful Trump supporter—wearing not one but two hats—strolls past protesters and burning trash cans, chatting on his cell phone.
She makes a good point.