"Oh Lawd the city, could burn down. We jamming still. We jamming still. The building could fall down. We jamming still. We jamming…"

There are times during Trinidad's Carnival when you will literally feel as though a building might fall. That the sheer bacchanal, intensity of shoes pounding against pavement and backs being arched to receive a wine will cause a part of the city to just come crashing down. And should that happen, the jam will still continue. Adults often envy the uninhibited freedom of children, but I'm quite sure not even the gratification of a child in a candy store riding a rainbow colored unicorn while "Let It Go" from Frozen plays could compare to the happiness splashed on the faces of adults during Carnival. People of all backgrounds, chipping down the road to the latest Machel or Kes tune. The elders dressed in gorgeous "old mas" regalia. A breakfast fete that begins at four in the morning and ends when the sun and soca have soaked your skin with sweat. Hands raised in unison, chanting, "Cuz de ting so sweet, I don't wanna go home, no."
Every February, the twin island of Trinidad and Tobago shows the rest of the world what a true party looks like. And every year, thousands of people return, because the ting really is so sweet.

G/O Media may get a commission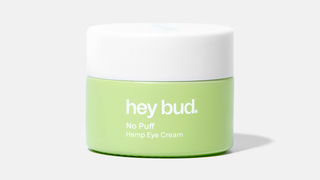 15% off
Hey Bud - No Puff Hemp Eye Cream
Let's start with a beginner's guide, then continue with a peak into the addictiveness of Carnival.

Yuh ready?
A CARNIVAL CHEAT SHEET
Di Road: The energetic, anything goes playground where Carnival Monday and Tuesday commence. Masqueraders chip (march) down the street through Port of Spain into the night. Trucks blare soca while bartenders pour rum into plastic cups.
Bands: Groups in Carnival who wear the same thematic costume based on their section. Bands can range from old time mas with more traditional wear, to literally a thong. Do you, boo.

Playing mas: "Who allyuh playin with?" It's a question you will hear time and again. Prideful responses will include a number of different bands. Tribe. Bliss. Fantasy. People spend hundreds of dollars to join a band and play mas (short for masquerade) on the di road.
A wine: "Leh me see yuh Trini gyal, leh she wine up her waist and hold up de place (woiii)." A wine cannot be taught, only felt. May your hips be ever free.

Fete: A party that begins literally anytime of day, usually all-inclusive with free-flowing alcohol, food, and nonstop dancing. Not-to-be-missed fetes include: Caesar's Army A.M.BUSH, Shades Breakfast Party, Candy Coated Cruise (where I watched Usain Bolt tek a wine with a few people this year), and, of course, Dirty Dozen J'ouvert.
Doubles: Two fried pieces of dough, called barra, that are stuffed with curried chickpeas and will save your life after a long fete. A mashup of Indian and Caribbean culture that makes the country so beautiful. Order your doubles "slight" for a little heat.
There is a word Trinis use to describe the deep longing for Carnival when it ends, called tabanca. It is often described as an actual sickness that takes over the body. Symptoms may include extreme sadness, a longing for rum and sunshine, the inability to stop playing and singing soca, and a constant checking of the calendar to count how many days until the next Carnival arrives.

For Arlene Pitterson, who has played mas five times, the rules for newcomers are simple. "Only requirements are that you wine and drink... and wining is more important. Trinidad and Tobago is a welcoming place where they want you to enjoy everything their twin islands have to offer."
My first Carnival changed my life. I had never seen a joy so extreme, a kindness shared between people as they wrapped their arms (or leg) around each other and "got on bad" to this music I wasn't privy to growing up in Los Angeles. I couldn't believe how many people got up from sunrise to sundown for days, dancing to the same songs, feeling the same energy.
And then there's J'ouvert. A spiritual experience. It is African slaves with burning cane ready to take their freedom. It is bodies dripping in oil, paint, and mud. It is dancing freely while dutty into the dawn of the morning, the legacy of slaves who could not partake in elite French colonizers' masquerades and created their own parallel celebration (and a much better one at that).
"What I loved the most was the freedom to be myself. No cares, no worries, no judgment," said Nidia Gonzalez, who flew down for the first time this year and swears it won't be her last. "J'ouvert was the highlight. Maybe because I was channeling my ancestors from the Dominican Republic when the slave owners would 'allow us' to have a night to get 'the wild out of our system' during our carnival celebrations. That joyful defiance is our power, and you can feel it everywhere in Trinidad for Carnival."
Candice Renee said she has gone each year, and has no plan to stop. "The (soca) music is intoxicating, the people are uninhibited and the fetes are non-stop," she said. "I want the world to know how West Indians celebrate our culture and that everyone should partake in it at least once before they die."

Tara Donaldson, a proud Trini to de bone, said, "Though Brazil and other Caribbean islands might not want to admit it, Trinidad & Tobago Carnival is where it's at. It's nirvana manifested, really. Being there, wearing little, wining a lot and feeling the vibes of soca music, is the greatest way to 'free up yourself' as we say. And it doesn't matter if you've got jiggles and rolls or a bumper that's too real, all shapes, sizes and colors are welcome to get on wild. Because it's always all good at Carnival."

Danielle Boucaud-Henrique has played mas with Tribe for 18 years. "For Trinbagonians, Carnival is our culture—we grow up with it, play mas and partake in the festivities from young. We are a tiny nation full of talent, and Carnival presents an opportunity for our country to be showcased on the world stage. We count down from Ash Wednesday and the anticipation builds as time goes on. Being on the road is total euphoria. It's a time to forget your worries and just enjoy yourself, the moment, the music, and the freedom," she said.
As my band crossed the stage on Carnival Tuesday, colorful feathers reaching to the sky, bumpas being backed up into each other, the joy was palpable. I wished I could bottle it up and take it back with me. I wished that I could walk down the street in New York and see adults smiling from ear to ear, hugging up on each other and letting go completely. This is why each year we count down. This is why Carnival is life.
Kristin Braswell is a soca addict, travel writer and founder of CrushGlobal Travel. Follow her adventures around the world on Instagram.