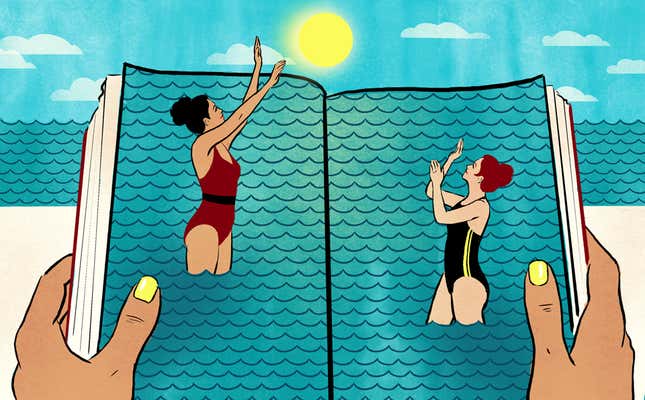 Sup? You looking for something to read while basking in/avoiding the sun? Well, step right this way. Here's a list of summer book recommendations from Jezebel staff, arranged by summer moods.
DYSTOPIAN VIBES
Station Eleven, Emily St. John Mandel: I'm in the middle of this book and it is terrific. Station Eleven follows a traveling group of actors in musicians who roam a post-apocalyptic landscape going from one bombed-out IHOP with families living in it to a gas station run by a cult, just to preform Shakespeare. Their motto: survival is insufficient. —Natasha Vargas-Cooper
The Southern Reach Trilogy, Jeff VanderMeer: Yeah, yeah, yeah, I'm the umpteen millionth person to recommend this surreal series about a mysterious Florida nexus of ecological catastrophe and the hair-raising unreal. But it's hard to imagine something more perfect for, say, the deadness of the second week of August. —Kelly Faircloth
Man V. Nature, Diane Cook: Beautifully written dystopian short story collection. —Jane Marie
THINK OF THE CHILDREN
After Birth, Elisa Albert: For Ferrante fans, women concerned about the next decade of their life being defined by fertility, and anyone interested in how a woman's initial concern and love for the state of womanhood can turn into deafening hate. The narrator is the best bitter narrator I've read in some time. —Jia Tolentino
Love Me Back, Merritt Tierce: The narrator is a high-end steakhouse waitress in Dallas and the opening scene is a coked-up threesome with two expense-account customers. The narrator, interestingly enough, is also a mother. The writing glitters, bleeds, cuts. —Jia Tolentino
The Children Act, Ian McEwan: McEwan's novels are often about one idea, a thought experiment that his characters playing it out. In the Children Act, it's a child welfare judge who is supposed to make decisions for broken families. In a sense, this makes the judge a de facto mother and when the state acts as mother, results are mixed. —Natasha Vargas-Cooper
HEAVY DUTY
Down and Delirious in Mexico City, Daniel Hernandez: I suppose I don't go in too much for fiction, but journalist Daniel Hernandez's essays about moving from California to Distrito Federal in his parents' birth country are as vivid and glorious as if he crafted them from his mind. Spanning the emo riots to the gay fashion scene to holes-in-the-wall bars to the cult of Santa Muerte, Hernandez gives you the real deal on the niches and subcultures of a city that's almost always mischaracterized by the US media. —Julianne Escobedo Shepherd
How to Slowly Kill Yourself and Others in America, Kiese Laymon: To quote Julie Ruin, It's gonna be a hot, hot summer in hell, businessman. We're starting June in the magma pits of a cracked universe, seething racial inequality manifesting in mass murder. Laymon, a brilliant essayist (and Gawker contributor) who grew up in Mississippi, reflects on the way this flawed country shaped him with the kind of incisive intellect and scrutiny that helps center what's virulently wrong, and how to cope. Not an easy read because Laymon is real as hell, but you'll want to hold on to each essay and squeeze tight. —Julianne Escobedo Shepherd
The Executioner's Song, Norman Mailer: Perhaps not what you'd think of when it comes to summer reading, but the time it takes to read the over-1,000 pages requires the focus that summer allows. The exploration of murderer Gary Gilmore's sentencing for murder is dark as fuck, but if you liked In Cold Blood, you'll like this. —Kate Dries
41 False Starts, Janet Malcolm: There is no antidote to the humid, crowded, oversaturated, everyone's-hungover feeling that can crop up during the summer season like Janet Malcolm's style—that cool, methodical, artless structural elegance. —Jia Tolentino
Love and Other Ways of Dying, Michael Paterniti: Nearly in the Pulphead tier of nonfiction collections, so good—that first essay in particular is a master class on about a dozen different registers—that I had to deliberately slow down on every page so that it would last longer. —Jia Tolentino
BROADS
Sin in the Second City, Karen Abbott: The story of the best madams in turn of the century Chicago, Ada and Minna Everleigh, who ran the fanciest brothel in town, even as a growing group of Christian reformers tried to shut them dow. Not a new book, but a perennially great read and very beach-friendly. —Anna Merlan
Romantic Outlaws, Charlotte Gordon: I thoroughly enjoyed this dual biography of Mary Wollstonecraft and her daughter, Mary Wollstonecraft Shelley. Fair warning, it will discourage you from running away with any wild-eyed Romantic poets. (Probably for the best!) —Kelly Faircloth
The Fran Lebowitz Reader: Fran Lebowitz is a crabby, unapologetic bitch, the sort of New York woman I aspired to be before I moved here and realized that there are about a million New York women who want to be Fran Lebowitz. Her writing is the sort of thing that people writing for the web couldn't get away with anymore; whether that's a good or bad thing is up for the reader to decide. The book is a time capsule—often politically incorrect by today's standards, but it still sings—and stings—in all the right ways. —Erin Gloria Ryan
TURN SOME PAGES
Taking the Heat, Victoria Dahl: I haven't read this yet because it's not out until late July, but I have it on good authority it includes a virgin sex/relationships advice columnist and a scorching hot librarian with a beard. Obviously I'm gonna read the shit out of it. —Kelly Faircloth

Rivers of London/Midnight Riot, Ben Aaronovitch: The perfect beach read. The story of a London cop who gets inducted into the Metropolitan Police's top secret magic unit, the book is fun, silly, and really engaging. It's basically everything you want when you don't feel like thinking too much and just want to kick back and be entertained by some modern English mysticism. —Madeleine Davies
She Went All the Way, Meg Cabot: This tale of the love/hate relationship between a screenwriter and a a very famous actor is highly ridiculous, but also highly enjoyable. From an author you might know best for her young adult fare, the book is hot enough for real adults but also pokes fun at itself. Bonus: the chemistry between the pair is full of funny banter. It basically feels like reading a good rom-com. —Kate Dries
START A BRAWL AT BOOK CLUB
The Luckiest Girl Alive, Jessica Knoll: The sort of "beach read" that I don't normally go for, and while it's not technically dazzling (a little uneven, occasionally overwrought, sometimes confusing), I read it in 48 hours. It's not going to win a Pulitzer (and even though the cover lines promise—quite falsely—Gillian Flynn-esque thrills) but it's perfect for waiting out flight delays or avoiding the beach when you have sunburn. —Erin Gloria Ryan
Maidenhead, Tamara Faith Berger: This was BY FAR the most divisive, controversial novel my book club read this year. There was actually screaming at our meetup. — Jane Marie
Unbecoming, Rebecca Scherm: The book starts with a girl using an assumed identity repairing stolen jewelry in Paris, anxious because two boys in Tennessee have just gotten out of prison for a crime they all committed together: one's her husband, the other's the man she loves. What an amazing narrative clock. When I started this book I read it until 4 in the morning, till I was done. —Jia Tolentino
IDK LEARN SOMETHING
Modern Romance, Aziz Ansari: Even if some of it is stale and treaded territory, it's definitely at least a semi-insightful voyeuristic look at how people really date instead of how we're "supposed to. (And lots of research went into it, plus focus groups.) —Clover Hope
Can't Stop Won't Stop: A History of the Hip-Hop Generation, Jeff Chang: Chang runs down the roots, branches and leaves of hip-hop from start to finish, but he doesn't allow the history to bore the reader. Instead it's as if he's detailing a great narrative, because he really is. —Hillary Crosley

Infested: How the Bed Bug Infiltrated Our Bedroom and Took Over the World, Brooke Borel: Jia made me read this book which, honestly, I was kind of dreading, but it turned out to be a really smart and funny look at one of man's greatest enemies. It was one of the more accessible history of science books I've read in a long time. —Stassa Edwards
NOT TOO LATE
Geek Love, Katherine Dunn: Have you not read Geek Love? You should all read Geek Love, and summer's a great time for it. The lovely at first and then quickly darkening tale of a traveling circus family. I can only bear to read it once every couple years because it's so intense. —Anna Merlan
Lonesome Dove, Larry McMurty: I will never stop recommending this book. It is the greatest story ever told. Perfect beach read—you'll remember the summer you read Lonesome Dove for the rest of your life. — Jane Marie
LIVES
Sally Mann's Hold Still: A Memoir With Photographs: I liked Mann's calm bravery; her ability to walk in the minefields of art making and motherhood, and her willingness to embrace uncertainly with both. —Stassa Edwards
Without You, There Is No Us: My Time With the Sons of North Korea's Elite, Suki Kim: Do you also devour any and all things related to North Korea? This is a wholly engrossing memoir from a woman who recently taught at an exclusive North Korean university. Shit is bonkers. —Jane Marie
Wishful Drinking, Carrie Fisher: When I read Kara Brown's "Delete Your Memoir," this was the primary book that came to mind as absolutely having earned its existence. Carrie Fisher's sardonic nature is unassailable and too-cool—this is a person who sat through Roseanne's Comedy Central roast wearing a brown pantsuit and transition glasses while smoking a Blu e-cig indoors. That comes through in the prose, which details the often substance-addled foibles of her youth (Star Wars wouldn't have been possible without the assistance of cocaine, for instance) and the special, ragged-edge viewpoint some people earn after finally getting sober. Fisher is a life idol, funny and real, and this is a perfect beach book in that it can be read in its entirely in about three hours. —Julianne Escobedo Shepherd
---
Contact the author at kelly@jezebel.com.
Illustration by Tara Jacoby.