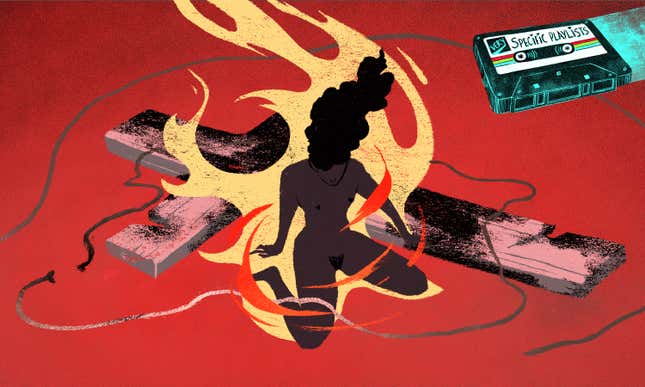 Very Specific Playlists is a weekly feature in which Jezebel staffers make very specific Spotify playlists based on their weird proclivities.

Olivia Holt Didn't Originally Get the Part of Roxie Hart in 'Chicago'
The way I see it, there are two sides to Halloween. There's the playful, campy, sugar-filled approach chock full of parties, games, and costumes. This is the Halloween that most seem to celebrate, full of tricks and treats for good little girls and boys. The Halloween that interests me is a much more sinister shade. While I do love to dress up as much as the next person, I prefer to spend my Hallows' Eve with some unsettling ghost stories, surreal horror films and, most importantly, some bleak and impenetrable music.

With that in mind, this witchy playlist aims to get under your skin. Some of these songs are to be played only sparingly. Atmosphere is the name of the game here, and there's very little fun to be had over the course of this disjointed hour and a half tour through my gothic backpages. Witches, demons, vampires, and all creatures of the night gather round, and let's all howl at the moon this holiday season.
---
1. Lydia Lunch, "Burning Skulls"

The punk movement gave birth to some of the most badass women ever to grace this side of a microphone, and Lydia might very well be the queen of the crop. Whether leading her original band Teenage Jesus and the Jerks, collaborating heavily with The Birthday Party's Rowland S. Howard or Foetus' Jim Thirlwell, or delivering verse after verse of sexually charged poetry, Ms. Lunch has paved the way for many to follow in her ashes. This particular track kicks off her excellent Shotgun Wedding LP, all razorblades and fury.
2. Switchblade Symphony, "Dissolve"

This one is a college dorm-room favorite, from a time when all I listened to was swirl after swirl of brooding gothic music. It is very much of its time, a mid-'90s angst-ridden anthem that flirts with the romanticized notion of a vampire's kiss—far more Anne Rice and White Wolf games than Twilight.

3. Anna Homler, "Ee Che"
I just heard this one last week, and I've been obsessed with it ever since. This track may have its roots in L.A.'s experimental scene, but there's something very catchy about it, combining the best parts of both Dead Can Dance and Einsturzende Neubauten.
4. Jarboe, "Spiral Staircase"
Fretless bass lines, heavy synth atmospherics, and Jarboe's honey-drenched vocals make this a highlight among highlights from her prolific solo career.
5. Bel Canto, "A Shoulder to the Wheel"
A mix of orthodox electronics and organic chamber instruments, this song really brings out the inner witch in me…
6. Cocteau Twins, "Blood Bitch"
Lots of folks dismiss the Cocteau Twins' debut on 4AD as being a bit derivative. It may be true that it's a shadow of the great heights the band would soon reach, there's something in the repetitious droning bass, icy guitars, and chorus-drenched 808 beats that really gets under my skin. Of course, the centerpiece of any Cocteau Twins song is Liz Frazier's vocals, a formidable presence even in this embryonic form.
7. Rasputina, "Transylvanian Concubine"
Nostalgia city! I haven't thought about Rasputina in ages, but this cello-wielding band from Brooklyn combines pastoral folklore with modern gothic motifs, with a bit of quirkiness mixed in for good measure. Lyrics often covered historic tales in women's history as well as early feminist movements. As an added bonus, Buffy fans may recall hearing this track in tandem with Drusilla during Season 2!
8. Rose McDowall, "Don't Fear the Reaper"
This is about as much fun as we're going to have here, folks. Rose McDowall's career began as half of the polka-dot adorned new wave band Strawberry Switchblade, though her list of high profile collaborations would include Into a Circle, Death in June, The Angels of Light, and Spell, not to mention a strong solo career. I don't know if I love or hate the fact that this cover fades out before the original guitar solo, but I'll let the jury decide this one.
9. This Ascension, "Ill Met By Moonlight"
Another nostalgia-dipped college classic, perfect pagan vibes for your autumn shoegazing.
10. Nico, "Janitor of Lunacy"
After Nico felt her first album had too many men writing songs and insisting on sappy orchestral arrangements she loathed, she took full control and released a trilogy of austere albums heavy on the harmonium and atmosphere and light on the melodies. This song kind of sums it up best.
11. Black Tape For a Blue Girl, "Overwhelmed Beneath Me"
Treated acoustic guitar samples, haunting synth patches, and reverb-drenched vocals invoke a sense of mystery and unease.
12. PJ Harvey, "The Devil"

White Chalk is one of Harvey's most divisive albums, but I loved it from the moment it came out. Trading in abrasive guitars for simplistic treated pianos, the whole thing all but namechecks some of the more pagan-inspired folk bands—Steeleye Span, Pentangle, Mellow Candle—from the early 1970s.
13. Xmal Deutschland, "Incubus Succubus II"
Extremely underrated post-punk classic. Banshee-esque wails from head to toe.
14. Dead Can Dance, "The Host of Seraphim"

Even writing about this song causes a complete sensory overload, chills coursing through my veins. Very few pieces of music move me the way this does.
15. Cranes, "Starblood"
The juxtaposition of high-pitched, childlike vocals and deeply menacing drums and guitars shouldn't work on paper, but this song makes me feel like conquering a small village of misfits.

16. Julee Cruise, "Into the Night"
It's hard to disassociate Julee Cruise and Angelo Badalamenti's music from Twin Peaks, where hearing even a few notes evokes visions of slow-motion ceiling fans and zig-zag patterns. Sometimes, I forget that Julee Cruise is a real person and not a manifestation of the Black Lodge.

17. Siouxsie & the Banshees, "Spellbound"
Forgoing the obvious Halloween cut from the same record, this killer album opener is a real statement of intent, full of toil and trouble. My cauldron runneth over!

18. Fleetwood Mac, "Sisters of the Moon"
Did you really think I'd present a mix like this and not include Stevie Nicks? For shame!