Reese Witherspoon is a talented, highly paid actress with a seemingly chipper disposition. But more importantly, she is a woman with elegance, blonde hair and good breeding who comes from down South, which means she is the perfect candidate for a lifestyle company that's gonna drop centuries of classed-up regional knowledge on the world like a duck on a junebug, or faster than you can git you a sody-pop, or quicker than you can set down a spell and play possum. Or something.
Regardless, it's happening — Witherspoon has already snagged someone to head up her company, WWD reported:
REESE'S NEW HIRE: C. Wonder president Andrea Hyde has been hired by Reese Witherspoon to be chief executive officer of her as-yet-unnamed lifestyle company. The omnichannel venture, which will emphasize Witherspoon's Southern roots and personal style, will launch in 2015.
And somebody's been taking cooking classes in Napa Valley, y'all!
Just last week, the star was taking cooking classes at a Culinary Institute in Napa Valley with Drew Barrymore and Cameron Diaz—two gals who have also recently released lifestyle books.
Reese's new company is set to launch in 2015, but there is another blond star who will probably debut a similar project before then. Blake Lively confirmed to Vogue UK last fall that she has been working on a Goop-like site.
G/O Media may get a commission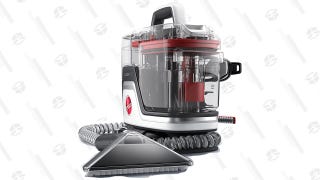 Save $10
Hoover CleanSlate Plus Carpet & Upholstery Cleaner
Hubbub hubbub-hubbub Goop-like hubbub hubbub. You know what I always say: HOLY SHIT SOUTHERN GOOP IS COMING. Ahem. There can never be too many Goop-like sites in the works, amirite? I crave guidance like anyone, preferably from people just like me. Clearly, hometown girl Witherspoon, who was born in New Orleans but raised in Nashville, has a few advantages over these other blonde, nice women with good hair and earnest suggestions about your colon. She's from a region where learning how be correctly female and alive is practically part of the curriculum, the closest thing to finishing school you can find in those parts. Also, she's way more down to earth.
Barring the occasional outburst (AKA moxie! color! spunk!) this means that Witherspoon generally "knows how to act" and can be seen typically demonstrating something called "class." Since all Goop-like sites involve beauty tips and eating tips and travel tips and advice for how to conduct oneself at all times, and since I am a former Southerner, I feel officially qualified to speculate on the kinds of down-home advice Witherspoon will offer to help women navigate the unique complexities of eating, drinking and being merry while hailing from a complicated, mysterious region. (I also polled my still-Southern friends for accuracy's sake. Thx y'all!)
BEAUTY
Grits Facial Scrub
Collard Greens Body Wrap
Fresh Dirt Mask
Clarified Butter Tanning
Okra Nails
Biscuit Dough Facial
Perfect Church Lips
Bleaching With Lemon Juice
Mudbug Bath
Big Hair: A Lost Art
Side-Eye: Softened by Neutrals
HEALTH
Sweet Tea Enema
Hot Chicken Cleanse
Turnip Greens Smoothie
Dirt-Dobber Venom Therapy
Jet-Ski Exercises
Moonshine Cleanse
Frying for Forgiveness
Why We Never Exercise in August
FASHION
Uggs: Just for Looks (and Not for Brunch)
Overalls: Never
Derby Hats: Always
Wearing White Well
Casual Denim for the Upper Crust
Top Ten Lilly Pulitzer Prints
Espadrilles: Yes
FOOD
Grinding Your Own Grits
Classing Up Cornbread
Bacon for Beginners
Pie for Perfectionists
Biscuits for Blessing Their Hearts
When Forced to Bring a Casserole
Every Cracker Barrel Ever, Reviewed
Country Ham, Not Chia Seeds
Low-Cal Mint Juleps
FEELINGS
Now, You Are Just as Pretty As Those East Coast Girls
Belle of the Ball, Bitch of the House
It's Not the Heat, It's the Mediocrity
Bundt This
ENTERTAINING
I Do Declare This a Party
When Mason Jars Simply Won't Do
Lake Games
Anatomy of a Front Porch
Embracing Visitors from Rogue States
Plantation Style (Without the Plantation!)
Evites That Feel Like Handwritten Invitations
If You Must Discuss the Past…
Artisan Rocking Chairs
Great Friends, Great Meat
Feel free to offer more suggestions. Let's make Southern Goop to-be a big-ass hit!
[h/t: The Cut]
Image via Getty.