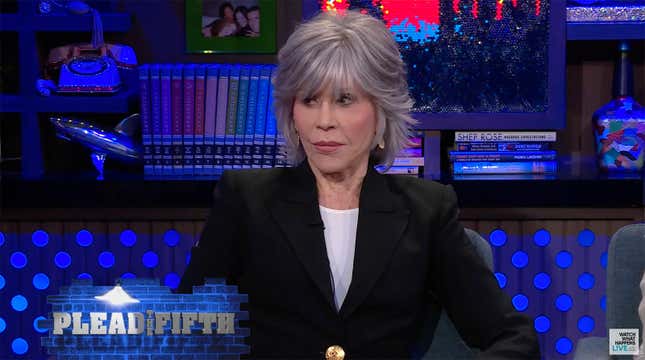 Jane Fonda shot straight from the hip when asked who in Hollywood she's turned down for sex on Monday's episode of Watch What Happens Live. Nary a flinch nor a millisecond of hesitation was perceptible during the show's "Plead the Fifth" segment as Fonda named a name: French director René Clément. Fonda worked with Clément on the 1964 film Joy House (he was 51 at the time of release; she was 26).
Luke Macfarlane Talks Starring In Historical Gay Rom-Com 'Bros'
"Well, he wanted to go to bed with me because he said that the character had to have an orgasm in the movie and he needed to see what my orgasms were like, but he said it in French and I pretended I didn't understand," Fonda told host Andy Cohen.
In a 2017 interview with CNN's Christiane Amanpour, just days after the publication of Jodi Kantor and Megan Twohey's first New York Times story regarding Harvey Weinstein's sexual misconduct, Fonda said she had been sexually harassed and later told this very story as an example. She did not name Clément, though it wasn't hard to figure out who she was referring to as the director of "the very first French film I ever made." Fonda punctuated her story with laughter. "That is unbelievable," said Amanpour. "Well, it shouldn't be," said Fonda. "That kind of thing goes on and I turned him down. I got the part anyway. He was very nice after that."
Cohen seemed similarly gobsmacked after Fonda's revelation. "I have stories for you, kid, we don't have time," she said. And then, after a beat she blurted out: "I saw Michael Jackson naked!" Brag! And then: "But you know who else I saw naked? Greta Garbo." The MJ incident occurred as Fonda was filming 1981's On Golden Pond. Jackson visited her on set and suggested skinny dipping one "beautiful moonlit night."
"I think it was because he knew he was going to die young, and I would talk about him being naked," said Fonda. "He was skinny! Yeah."
When Cohen asked Fonda who the biggest misogynist in Hollywood is, she faltered, and her Book Club co-star Mary Steenburgen chimed in to tell her she could plead the fifth. And so Fonda did. Thanks, Steenburgen. Thanks a lot.
Elsewhere, Candace Bergen recalled horrifying Aretha Franklin with her singing voice when the Queen of Soul guested on Murphy Brown. And during a conversation about texting and social media, Fonda revealed, "I post things on Instagram all the time. I don't follow anybody and I don't know what a DM is." Probably for the best!