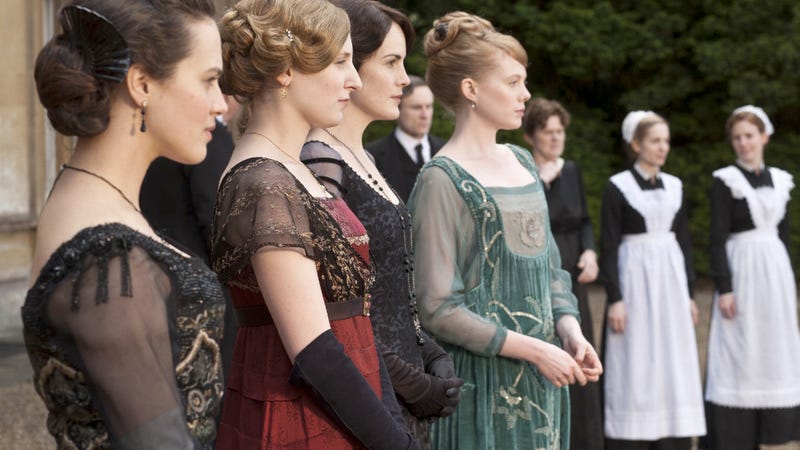 NBC Universal, which now owns the production company behind Downton Abbey, says it plans to monetize its investment by selling a whole bunch of licensed merchandise. Think Downton Abbey apparel, Downton Abbey cosmetics, Downton Abbey homewares, Downton Abbey furniture, and even Downton Abbey wallpaper. Executive producer Gareth Neame says the goods should start hitting stores later this year, adding, "It's very rare for a British drama to have this much retail potential and merchandizing value." [VF]
---
This is Alexander Wang's first campaign for Balenciaga. It was shot by Steven Klein and features a headless, unidentifiable Kristen McMenamy. [WWD]
---
Barneys is launching a limited-edition Roy Lichtenstein-inspired collection of homewares. [WWD]
---
• Rihanna's hairstylist, Ursula Stephen, explains how it was that Ri-ri came to have that bob:
"Everybody was frantic. They had someone close to L.A. Reid with us watching every snip. Me and Ri were like, "What the hell is she doing here?" I'm whispering to Ri, "Listen, I'm gonna cut it up to here, for now. Then tomorrow, when we're alone, I'm going to do it for real." The next day: I just went HAM — Hot-Ass Mess — with the scissors. That was the start of not just Rihanna, but Rihanna and her hair."
[The Cut]
• Here's a counterfeit story with a twist: two stores in Vietnam were shut down for selling authentic Gucci goods that they were declaring as counterfeit on customs forms. The retailers wanted to avoid import duty. [TFL]
• Model Kendra Spears, who has been the face of brands including Prada and Calvin Klein, has announced her engagement to Prince Rahim Aga Khan. [AKDN]
• "A dress shirt you only need to wash once a year." Sure. [Thrillist]
• Clinique is launching a line of nail polishes it says are less likely to cause allergic reactions in people with sensitive skin. The company won't say what chemicals the nail polishes have or do not have. Still sounds like a crap shoot for people with allergies. [Fashionista]
• Swiss model Manuela Frey was last season's Calvin Klein exclusive. She says the experience was interesting: "Francisco Costa is so funny. One time he wore his own high heels and dress and danced around. It was really cool!" [WWD]
• Meet Karis Durmer, the C.E.O. of Altuzarra. When Durmer left the financial industry to attend Columbia Business School, with an eye to working in the fashion industry, her family wasn't entirely supportive:
"When I told my dad I was going to work in retail, he said, 'Does that mean you're going to work at Macy's and spray perfume?' It's exactly the reaction that I was afraid of. For me it was a serious industry and profession, and sometimes the perception is different than that."
• Christopher Finazzo, the former Aéropostale executive who was just found guilty of multiple counts of fraud for engaging in an illegal kickbacks scheme with a supplier, will have to forfeit $28.5 million in assets and cash that were the scheme's proceeds. [WWD]
• Lucky offers a brief history of punk in music and fashion, in honor of the Met Costume Institute show. [Lucky]
• And now, a moment with Yohji Yamamoto. Yohji, what was your childhood like?
"I'm from the typical story of WWII, the only son of a WWII war widow. I had no idea of the meaning of family. We were just the two [of us], and she was missing her husband of whom I had no memory. She was expecting two men from me and I feel I've been carrying big luggage on my shoulders since I was five years old. Sometimes my mother told me directly 'Yohji, you are the only reason I live.' It was terrifying."
[WWD]