Josh Gad has a voice of a dog and a heart of gold, apparently. The actor, who provided the voice of "Dog" in the upcoming tear-jerker A Dog's Purpose posted a lengthy, outraged response to the footage leaked to TMZ on his movie's set that showed a German shepherd struggling in vain against being pushed into moving water. Once in, the dog completely submerges.
Wrote Gad:
Sure. Buuuuuut: "I am shaken and sad to see any animal put in a situation against its will" is selective reasoning given that dogs will run amuck, chew everything, and shit everywhere left to their own devices. Being a good pet owner means keeping that will in check. Furthermore, none of the dogs in A Dog's Purpose grew up watching movies and were so enchanted that they decided they wanted to be stars. You could make the argument that every second spent on screen is against their will, and that it's merely a slippery slope into that rushing water.
It seems to me that the footage TMZ posted of animal discomfort must be all too common on film sets given the opposing goals of the people making the movie (who want to make a movie and need the animals to follow script) and the animals in the movies (whose natural tendencies don't include doing the "Hollywood thing").
G/O Media may get a commission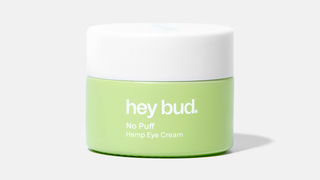 15% off
Hey Bud - No Puff Hemp Eye Cream
That said, A Dog's Purpose director Lasse Hallström apparently found the footage unrepresentative of the way the dogs were treated on his set. In a series of tweets, he called the footage "disturbing" and said he was not there to witness it, contradicting TMZ's initial report.
Hallström also directed 2009's Hachi: A Dog's Tale and 1985's My Life as a Dog. TMZ reported in a follow-up that the American Humane Association* rep who was on set the day of the filming has been placed on administrative leave.
*Note: An earlier version of this post stated that the "American Humane Society" was on set observing the filming. It was actually someone from American Humane Association, not to be confused with the Humane Society of the United States. American Humane, per its website, "holds the exclusive right to award its 'No Animals Were Harmed'® end-credit certification to productions that meet its rigorous standard of care for animal actors."
Additionally, the Humane Society of the United States has provided this comment on the A Dog's Purpose set incident:
The HSUS is disheartened by the footage released by TMZ showing a frightened German Shepherd being forced into a turbulent situation during the filming of A Dog's Purpose. We are glad to hear that Amblin Partners and Universal Pictures will investigate the incident. For all of us who've been fortunate to experience friendships with dogs, what was shown in the video is certainly not a dog's purpose.
We do want to clarify that The American Humane Association, which was on the set, is in no way affiliated with or connected to The Humane Society of the United States. American Humane has long promoted its "No Animals Were Harmed" program on movie sets, but we've sometimes been critical of its handling of allegations of cruelty and related issues. In this case, the AHA representative on the set did not speak up for the animal, and it is our understanding that the person has been suspended.