Said Hajouli's wife is on a flight from Turkey to Dulles that is scheduled to land at 7 pm tonight. Hajouli, a physician at Washington Hospital Center, has no idea what's going to happen when she gets off the plane, but he knows what the worst-case scenario is.

"The worst scenario will happen, actually, she's going to go back to Turkey and then in Turkey, she'll go back to Syria, and she can't do that," he said by phone Saturday. He asked Jezebel not to use his wife's name.
He says he and his wife left Syria about two years ago, when he came to D.C. to practice medicine on a German visa. His wife stayed in Turkey, eventually gaining a J2 visa to join him in the States.
"She's been on the flight almost ten hours, almost from the beginning of this," he said, referring to the ripple effect emanating from Donald Trump's executive order titled "Protecting the Nation from Foreign Terrorist Entry into the United States."
Hajouli is right to be worried—so far Trump's order has blocked out refugees facing death at home, college students coming back from winter vacation, and legal permanent residents of the U.S., whose only apparent misdeeds were not booking earlier flights.
G/O Media may get a commission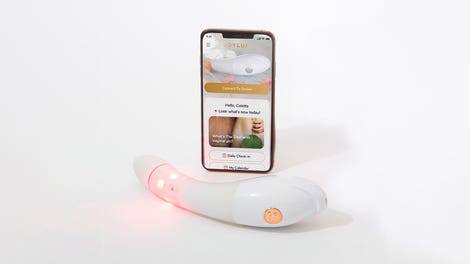 $50 Off
Joylux vFit Gold Device
As of Saturday afternoon, twelve people had been detained at New York's JFK Airport in the hours since Trump signed the Muslim ban at the Pentagon Friday, declaring proudly, "That's big stuff!" Only one man—Hameed Darweesh, an Iraqi man who got a green card for his work with the American government—has been released. There are also reports of refugees detained at Philadelphia International Airport.

Darweesh, who was detained for almost 19 hours and handcuffed, is comparatively fortunate; the New Yorker just published a heartbreaking account of an Iraqi man and former U.S. Army interpreter, whose wife spent years obtaining a Special Immigrant Visa, which required her to pass security screenings, interviews, and even a biometric scan. She got her passport on Thursday, the day before Trump signed the order, and was turned away from her flight in Dubai early Saturday morning. Her family members tell the magazine an AirDubai staff member "ripped up her ticket" and sent her back to Iraq. The New York Times has also gathered dozens of similar reports.

The order temporarily bans all persons from Iraq, Syria, Iran, Libya, Somalia, Sudan and Yemen, as well as refugees fleeing ISIS. The relevant portion of the order proclaims entry by persons from those countries as "detrimental to the interests of the United States" and calls for an "immediate" 90 day-ban. Certain types of visas, including diplomatic, are exempt.
But authorities, both foreign and in the U.S., seem unclear on whether to stop those people from boarding, detain them, or send them back.
"Nobody has any idea what is going on," a Department of Homeland Security source tells NBC, explaining neither DHS nor the State Department had any input in the order.
At JFK, the Times reports, International Refugee Assistance Project supervising attorney Mark Doss asked a border agent who to call.
"Call Mr. Trump," the agent replied.
According to flight trackers, Hajouli's wife's plane is currently halfway across the Atlantic Ocean, and running about 25 minutes ahead of schedule. What will happen to her once the flight lands at Dulles is anyone's guess. A number listed for Dulles media relations rang through to a broken voicemail.
Hajouli is now racing against the clock to save her from being turned away, but he's having trouble finding a way to get her representation.

"I spoke to lawyers, but in the airport they don't allow any lawyers," he said.
Update 1/29/17 3:05 p.m.
Hajouli's wife was held in detention overnight and released Sunday morning. The couple were finally reunited in the afternoon after completing the requisite paperwork for her to seek asylum.
"I am very happy. You cannot imagine how happy I am," he said. "What happened to her was like a nightmare."